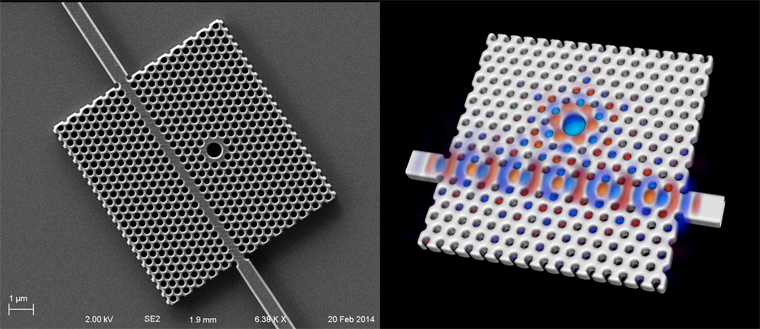 This composite picture shows an SEM image of a fabricated structure on the left and a simulated electromagnetic field on the right.
Images of research
How will the VISTA Collaboratory -- the soon-to-open visualization lab at Carlson Library -- help researchers?

Here's an example: Jim Baker, a PhD student in Physics, is working with Benjamin Miller, Professor of Dermatology and of Biochemistry and Biophysics, to develop optical biosensors small enough and sensitive enough to detect individual viruses or virus particles that are only one ten-millionth of a meter in size.

"If somebody is treated for a virus, we currently have no way to tell if somebody is completely cured of that virus," Baker explained. "You need a diagnostic sensitive enough to detect a single virus particle, which doesn't exist."

Baker's project is to develop just such a diagnostic. He is working on two-dimensional photonic crystal (2DPhC) sensors -- micron-scale devices that are fabricated in silicon and are so small you could "fit 74,000 of them on a dime," Miller noted.

"When we pass light through one of these sensors, it traps light of a particular color," Baker said. "When a virus binds to our sensor, it changes the color of light that can be trapped, and that allows us to detect if a virus is present."

Not surprisingly, these sensors are "extraordinarily difficult" to design, Baker noted, requiring computer simulations showing what color of light is trapped by various geometric patterns, and how the binding of a virus changes that. "This generates a large volume of results -- all related, yet all different and needing to be analyzed together," Baker said. "It was a significant challenge at first to analyze all of these different data sets separately, while trying to keep them all in mind so I could draw global conclusions."

The VISTA Collaboratory, with its ability to display multiple datasets simultaneously on a wall-sized screen, will make that task more manageable, Baker added. "Having this resource available will be invaluable for my continued research on this project."

Applications include monitoring emerging viral threats (H5N1 influenza and the SARS virus, for example), and understanding the long-term implications of nearly undetectable reservoirs of infection following antiretroviral therapy for HIV. One advantage of this type of sensor, added David Topham, Executive Director of the Health Science Center for Computational Innovation, is that it can detect viruses on its own. "So many of our detection technologies require an antibody or fluorescent molecule -- something to tag what you're looking for. And if it is only one virus you're looking for, that is hard to do."


Do you have an interesting photo or other image that helps illustrate your research? We would like to showcase it. Send a high resolution jpg or other version, along with a description of what it shows, to bmarcotte@ur.rochester.edu.
---
Researchers in the Himalayas 'blend in' to keep the focus on their project
(This is the second of two installments.)

When Timothy Dye, Professor of Obstetrics and Gynecology, arrived at Tibetan refugee camps last spring more than 15,000 feet above sea level in a remote part of the Himalayas, he and his co-investigators were mindful that "we were the best show in town."

"People watch us, to see what we ate, how we acted, what we said," Dye explained. "We didn't want people focusing on us, rather than the topic at hand (assessing the impact of Hepatitis B). Our Tibetan colleagues were so engaging and so good at communicating with people about health issues, I think the people in the refugee settlements found the exchanges very valuable."

Dye and his collaborators tried to blend in as much as possible. They were welcomed at every camp and village by camp leaders presenting the team with traditional Tibetan khatas, or ceremonial white scarves, as a sign of respect. The team ate Tibetan food, respected local ways of doing things, and even managed to say a few words in Tibetan. The Tibetans on the team -- which included local health clinic staff -- conducted the bulk of the interviews. "As foreigners, we made sure we didn't interfere with the process."

Dye and his colleagues were there to conduct a qualitative community assessment, collecting "illness narratives" and "explanatory models" to help better understand how the Tibetan refugees perceive the disease and its circumstances. This involved end-of-the-day, open-ended discussions with focus groups of 10 to 15 people each, lasting two to two and half hours, followed by one-on-one interviews with anyone who actually had the disease and who consented to talk about it. "We wanted to know peoples' stories, how they believe the disease is caused, how it works, how it is treated, and what are the social and medical consequences," Dye explained. The Tibetan team provided basic health education about hepatitis and answered peoples' questions, and were very well-received. Involving the local clinical team was invaluable, since they connected with people and provide very practical information.

Dye plans to return to the Ladakh district in November to discuss the assessment findings with the team and the Tibetan government-in-exile. The next step: Working with the Tibetan Health Department to devise a strategy to detect, treat and prevent the disease.

---
University continues campaign for more research funding
University President Joel Seligman last week joined other prominent leaders from higher education, science, and business in reiterating their call to close the "innovation gap," or the difference between actual and needed federal funding for research. The campaign began a year ago with a full-page ad in Politico featuring an open letter to the President and Congress signed by Seligman and other university presidents and chancellors from the Association of American Universities and the Science Coalition, both organizations of the country's leading research universities. Read more...

---
Program protects whistleblowing related to federal grants, contracts
The federal government has enacted a pilot program to protect employees who engage in whistleblowing related to federal grants and contracts. The University is committed to complying with this program and to ensuring that employee whistleblowers are not retaliated against, consistent with the University's Code of Conduct (which also requires employees to report suspected violations). Additional details on the pilot program can be found here.

---
Introducing a new faculty member
Philip Guo, who completed postdoctoral research earlier this year with the User Interface Design Group at MIT, has joined the Department of Computer Science as an assistant professor. His main research interests are in human-computer interaction (HCI), especially building tools for informal learning and online education. He created a free Web-based tool for learning programming called Online Python Tutor, which has been used by over 500,000 people in over 165 countries. He has also researched online education at edX and Google. He earned his Ph.D. in computer science from Stanford University in 2012.

---
Congratulations to . . .
Three new scholars appointed to the CTSI KL2 Career Development Program for 2014-15. This program provides 2 years of support for new investigators interested in a career in clinical or translational research. The new scholars are:

Beau Abar, Assistant Professor of Emergency Medicine, whose project is "Examining Barriers to Treatment for Depression among Older Adults." (Mentor: Manish Shah.)

Megan Lytle, Senior Instructor in Psychiatry, whose project is "Lesbian, gay, bisexual, and transgender (LGBT) health disparities/suicide prevention." (Mentor: Vincent Silenzio.)

Suzannah Iadarola, Assistant Professor of Pediatrics, whose project is: "Parent-Focused Intervention for Parents of Children with Autism Spectrum Disorders." (Mentor: Tristram Smith.)

Eight new trainees entering the CTSI Year-Out (ART) program for medical students in 2014-15. The new trainees (with mentors in parenthesis) and their projects are:

Josef Bartels (Ronald Epstein), "The Qualities of Science";

Michael Geary (Regis O'Keefe), "Modulation of the prostanoid receptor EP4 to reduce scarring during flexor tendon healing";

Trevor Hansen (Richard Phipps), "Thy1 Expression as a Marker and Therapeutic Target for Scar Formation in Capsular Contracture following Reconstruction Mammoplasty";

Kelly Makino (Anton Porsteinsson), "Advance Care Planning in Early Dementia Study";

Kyle Rodenbach (George Schwartz), "Crystatin-C-based renal reserve in children with history of hemolytic uremic syndrome-associated acute kidney injury";

Lauren Roussel (Howard Langstein), "Evaluating Upper Extremity Function Following Mastectomy in Reconstructed and Non-Reconstructed Women with Breast Cancer";

Elizabeth Saionz (Jeffrey Bazarian), "Post-concussion progesterone decline in female athletes";

Lindsay Wahl (Patricia Sime), "One Protein, Multiple Functions: The Role of Tissue Transglutaminase in Pulmonary Fibrosis."

---
UR research in the news
A University of Rochester-led study, published in the August issue of Health Affairs, shows that childbirth complication rates can vary as much as five-fold among hospitals, prompting researchers to call for the development of a national quality reporting system to improve maternal outcomes for more than 4 million women who give birth each year. Read more . . .

In a new paper featured last week on the cover of Nature, scientists from Rochester, the University of California at Berkeley, and Washington University in St. Louis assert that it is possible to track millions of quantum trajectories and compare them to a recently developed theory for predicting the most likely path a system will take between two states. Read more . . .

Mary Jane Curry, Associate Professor at the Warner School, and David Hanauer, Professor of English at Indiana University of Pennsylvania, have compiled a collection of studies and projects from researchers and professionals in the fields of language studies and STEM (Science, Technology, Engineering and Mathematics) education. These contributions offer new perspectives on how language and literacy can help facilitate and innovate various aspects of STEM education. Read more . . .

---
PhD dissertation defenses
Yekaterina Lyubarskaya, Chemistry, "Tuning Surface Properties Using Self-Assembled Monolayers for Various Applications." 1 p.m., today, Dewey Hall 2169. Advisor: Alexander Shestopalov.

Rita Swanekamp, Chemistry, "Understanding the fundamental mechanisms that drive amphipathic peptide self-assembly." 1 p.m., today, 473 Hutchinson. Advisor: Brad Nilsson.

Julianne Noel Smith. Pathology and Laboratory Medicine, "Osteoblastic VEGF coordinates remodeling of the hematopoietic stem cell niche." 1 p.m., Aug. 11, K307 (3-6408). Advisor: Laura M. Calvi.

Stanislav Bellaousov, Chemistry, "Improving and Applying RNA Secondary Structure Prediction." 1 p.m., Aug. 12, Neuman Room (1-6823) Medical Center. Advisor: David H. Mathews.

Elisabeth Karuza, Brain and Cognitive Sciences, "Learning across Space, Time and Input Modality: Towards an Integrative, Domain-General Account of the Neural Substrates Underlying Visual and Auditory Statistical Learning." 11 a.m., Aug. 12, Meliora Hall 269. Advisors: Richard Aslin and Elissa Newport.

Hye Sung Kim, Political Science, "Ethnicity, Distributive Politics, and Voting in Uganda." 11 a.m., Aug. 12, Harkness 329. Advisor: G. Bingham Powell, Jr.

Brenton Kenkel, Political Science, "Essays on Conflict and Diplomacy." 11 a.m., Aug. 13, Harkness 112. Advisor: Mark Fey.

Kristina Wilson, Chemistry, "An Attempt at Direct Observation of Anharmonic Vibrational Coupling Constants with Two-Dimensional Femtosecond Stimulated Raman Spectroscopy." 1:30 p.m., Aug. 14, Georgen 109. Advisor: David McCam.

Bethany Winans, Environmental Medicine, "Early Life Activation of the Ary! Hydrocarbon Receptor and Persistent Alterations in CD8+ T Cell Responses to Viral Infection." 9 a.m., Aug. 15, K207 (2-6408). Advisor: B. Paige Lawrence.

Brenda Cadiz-Rivera, Biochemistry and Biophysics, "Hyperacetylated Domain Formation and cis-acting Regulatory DNA Sequences within the Murine β-globin Locus." 1 p.m., Aug. 18, Neuman Room (1-6823). Advisor: Michael Bulger.

---
Mark your calendar
Aug. 11: Deadline at noon for applications for Center for Community Health Mini-Grants. You can find a link to the RFA here.

Sept. 1: Applications due for pilot grants for aging research, offered by The Rochester Aging Research Center and the Office for Aging Research and Health Services. Send to Daina_Bullwinkel@URMC.Rochester.edu. Contact Dirk Bohmann, Yeates Conwell, or Vera Gorbunova with questions. NOTE: New funding for projects that are related to HIV and aging has become available from the Center for AIDS Research. See the updated request for applications.

Sept. 2: Deadline to submit abstracts for Clinical and Translational Science Institute's Pilot Awards program, its Incubator program and for SMD Scientific Advisory Committee (SAC) "superpilot" awards.

Sept. 15: Deadline for initial abstracts for CTSI Novel Biostatistical and Epidemiologic Methods pilot projects. Click here to learn more.

Sept. 26: Deadline for letters of intent for CTSI KL2 Mentored Career Development program proposals, which provide two years of support for new investigators interested in a career in clinical or translational research. Click here for more information.

---
Please send suggestions and comments to Bob Marcotte. To see back issues, click here.