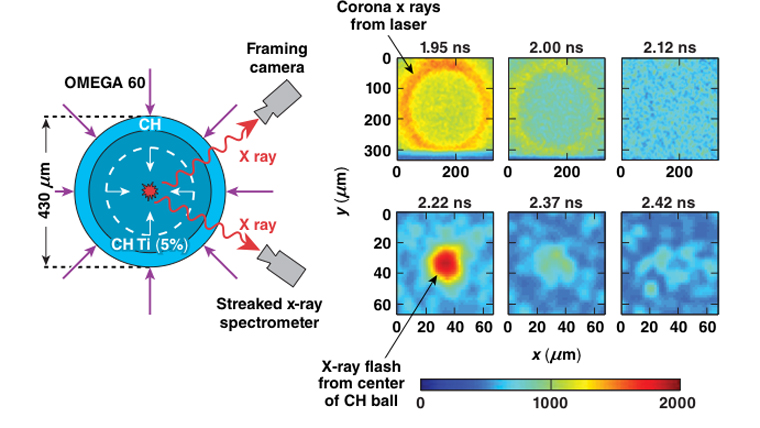 This drawing illustrates, at left, the setup used to infer the shock and laser ablation pressures achieved in an experiment demonstrating that shock waves of several hundred megabars can be successfully launched into spherical targets. At right, images captured by the x-ray framing camera.
LLE researchers achieve a milestone in "shock ignition"
Researchers at the Laboratory for Laser Energetics have demonstrated, for the first time, the ability to successfully launch shock waves of several hundred megabars into a spherical target. This is considered an important milestone in the quest to achieve inertial confinement fusion with a technique called "shock ignition."

The pressure of the shock waves is amplified to pressures estimated to exceed 1 gigabar upon propagation to the center of the target.

The demonstration was made using the 60 ultraviolet lasers of LLE's OMEGA laser facility. A paper by lead author Ryan Nora, a recent PhD student working with Riccardo Betti, the Robert L. McCrory Professor of Mechanical Engineering and of Physics and Astronomy, appears in Physical Review Letters. These experiments were possible thanks to a close collaboration with LLE scientists, in particular Wolfgang Theobald, a leading LLE experimentalist in the area of intense lasers.

Inertial confinement fusion, which has the potential to provide an inexhaustible supply of energy, involves irradiating a small spherical target of fusion fuel with high-powered laser beams that implode the target and compress the fuel while heating it to thermonuclear temperatures. The ongoing quest is to achieve "ignition," whereby a self-sustaining propagating fusion reaction occurs.

Conventional approaches to ICF attempt to achieve this in a single step, with laser pulses compressing the material, and the resulting shock wave creating a hot spot for fusion to occur.

"Shock ignition" is designed to achieve additional thermonuclear gain — with less laser power — by launching a second wave at the material toward the end of the compression stage, with the second wave colliding with the initial shock wave as it recoils from the center of the target.

Kevin Dusling, assistant editor at Physical Review Letters, writes that the results achieved by the LLE researchers represent "an encouraging step towards the application of shock ignition strategies at larger facilities like the National Ignition Facility (NIF), although experiments with target sizes comparable to those used at NIF will be needed for reliable extrapolations."


Do you have an interesting photo or other image that helps illustrate your research? We would like to showcase it. Send a high resolution jpg or other version, along with a description of what it shows, to bmarcotte@ur.rochester.edu.
---
Nominations sought for Furth Fund
In 1986, Valerie and Frank Furth created the Furth Fund to help foster the development of promising scientists. The Furth Fund provides early career scientists with $10,000 in research funds. These funds are used to promote the research activities of the faculty member, which may include the purchase of new equipment or support for graduate students or postdocs. The Furth Fund may not be used as a source of salary support for the faculty member.

Nominees should be junior faculty appointed in natural and biological science departments within ASE or SMD who have been hired within the past three academic years. Preference will be given to nominees who wish to use the award to support the active engagement of graduate students or postdocs in their research.

Nominations for candidates who are being actively recruited for positions, but not yet hired, will also be accepted. Departments must have made an offer to the candidate before the nomination will be considered. The nomination materials should note the status of recruitment efforts and the anticipated date for the candidate's decision.

All nominations must include the nominee's CV and a short (1-2 page) letter describing the nominee's research activities and proposed use of the funds. Interested faculty members should submit their nominations through their chairman and then their dean. There is no limit to the number of nominations per School.

Nominations should be submitted no later than February 15 to the office of University Provost Peter Lennie. Letters may be sent electronically or via intercampus mail to Alan Czaplicki. The award recipient will be announced on March 2.

---
Bennett explains CTSI's growing focus on community health
The United States spends more money per capita on healthcare than any country in the world, and yet our health outcomes are very poor relative to most other developed nations. That's why the University's Clinical and Translational Science Institute (CTSI) is making community health an overarching goal, Nancy Bennett, Co-Director and Professor of Medicine and of Public Health Sciences, explains in an interview with Sean Dobbins.

"We want everything we touch — whether it's our pilot grants, our education and career development, our research support programs — to somehow be moving towards the goal of improving the population's health," Bennett said.

Bennett cites a number of reasons for the gap between what we spend and our outcomes.

1. Our system is set up to treat individuals, rather than populations. We spend a lot of money on new technologies and expensive treatments for individual problems, rather than allocating resources to prevention, which will help the population's health improve.
2. We spend a lot of money treating the consequences of some widespread problems, such as obesity and tobacco-use, which could be more efficiently dealt with by addressing behaviors on the front end.
3. On the research side, we've always focused on basic science discovery and exciting technologies. However, we have not ensured that our research dollars support studies that address the most important determinants of health and can be quickly translated into health improvement for the population as a whole.

Read more at the CTSI Stories blog.

---
Basics of IP: A world of technology at your fingertips
(This is one in a series of articles about the importance of intellectual property and its commercialization to the University and its researchers. It is based on a current UR Ventures lecture series, "Intellectual Property and Commercializing Technology" being offered by the office of the AS&E Dean for Research. The next presentation, "Working with Third Parties," will be at noon, Feb. 10, in the Gowen Room of Wilson Commons. Lunch provided. RSVP to melissa.napolitano@rochester.edu)

How do you find out whether other people are doing research in a certain area? And what is the cutting edge research in that area? Have other researchers found solutions that you could apply to problems in your own lab?

Thanks to Google Patent Search, researchers can get access to more than seven million U.S. Patents to answer questions like the ones above, says Reid Cunningham, IP attorney for UR Ventures, the office that helps University researchers apply for patents and license their innovations.

"Patents contain detailed, technical descriptions of all kinds of things. That's the grand bargain that patents represent — public disclosure in exchange for a period of exclusive use. The public disclosure part is there for all of us to use, so we can read the patents, and find out what the cutting edge of technology is and understand it."

The challenge: quickly narrowing the search to the comparative handful of patents that are most relevant to your area of interest.

Here's Cunningham's strategy:

1. Start with a key word search, bearing in mind that the words you choose may be either too inclusive or too restrictive. Don't enter "printing" if you're interested in the latest printer technology, for example, because you'll also get patents for printing patterns on cakes or printing by cash registers. On the other hand, be aware that expanding the search to "printing on paper," for example, may exclude relevant patents filed by inventors who use other words like "sheet material" or "media" rather than paper.
2. Even so, a key word search is a good starting point. Scroll through the resulting list of patents to find one that uses a technology similar to what you're interested in. Call it up — even if it was filed several years ago.
3. Scroll to the bottom of the entry, past the detailed technical descriptions, to the listing of "referenced by" patents. These are the later patents that cited the patent you're looking at as relevant prior art. Click on the most recent of these subsequent patents.
4. This time click on one of the "classification" numbers listed at the very bottom.

This is where the most productive searching takes place. Over the last 100 years the U.S. Patent and Trademark Office has devised and refined a numbered classification system so that patents can be grouped according to very narrowly defined technologies. Inkjet printer patents, for example, are grouped separately if housed or mounted in a photo scanning electrostatic recorder, as opposed to an electrolytic recorder, as opposed to a thermal recorder, as opposed to a plural beam recorder, and so on. This helps the office's patent examiners quickly find relevant prior art to assess whether a patent application meets the requirement of indeed being something new.

Find the right classification, and you will find the patents most relevant to the area you are interested in. In a matter of minutes you can narrow your search from thousands of patents to a mere handful.

"You're bootstrapping off a hundred years of intelligent thought," Cunningham noted. And it's all at your fingertips, free of charge.

---
FDA approves breast-cancer imaging system invented by Ruola Ning
FDA approval of a breast-cancer imaging system invented by UR Prof. Ruola Ning is "exactly the type of development we hoped for when we began a concerted effort many years ago to invest in translating research into clinically useful products and services," said Stephen Dewhurst, Vice Dean for Research at the School of Medicine and Dentistry.

Ning, Professor of Imaging Sciences and of Electrical and Computer Engineering, is president and founder of Koning Corporation, a URMC startup company. The FDA's approval — after more than a decade of development and data-gathering, including 79 patents issued and breast scans on nearly 700 women — allows Koning to begin commercial distribution of its Koning Breast CT (KBCT) system.

The system offers some signficant advantages over traditional mammography.

1. The KBCT creates clear, high-resolution, high-contrast 3D images without sending radiation through the entire chest region. The KBCT images are capable of characterizing suspicious tissue and highlighting very small lesions, which are sometimes more treatable. The drawback for mammography, which is two-dimensional, is that it sometimes displays images that contain overlapping tissue and shadows, which can hide tumors.
2. Koning's scanner is more comfortable for women. A patient lies on her stomach on an ergonomic examination table as one breast at a time is suspended through an opening in the table, with no compression. (Conventional mammography requires the technologist to pull and flatten the breast during the scanning process.)

Currently, the KBCT is not intended to be used for breast cancer screening, or to replace mammography. It is for diagnosing cancer in women who have signs or symptoms of the disease, or who have abnormal findings after a standard screening mammogram. For these more complex cases, the KBCT was found to be safe and effective for diagnostic use.

Read more . . .

---
Seward Project: "They just don't have any models like this"
Thomas Slaughter, the Arthur R. Miller Professor of History, will be back at the Association for Documentary Editing Conference again this summer, and paying a visit to the National Archives as well.

A lot of scholars and archivists are very interested, to say the least, in the novel approach he's using to prepare an online archive of the University's collection of correspondence from the family of William Henry Seward, the former New York governor, U.S. Senator, and U.S. Secretary of State who brokered the Alaska Purchase. "They just don't have any models like this," Slaughter said. As early as 2016, at least 40 percent of the 5,000-plus letters and other documents in the Seward Family Collection will be online.

Up until now, most such collections have been transcribed and annotated by professional PhDs, and primarily for print editions. Any online presence was purely secondary.

"Nobody has done what is called a digitally-born project like this before," Slaughter says. Moreover, virtually all of the transcription and annotation of the Seward letters is being done by undergraduates and graduate students, some of whom transcribe letters for classroom credit even as they serve as paid staffers for the project.

The meticulous bookkeeping that keeps classroom work separate from paid work is just a small part of the project's novel, still evolving approach.

For example, Slaughter and his team have refined a precise editing workflow to ensure that letters are accurately transcribed, annotated, and then tagged for digital display in accordance with Text Encoded Initiative (TEI) guidelines and professional standards set by the ADE and the National Archives. (Click here to see images of this.) They've developed online guides to historical editing and annotation so that even a novice can quickly grasp what is involved. As students gain experience in these techniques, they help instruct incoming students, so that a core of expertise is maintained, even as individual students come and go.

"We're testing tools and using methodologies that could be foundational for somebody in 20 years," notes Mike Read, a history PhD student who taught TEI guidelines to the class last semester.

"It takes a village" is the title of a page listing key personnel of the Seward Project that will appear at the project's website. Slaughter is quick to credit the often unsung heroes of this team effort. They include Joshua Romphf, Lisa Wright, Blair Tinker, and Jeff Suszczynski — the computer programmers and data specialists who work for or with the Digital Humanities Center to build the web sites and supply the coding for the Seward Project and others, including Mike Jarvis' Smiths Island archaeological study and Joanne Bernardi's Re-envisioning Japan digital website, both of which were recently featured in Research Connections.

"He's indispensable," Slaughter says as he walks past Romphf's desk. "We couldn't do this without Josh."

At the heart of this project are the students themselves. "I'm incredibly enthusiastic about this project because the students are so infectious in their enthusiasm," Slaughter said. "I've seen them connect in a way I've never seen students connect before."

Serenity Sutherland, a History PhD student, serves as Transcription and Annotation Manager for the project. ""It's cool to envision an end user while you're transcribing a letter," she says, "and wonder what they will think about the cool story I just found, and whether they will appreciate it in the way I do."

---
Need data? Libraries offer data purchase program
The River Campus Libraries invite University faculty, academic professionals, and students to request purchases of numeric and spatial datasets to support their teaching and research. The data will be available as part of the libraries' collections. To make a request, please contact data@library.rochester.edu, or click here.

---
AS&E launches redesigned research website
AS&E has launched a redesigned research website that includes simplified navigation and monthly feature stories about faculty research initiatives from across disciplines.

In addition, the University recently launched an official Tumblr account that celebrates research, scholarship, and creative activity from Rochester and beyond.

If you have a story idea for the web pages or for Tumblr, please email Sofia Tokar, AS&E's web writer and content manager for the Tumblr account.

---
Introducing a new faculty member
Pierre-Alexandre Gourdain has joined the Department of Physics and Astronomy as an assistant professor. In his laboratory, Gourdain creates matter with large particle densities and temperatures, yielding pressures a billion times higher than the Earth's atmosphere. Under such conditions, matter turns into a plasma state. By developing new physical models based on experimental measurements in his lab, Gourdain hopes to understand the basic astrophysical mechanisms ruling the cosmos. He came here from Cornell University, where he was the NNSA assistant professor of electrical and computer engineering. A native of Montpellier, France, Gourdain earned his PhD from the Ecole Centrale de Lyon in 2001.

---
Congratulations to . . .
Linda Chaudron, Professor of Psychiatry, of Obstetrics and Gynecology, and of Pediatrics, and the Senior Associate Dean for Diversity at the School of Medicine and Dentistry, who will receive this year's Susan B. Anthony Lifetime Achievement Award for her work as a champion of women in science and medicine. She has earned national recognition for her clinical and research efforts to treat women with mental illnesses during pregnancy and postpartum. She has published extensively in the area of screening for perinatal depression and anxiety and works in collaboration with pediatric and obstetrical providers to improve identification of new mothers in need and at risk. Read more . . .

---
University research in the news
When student-researcher Jorge Azpurua wanted to clone one of three known cancer-suppressing proteins of the naked mole rat for a separate experiment, he noticed something unexpected: The presence of a fourth protein, which was the result of two of the other cancer-suppressing proteins being fused together. This fourth protein was as good or even better than the other two at stopping cells from dividing, and may help explain the unique ability of naked mole rats to ward off cancer, Vera Gorbunova, Professor of Biology, explains in a paper published in Proceedings of the National Academy of Sciences. Read more . . .

Just because you are feeling well, doesn't mean that your rheumatoid arthritis is under complete control, say University researchers based on their findings in a recent study. Allen P. Anandarajah, Associate Professor of Medicine (Allergy, Immunology, and Rheumatology) and Christopher Ritchlin, Professor of Medicine and Chief of Allergy, Immunology, and Rheumatology, collected tissue samples during elective orthopedic surgeries of rheumatoid arthritis patients in clinical remission. Inflammation was found in biopsied tissue, which paralleled abnormalities found on MRI and ultrasound images taken prior to surgery. Remarkably, most of the patients' tissues and images showed joint inflammation and disease progression, despite their diagnosis of remission. These outcomes suggest that confirmation of remission from rheumatoid arthritis may require the use of imaging measures in combination with clinical assessment and medical histories. Study authors recommend musculoskeletal ultrasound because it's non-invasive, relatively inexpensive, and can be done right in the doctor's office. This extra measure could ensure that patients do not stop taking their medications before it is safe to do so. Read more at the Research@URMC blog.

In two unrelated studies, Rochester researchers investigated prostate cancer with results pointing to the benefits of strong support at home and sipping green tea. Thomas A. Gasiewicz, Professor and Chair of the Department of Environmental Medicine, and his team show that green tea extract (the main component being epigallocathechin gallate or EGCG) might have anti-cancer properties, particularly for late-stage and metastatic prostate cancer. Their study reports that green tea's anti-cancer activity is likely due to its effect on a protein pathway known as HSP90 (heat shock protein 90), which has an important role in cancer progression. In the other study, lead author Gary R. Morrow, Professor of Surgery (Cancer Control), shows that married prostate cancer survivors with a high level of partner support reported much less psychological distress than unmarried survivors or those with low levels of partner support. The implication for physicians: it's important to assess and consider marital status and partner support when evaluating a patient's psychosocial functioning, when deciding on an intervention, or when trying to better understand factors that impact survivorship and quality of life. Read more . . .

A new study in the journal Environmental Health indicates that porches in older homes can be a significant source of lead dust and that housing regulations — which have been instrumental in lower rates of lead poisoning in recent years — need to be adapted to meet this threat to children's health. "This study shows that porches are an important potential source of lead exposure for children," said co-author Katrina Korfmacher, Associate Professor of Environmental Medicine and Director of the Community Outreach and Engagement Core of the Medical Center's Environmental Health Sciences Center. "It is becoming clear that porch dust lead can be effectively reduced through repairs, cleaning, and maintenance." Read more . . .

University researchers have developed an innovative approach to turn any computer or smartphone with a camera into a personal mental health monitoring device. In a paper presented at the American Association for Artificial Intelligence conference in Austin, Texas, Jiebo Luo, Professor of Computer Science, and his colleagues describe a computer program that can analyze "selfie" videos recorded by a webcam as the person engages with social media. The researchers were able to analyze the video data to extract a number of "clues," such as heart rate, blinking rate, eye pupil radius, and head movement rate. At the same time, the program also analyzed both what the users posted on Twitter, what they read, how fast they scrolled, their keystroke rate and their mouse click rate. Not every input is treated equally though: what a user tweets, for example, is given more weight than what the user reads because it is a direct expression of what that user is thinking and feeling. Read more . . .

---
PhD dissertation defense
Hui Wang, Chemistry, "Studies Towards the Total Synthesis of (-)-Nakadomarin A." 2 p.m., Feb. 19, 2015, 473 Hutchison Hall. Advisor: Robert Boeckman

Click here for a chronological listing of PhD dissertation defenses since April 2014, by discipline.

---
Mark your calendar
Today: "Sustaining Science in a Difficult World." Colloquium hosted by AS&E Dean of Research. 2 p.m. Sloan Auditorium, Goergen Hall. Sir Peter Knight of Blackett Laboratory, Imperial College, London and Research Professor of Physics at the UR, will discuss how the science community in the UK has attempted to reassure the public and persuade politicians on science issues. Duncan Moore, Kingslake Professor of Optical Engineering and Vice Provost for Entrepreneurship, will provide a U.S.-centric response.

Today: Organ Music of Mendelsson, performed by faculty of Eastman School at 8 p.m. at Christ Church, 141 East Ave. The event commemorates a new book, Mendelssohn, the Organ, and the Music of the Past, and the 25th anniversary of University of Rochester Press. Reception and book signing to follow; free and open to the public.

Feb. 10: "Working with Third Parties," part of UR Ventures lecture series, "Intellectual Property and Commercializing Technology." Noon, Gowen Room of WIlson Commons. Lunch provided. RSVP to melissa.napolitano@rochester.edu

Feb. 10: "ACO, ACA and FFS: New Motivation for Cross-Disciplinary Research." Presented by Ekaterina Noyes, Professor of Surgery, Research and Public Health Sciences. Noon to 1 p.m., Helen Wood Hall Auditorium (1w-304)

Feb. 12: "Integrity Matters: Protecting Patient Privacy is Everyone's Job," presented by Diane Healy, Privacy Officer for Research. A Study Coordinators Organization for Research & Education (SCORE) event. Noon to 1:30 p.m., K-207 Auditorium (2-7520).

Feb. 15: Nominations due for Furth Fund awards to support the research of early career scientists in natural and biological science departments within ASE or SMD. (See item above.) Letters may be sent electronically or via intercampus mail to Alan Czaplicki.

Feb. 16: Deadline for AS&E faculty and investigators to file annual reports of outside compensated activity, as required by the University of Rochester Faculty Policy on Conflict of Commitment and Interest and their College. A web-based reporting system supported by the College can be found at www.rochester.edu/orpa/compliance/#fcoi

Feb. 17: "Exempt Research." Presented by Kathleen Buckwell, Senior Specialist, Office for Human Subject Protection (OHSP). Noon to 1 p.m., Helen Wood Hall Auditorium (1w-304)

Feb. 20: Applications due from new investigators for pilot project funding from the University's Core Center for Musculoskeletal Biology and Medicine. Click here for the full RFA.

March 1: Deadline for most faculty and other investigators to file annual reports of outside compensated activity, as required by the University of Rochester Faculty Policy on Conflict of Commitment and Interest and their School/College. Eastman School, School of Medicine and Dentistry, and School of Nursing faculty and investigators should use a web-based reporting system supported by their School/College. Links can be found at www.rochester.edu/orpa/compliance/#fcoi Laboratory for Laser Energetics, and Warner and Simon school faculty and investigators should use this form. Questions? Contact Gunta Liders or your School/College administrator.

---
Please send suggestions and comments to Bob Marcotte. You can see back issues of Research Connections, an index of people and departments linked to those issues, and a chronological listing of PhD dissertation defenses since April 2014, by discipline.