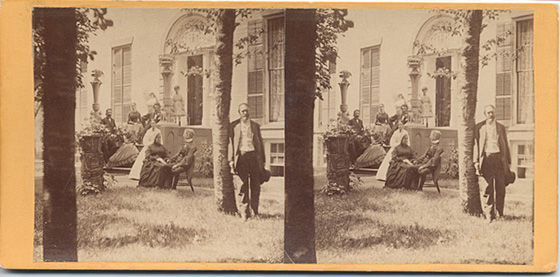 Stereoscope photograph of the Seward family was taken between the years 1864 and 1865 by H. R. Lindsly. (From the Seward Family Digital Archive.)
You can 'get to a lot of subjects from a lot
of directions' in Seward Family Digital Archive
There is a wealth of research possibilities waiting to be explored in the 800 letters posted so far at the
Seward Family Digital Archive
— and they're
right at the scholar's fingertips
.
Thanks to the online archive's navigation tools, a keyword search for commonplace words like "sleigh" or "snow," for example, instantly "takes you to letters in which people are talking about illness — 'can the doctor get here given the weather', or recreation — 'we're hoping to go sleigh riding,' " says Project Director
Thomas Slaughter
, the Arthur R. Miller Professor of History.
"You can get to a lot of different subjects from a lot of different directions. It's an amazing database."
The letters were written by the family of William Henry Seward, the former New York governor, U.S. senator and Lincoln cabinet member. They span the period from 1822 to 1842. (The archive will eventually include correspondence written through 1872.)
They were overlooked by past historians who were more interested in the official papers of public figures.
In recent years, however, there has been a shift to greater emphasis on social and cultural history.
Historians now appreciate that family papers provide a unique resource to help us understand the past in ways that public papers cannot.
As a result "there is so much that the letters can offer," says
Serenity Sutherland
, the Project Manager. "You might not be writing a monograph about the Seward family, but you will still go to the Seward family papers to get a sense of what life was like during this time period."
For example:
The letters between William Henry Seward, his wife Frances, their four children, and their extended families offer
an intimate look at 19th century family and social life
. "The letters have great potential to offer insights into big questions like friendship and family, but also offer avenues into smaller questions, like 'what did women do when they called on other women?' " Sutherland noted. The letters also show that "Henry and his brothers were very different husbands and fathers than their own father was," adds Slaughter. "Historians portray the 1830s as a critical period in the change from 18th century patriarchal figures."
The letters help document
the 19th century revolution in transportation
. "At the beginning of this period you don't have canals and railroads as an option," Slaughter notes. "In 1830 it took four days to get from Auburn to Albany. Within the span of this first installment of letters you can get there in one day."
The Panic of 1837
, which triggered a major recession lasting about seven years, figures prominently in the family's correspondence. "We see Henry and (his brother) Benjamin Jennings Seward having to deal with that in relation to their mortgages with the Holland Land Company, and the company being sold — and because there was no national currency, having to work with bank notes, some worth more than others," Slaughter said. "It was incredibly complicated and very, very scary. And then, in 1838, Henry is elected and has to deal with the same economic problems as governor."
How did individuals respond to the books and plays of that time? "Whether you talk about theater, fiction or any form of literature in the 19th century,
'reader response'
is one of the hardest kinds of research to do," Slaughter said. "You always wonder: 'What did they think?' Fortunately, Frances tells us fairly often."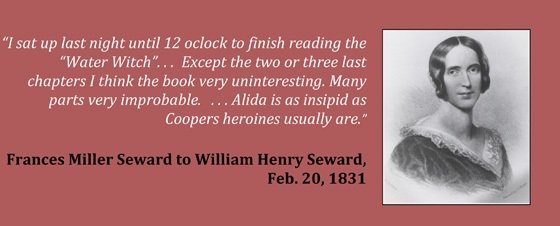 (Next: The Seward Family Digital Archive illustrates how digital technology makes it much easier for researchers to explore large collections.)
Do you have an interesting photo or other image that helps illustrate your research? We would like to showcase it. Send a high resolution jpg or other version, along with a description of what it shows, to bmarcotte@ur.rochester.edu.
---
Simon School study: Independent grocers thrive when Wal-Mart enters a market
It's a widely accepted adage that when a large, national retail chain enters an urban market, small businesses suffer as a result. But, contrary to popular opinion, that's not always the case, according to new research from
Paul Ellickson
, professor of marketing and economics at the Simon Business School.
The research titled, "Estimation of Dynamic Discrete Choice Models in Continuous Time with an Application to Retail Competition," concludes that
independent grocers actually thrive when Wal-Mart enters
, leading to an overall reduction in market concentration.
"Our research suggests that Wal-Mart's impact on a particular market structure varies greatly across markets," says Ellickson. "We see that
small grocery businesses with a high degree of differentiation in larger markets can actually benefit from Wal-Mart's presence, while the larger grocery chains tend to suffer.
"
Ellickson and his co-authors, Peter Arcidiacono and Patrick Bayer of Duke University, and Jason Blevins of Ohio State University,
developed a series of mathematical models
, which they applied to retail grocery sectors where Wal-Mart was rapidly expanding. The research results show that Wal-Mart's expansion into the grocery sector came mostly at the expense of the large incumbent supermarket chains leading some to exit the market completely, rather than the single-store outlets that bore the brunt of Wal-Mart's earlier rout of the broader general merchandise sector.
Researchers examined the impact of Wal-Mart's rapid expansion into the retail grocery industry from 1994–2006 and modeled the decisions of Wal-Mart and its rivals over whether to operate grocery stores in a particular market. The data included the choices of Wal-Mart and up to seven competing chains as well as single-store market entry and exit decisions.
(From Simon School "Faculty in the News".)
---
Neurologist confronts seizure disorders in sub-Saharan Africa
"There's a disconnect between where disease is and where experts are," says
Gretchen Birbeck
, the Edward A. and Alma Vollertsen Rykenboer Professor in Neurology who
spends half her year in sub-Saharan Africa, working to improve care for people with seizure disorders
.
Birbeck, who directs an epilepsy care team at Chikankata Mission Hospital in Zambia and is an adjunct faculty member at the University of Zambia, works to redress that disconnection, providing clinical care and conducting research. As a result,
more than 3,000 patients have received treatment they otherwise wouldn't have
. And she has helped make changes to Zambia's national policy that could help many more.
She's also working to build up the resources and networks necessary to conduct clinical trials in Africa, and to create education and training programs for health care providers and researchers. She's involved in cerebral malaria research in Malawi and Uganda, and mentors postgraduates and junior faculty carrying out research in Zambia, Malawi, Kenya, and South Africa.
While creating access to specialty health care is critical, Birbeck finds that
tackling stigma and misinformation is also key
. The difficulties are complex. There aren't only problems procuring a diagnosis, finding treatment options, and getting access to medication. Open flames from fires and bodies of water also pose significant threats. "Burns and drowning," she says, "are two of the most common causes of death of people with epilepsy in developing countries." Read more
here
.
---
10 years ago: Cancer vaccine with Rochester roots was approved
In the fall of 2005, newspaper headlines heralded the first vaccine proven to protect individuals from an identified cancer-causing agent.
On June 8, 2006, the vaccine known as Gardasil was finally approved
by the Food and Drug Administration.
The vaccine protects women against the most troublesome forms of the human papillomavirus (HPV), a family of sexually transmitted viruses associated with diseases of the reproductive system and skin. Two of the types (HPV16 and HPV18) had caused 70 percent of the cervical cancers diagnosed worldwide.
Largely unreported at the time was the remarkable story of the Rochester virologists whose innovation, dedication, and perseverance resulted in the key breakthrough
that lies at the heart of the vaccine.
Robert Rose
'94M (PhD),
Richard Reichman
, and
William Bonnez
did not set out to find a cancer vaccine. Instead, they
were looking for a simple blood test
that would allow doctors to see whether a woman was infected with a strain of HPV and whether that strain was linked to cancer. What followed was a more than
20-year-long journey through scientific dead ends, legal pitfalls, and business maneuverings to bring the vaccine to patients
.
Read more
here
.
URMC clinical trials lead the way to vaccines
The
Vaccine Research Unit
at the Medical Center began conducting vaccine trials in the 1970s and hasn't stopped. The unit conducts large (up to 20 people) isolation studies to test the effectiveness of live-virus vaccines and
enrolls an estimated 100 to 200 participants in clinical trials each year
.
Here are a few of the infectious threats that the Vaccine Research Unit team, led by
John J. Treanor
, chief of Infectious Diseases at Strong Memorial Hospital, has tackled in the past:
Smallpox and anthrax
: After 9/11, when bioterrorism concerns were front-and-center, the Vaccine Research Unit conducted trials of vaccines for anthrax and smallpox.
Seasonal flu
: Phase I, II and III clinical trials of the nasal spray vaccine FluMist—a popular option for seasonal flu, since it eliminates a shot—were done by the unit.
HPV (human papillomavirus)
: Multiple clinical trials of the HPV vaccine—the first-ever cancer vaccine—as well as the basic research that led to the development of the vaccine, took place at URMC.
Shingles
: The shingles vaccine was approved for adults 60 years and older following trials coordinated by Treanor's team.
Currently, the group is focusing on:
Pandemic bird flu
: Because of the possibility that viruses that infect chickens and other fowl could change and gain the ability to spread easily between people, trials of vaccines for various bird flu strains, like the H7N9 virus that continues to persist in China, are ongoing.
Norovirus
: Also known as the "cruise ship virus," norovirus is one of the main causes of gastrointestinal illness. No licensed vaccine exists, but several candidates are under development and in safety and efficacy trials in the Vaccine Research Unit.
"Clinical research conducted at the University of Rochester Medical Center has been instrumental in licensing new flu vaccines and the first and only vaccine to prevent cancer," said Treanor. "We want to continue that tradition with the next wave of new vaccines and therapies.
The participation of the Rochester community has and will continue to be a key factor in our success.
"
The Vaccine Research Unit team
actively recruits potential trial participants all year long and participants are paid for time and travel
. If you're interested in participating in a vaccine trial, call (585) 273-3990.
(From the Research@URMC blog.)
---
Learn programming languages, data analysis skills at CIRC Summer School
The
Center for Integrated Research Computing
(CIRC) will host
workshop training sessions
— including basic training in Linux, programming languages, data analytics tools, and visualization — for a
6-week period starting on July 19
.
Known as the "CIRC Summer School," these workshops will be broken down into 10 topics. Each week will feature 2 topics, and each topic will span 3 days of instruction, with the exception of Python and R, which will span 6 days of instruction.
The courses are
designed for beginners
and extra emphasis will be placed on using these languages, libraries, applications, etc. specifically
on BlueHive
. The classes will take place on Tuesday, Wednesday, and Thursday mornings and afternoons in the University's large-scale, interactive visualization facility,
the VISTA Collaboratory
, located on the first floor of the Carlson Library. Click
here
for a table of topics, dates, and times and to register for the sessions.
---
At NIH, grant renewals have highest success rate
Michael Lauer
, NIH's Deputy Director for Extramural Research, writes in his
Open Mike
blog that
applications for grant renewal have a higher success rate at NIH than new applications
, for both new and experienced investigators. Click
here
for a closer look at the trends since 1995.
---
University research in the news
Rochester Business Journal
takes a
wide ranging look at the work of the University's Clinical and Translational Science Institute
in recent
article
marking CTSI's 10th anniversary. Writer Eric Walter looks at
bioinformatics
as a key CTSI focus area, describes
CTSI's administrative structure
, and gives an example of how
CTSI research funding
is aimed at taking a scientific discovery with potentially significant implications for public health or medicine to the point where it can receive independent funding from outside CTSI.
---
Mark your calendar
June 24:
Deadline is 5 p.m. for applications for Center for AIDS Research pilot awards in
Focused Topic Areas
and in
General HIV/AIDS
. Contact Laura Enders at
Laura_Enders@urmc.rochester.edu
or (585)273-2939.
July 1:
Deadline to submit applications for AS&E
PumpPrimer II awards
. Faculty in Arts & Science should refer questions to
Debra Haring
and those in Engineering to
Cindy Gary
.
---
Please send suggestions and comments to Bob Marcotte. You can see back issues of Research Connections, an index of people and departments linked to those issues, and a chronological listing of PhD dissertation defenses since April 2014, by discipline.