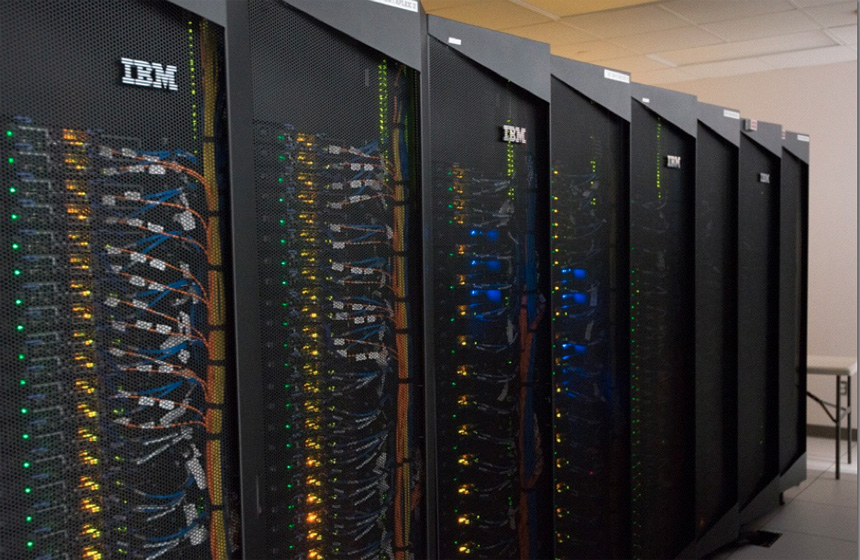 BlueHive 2 will further boost UR's computing power
The University's computing power, which already places it among the top five academic sites in the nation, will be increased significantly when the BlueHive 2 system becomes fully operational in June.

Combined with the Blue Gene Q supercomputer, it will give the UR 420 teraflops of computing capacity, compared to 240 now, Brendan Mort, Director of the Center for Integrated Research Computing, said at a recent CIRC research symposium.

In other words, the system will be capable of performing 420 trillion floating-point operations per second. To match what a 1 TFLOPS computer system can do in just one second, you'd have to perform one calculation every second for 31,688.77 years.

"This new system will provide University of Rochester faculty and students the ability to sift through ever-increasingly large volumes of data, simulate models with more detailed resolution, and provide a virtual space to collaborate and share large data sets," Mort explained.

BlueHive 2 will support the Health Sciences Center for Computational Innovation (HSCCI), the Institute for Data Science, and sponsored research across multiple disciplines. It is a key component of the University's commitment to create an internationally distinguished campus-wide Data Science Institute, which is the top priority of the UR'S new strategic plan. The University is investing a total of $100 million, including funds for a new facility to house the Institute and at least 20 new faculty to support it.

BlueHive 2 was funded through HSCCI, which is a 3-way partnership between University of Rochester, IBM, and New York State.

The BlueHive 2 includes 200 compute nodes, with 24 Intel Ivy Bridge, 2 x 12-core CPUs per node. The range of memory is 64 GB, 128 GB, 256 GB, and 512 GB. Four Hadoop nodes provide 448 TB.

The system also includes Accelerated Co-Processing Nodes: 60 x NVIDIA K20X GPU (Kepler) cards and 16 x Intel Phi 5110P cards.

There are multiple links between nodes, racks, and Blue Gene/Q to facilitate networking. The system will have 2 petabytes of IBM GSS GPFS storage.

BlueHive 2 is currently in development phase. A second wave of pilot users are being introduced to the system now, followed by most users this month. By early June, faculty who have voluntarily contributed hardware resources to the original BlueHive cluster will have their computing equipment migrated to the new BlueHive 2 environment.

After BlueHive 2 goes into production in June, the existing BlueHive (1) will be decommissioned and BlueHive 2 will become BlueHive.

Anyone who would like more information about BlueHive 2 can contact Brendan Mort.


Do you have an interesting photo or other image that helps illustrate your research? We would like to showcase it. Send a high resolution jpg or other version, along with a description of what it shows, to bmarcotte@ur.rochester.edu.
---
$30 million research fundraising campaign planned for new Wilmot Cancer Institute
Research is a major element that has separated Wilmot Cancer Center from other cancer providers in the area. In support of that effort, a $30 million research-focused fundraising campaign will be launched at the 15th annual Discovery Ball on Saturday, May 10.

The announcement yesterday coincided with the creation of the Wilmot Cancer Institute, a new organizational structure for all of UR Medical's clinical and research programs in cancer, including its growing network of satellite locations throughout the region.

"We want patients to see 'Wilmot Cancer Institute' and breathe a sigh of relief because they know they're getting the best," said Jonathan W. Friedberg, Director of the Institute and Samuel E. Durand Chair in Medicine, who has been in the top leadership position at Wilmot since July of 2012.

The Wilmot Cancer Institute's goal is to provide the highest level of care to individuals in Rochester and throughout western New York, by making the Institute's expertise and capabilities available to patients closer to home. Research, and bringing scientific discoveries directly to patients, is also an integral part of the Institute's mission.

"Thanks to cancer research, patients have so many advantages that didn't exist in years past," said Hartmut "Hucky" Land, Co-director of the Institute, Director of Research, and Robert and Dorothy Markin Professor of Biomedical Genetics. "This new campaign will provide the support to keep the momentum going and leverage opportunities to bring precision medicine to patients more quickly." Click here to read more.



---
NSF releases report on reducing investigator workload
Surveys and reports have highlighted an increase in administrative and compliance requirements associated with Federal research. A consensus has been reached that some of these requirements interfere with the conduct of science out of proportion with the accepted need to ensure accountability, transparency and safety. On May 1 the National Science Foundation released its report and recommendations, Reducing Investigators' Administrative Workload for Federally Funded Research.

The report recommends that:

1. Federal agencies require that grant applications include only information that's essential to evaluating the merit of the proposal and making an award decision.

2. The Office of Management and Budget find agreement on a time-and-effort reporting system that can be used by universities and accepted by auditors and inspectors general.

3. The federal government carry out recently proposed changes in regulations governing human-subjects research, including encouraging the use of a single institutional review board for multisite studies.

4. Federal agencies accelerate efforts to harmonize and streamline grant-proposal and grant-submission processes and post-award requirements.

5. Universities and grant agencies share models of effective and efficient practices.

---
2013-2014 Outstanding Dissertation Award winners and commendations announced
Humanities and Humanistic Social Sciences

Winner: Rebecca Burditt, Visual and Cultural Studies, "Commercial Moments: Cinema, Capital, and the Formation of Postwar American Identity." Advisor: A. Joan Saab. Commendations: Esther Arnold, English, "Entertaining Reformers: Social Reform and Recreation in American Literature and Silent Film, 1840-1915" (Advisor: John Michael) and Michael J. Brown, History, "Experts, Eggheads, and Elites: Debating the Role of Intellectuals in American Political Culture, 1952-2008" (Advisor: Robert B. Westbrook).

Social Sciences

Winner: Jordan Silberman, Clinical and Social Sciences in Psychology, "Using Source-Localized EEG Operant Conditioning to Up-Regulate Neural Mechanisms Underlying Self-Control and Improve Self-Control Ability." Advisor: Miron Zuckerman. Commendation: Peter Haschke, Political Science, "Democracy and the Human Right to the Physical Integrity of the Person." Advisor: G. Bingham Powell, Jr.

Natural Sciences

Winner: Daniel A. Everson, Chemistry, "Nickel-Catalyzed Electrophile Cross-coupling of Aryl Halides with Alkyl Halides." Advisor: Daniel J. Weix. Commendations: Zhihuan Li, Biology, "The Role of Lipid Droplets in Regulating Histone Metabolism" (Advisor: Michael Welte) and Kyoung Hee Kim, Physics, "Evolution of Protoplanetary Disks in the Orion A Star-Forming Region" (Advisor: Dan M. Watson).

Engineering

Winner: Luke K. Dalessandro, Computer Science, "Preserving the Appeal of Transactional Programming." Advisor: Michael Scott. Commendations: Ryan Beams, Optics, "Graphene Nanophotonics" (Advisor: Lukas Novotny) and Mahesh B. Nagarajan, Biomedical Engineering, "A Framework for Computer-Aided Diagnosis with Novel Computational Methods for Characterizing Healthy and Pathological Soft Tissue Patterns on Medical Images" (Advisor: Axel Wismuller).


Upcoming PhD dissertation defenses
Leonard Zheleznyak, Optics, "Overcoming Presbyopia by Manipulating the Eyes' Optics," 1 p.m., May 13, 109 Goergen Hall. Advisor: Geunyoung Yoon

Nicole M. Boschi, Pharmacology and Physiology, "The Role of Poly(c)-binding Proteins in the Post-transcriptional Control of Tyrosine Hydroxylase mRNA," 11 a.m., May 13, Upper S-Wing Auditorium (3-7619). Advisor: A. William Tank

Sayeda Yasmin-Karim, Chemical Engineering, "Influence of Selectin Mediated Rolling/Adhesion Dynamics in Prostrate Cancer Metastasis: a Micro-Channel Model," 2 p.m. May 14, Scott Conference Room, Medical Center. Advisors: Yi--Fen Lee and David Wu

Esen Aksoy Yazici, Mathematics, "Erdös Type Configuration Problems in Modules over Finite Rings," 10 a.m. May 20, 1106A Hylan. Advisor: Alex Iosevich

Subir Kapuria, Biology, "Regulation of Stem Cells by Nutrients Sensing Pathways," 11:30 a.m., May 22, 473 Hutchison. Advisor: Heinrich Jasper.

Javier Manzella-Lapeira, Biomedical Engineering, "Multiphoton Flourescence Recovery After Photobleaching with Shear Flow," 9 a.m. May 23, 101 Goergen. Advisor: Edward Brown

Yan Li, Mechanical Engineering, "Understanding and Improving Cycling Performance of Li1.2Ni0.15Mn0.55Co0.1O2-Graphite Lithium-Ion Batteries," 10 a.m., June 3, Hopeman 224. Advisor: James C.M. Li

---
Crossing Elmwood: The quest to produce blood cells on a large scale
Hundreds of thousands of units of blood are in storage in blood banks across the country. But in terms of shelf life, they won't last much longer than a gallon of orange juice, writes Sean Dobbin at CTSI Stories.

James Palis, Professor of Pediatrics, Hematology, and Oncology at the Medical Center, and Rick Waugh, Chair of the Department of Biomedical Engineering on River Campus, have been working on a way to use embryonic stem cells to generate red blood cells for clinical use.

Palis has had initial success using embryonic stem cells and erythroid progenitors to generate self-renewing erythroblasts. The challenge is doing so on a large enough scale. The average person has about 25 trillion red blood cells in their body at any one time.

Waugh said that the team has had some success using a new bioreactor that they'd recently developed. One of Waugh's students was able to use the bioreactor to grow red blood cells for three days, unattended, with 92 percent of the cells viable at the end of the process. "These self-renewing erythroblasts really show enormous promise for producing blood cells on a large scale," said Waugh. "But we're going to have to improve our bioreactors significantly if we're going to get to the place where we'll have some practical application."

Read more . . .

---
Genomics Research Center acquires new equipment
With funding from the recent Finger Lakes Regional Economic Development Council award and the School of Medicine and Dentistry, the Genomics Research Center will purchase a new ABI QuantStudio 12K FLEX to replace the ABI 7900HT qPCR system. The center anticipates the transition to the QuantStudio 12K to occur in July. Current users are encouraged to finish ongoing projects on the 7900HT system. If you have any questions or concerns, contact John Ashton.

---
NIH Regional Seminar focuses on program funding and grants administration
If you or someone you know is new to working with NIH -- or maybe just in need of a brush up on NIH funding and related topics -- consider joining NIH program officers and leadership on June 26-27 in Baltimore, MD for the 2014 NIH Regional Seminar. Click here for more information.

---
Introducing a new faculty member
Elizabeth Bucura has been appointed Assistant Professor of Music Education at the Eastman School of Music beginning in the 2014-2015 academic year. Bucura, currently a lecturer at Arizona State University, has also been an online course facilitator for Boston University. Her research has investigated music educators in a variety of settings, curriculum, and composition, focusing on music teachers' sense of self, place, and practice. Click here to read more.

---
Congratulations to . . .
Saxophonist Phil Pierick, a doctoral student at the Eastman School of Music, who has received a Fulbright Study/Research Grant and will spend the 2014-2015 academic year in Austria. There, he will be studying contemporary music performance practice with Lars Mlekusch at the Konservatorium Wien Privatuniversität in Vienna. Read more here.

---
UR research in the news
Hispanic seniors are 35 percent less likely to have prescription drug coverage despite the existence of the Medicare Prescription Drug Plan -- also known as Part D -- and the availability of assistance to help pay insurance premiums. That is the finding of a study by UR researchers released in the journal Health Affairs. "These results indicate that disparities in prescription drug coverage exist between Hispanic and white Medicare beneficiaries, despite the existence of a potentially universal entitlement program," said Brian McGarry, a graduate student in the Department of Public Health Sciences. "This study suggests that, in spite of the overall success of the Part D program, future policies need to focus on the disproportionately low enrollment of vulnerable populations."

Researchers at the University of Rochester Medical Center received $950,000 from the New York State Department of Health to work on reducing Clostridium difficile or C. diff in Rochester-area nursing homes over the next five years. The research team, led by Ghinwa Dumyati, Director of the Communicable Diseases Surveillance and Prevention Program at URMC's Center for Community Health, is focusing on nursing homes because C. diff is more common in the elderly. Taking antibiotics is another major risk factor and local data shows that close to 90 percent of Monroe County nursing home residents who acquired C. diff had received antibiotics in the previous 12 weeks. Read more.

University of Rochester scientists at the Wilmot Cancer Institute have discovered a gene with a critical link to pancreatic cancer, and further investigation in mice shows that by blocking the gene's most important function, researchers can slow the disease and extend survival. The research led by Hartmut "Hucky" Land, Chair and Robert and Dorothy Markin Professor of Biomedical Genetics, and Aram F. Hezel, Associate Professor of Hematology/Oncology, identifies a new target in the process of garbage recycling that occurs within the cancer cell called autophagy, which is critical to pancreatic cancer progression and growth. Read more.

UR Medicine cardiologists have published a comprehensive manual for physicians to improve the diagnosis and treatment of women with heart disease, because they need different care than men. Hanna Z. Mieszczanska, Director of UR's Women's Heart Program, and former colleague Gladys P. Velarde, now at the University of Florida, led the two-year effort to produce the guidebook. Click here to read more.

---
Mark your calendar
Today: The Center for Integrated Research Computing 4th Annual Poster Session, 10 a.m. to noon in the Flaum Atrium. Attendees discover the wide range of research that is enabled by computation. This event provides an informal venue to share computational techniques and methodologies with colleagues from a wide variety of disciplines. Click here for more information.

May 12: Application deadline for the Center for Community Health's Community Health Mini-Grant Program for May 2014. The purpose of the program is to provide grants (up to $1,000) for the development, strengthening, or evaluation of community-URMC health improvement partnerships for research, education, intervention, or service. Click here to find a link to the mini-grant program and application form.

May 16: Scientific Session on Neuroscience Research including keynote presentations by Jonathan Wolpaw, Research Physician at the Wadsworth Center of Neural Injury & Repair and Gerv Schalk, Research Scientist at the Wadsworth Center for Neural Injury & Repair. Hosted by UNYTE Translational Research Network. 11 a.m. to 4 p.m., LeChase Assembly Hall, G-9576. Click here for details.

June 1: Deadline to apply for AS&E funding support for innovative and high-risk projects through PumpPrimer. Click here for more information.

June 5: Study Coordinators Organization for Research and Education (SCORE) Annual Seminar, focusing on Health Research Management for the Human Subject Research Coordinator. 8:30 a.m. to 12:30 p.m. in Helen Wood Hall (1w-304). Additional details and registration information to come.

---
Please send suggestions and comments to Bob Marcotte. To see back issues, click here.