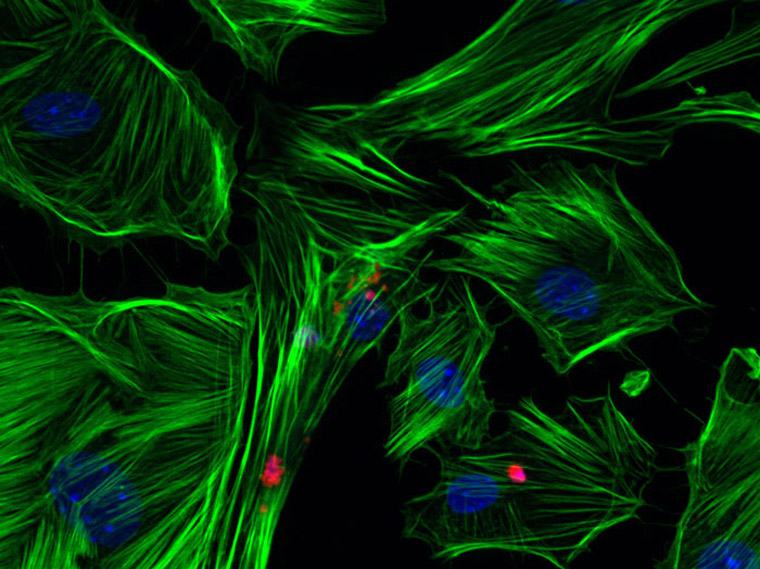 Images of research
This image, from the lab of Michael Elliott, Assistant Professor of Microbiology and Immunology, depicts the all-important process of phagocytosis -- the complex, highly efficient process by which dying cells are swiftly eliminated to prevent leakage of potentially toxic and immunogenic content into surrounding tissue. In this case, murine Sertoli cells (in green) -- which nourish sperm cells in the testes, but can also act as phagocytes -- engulf dying germ cells (red).

Apoptosis -- the programmed death of friendly cells in our bodies -- occurs on a staggering scale; in a healthy adult human, billions of cells die in the bone marrow and intestine every hour. The failure to efficiently clear these cells can result in chronic inflammation and autoimmunity and is linked to a wide range of disease states including cancer, atherosclerosis and respiratory illnesses.

Thus, apoptotic cell clearance is a fundamental new area of immunology with broad implications for human health and disease. Interestingly, cells undergoing apoptosis can release soluble cues (find-me signals) that promote the recruitment of phagocytes in the initial stages of apoptotic cell clearance. So, one of the projects in Elliott's lab is to understand how cues released by dying cells influence the cell clearance process and how they impact the innate and adaptive immune response in the local tissue environment.


Do you have an interesting photo or other image that helps illustrate your research? We would like to showcase it. Send a high resolution jpg or other version, along with a description of what it shows, to bmarcotte@ur.rochester.edu.
---
Bridging the gap between research, policy, and practice in America's public schools
Educational policy experts Kara Finnigan, Associate Professor at the Warner School of Education, and Alan Daly, Associate Professor at the University of California, San Diego, use several case studies to explore how educational research gets into the hands of policymakers and practitioners in the new book they have co-edited, Using Research Evidence in Education: From the Schoolhouse Door to Capitol Hill (Springer, April 2014). The volume aims to bridge the gaps between research, policy, and practice and create a more equitable K-12 public school system.

Emerging themes they explore:

1. Educational organizations have limited access to evidence.

2. All levels of the educational system use evidence as a strategic and/or symbolic way to sway opinions or confirm ideas.

3. Trust and relationships within and across networks are important to evidence use.

4. Intermediary organizations are emerging in the production and interpretation of evidence.

5. A systemic approach to school failure -- one that focuses on the failure of the entire system to support and improve schools, rather than individually blaming educators within these struggling schools.

---
Anthropology faculty members receive support for research
Robert Foster, Professor and Chair of Anthropology and Professor of Visual and Cultural Studies, and Heather Horst, Director of the Digital Ethnography Research Centre at Royal Melbourne Institute of Technology, have been awarded a major three-year Discovery Grant by the Australian Research Council for their project "The Moral and Cultural Economy of Mobile Phones in the Pacific." Through a comparative study of mobile telecommunications markets in Fiji and Papua New Guinea, this project will investigate how companies, consumers and states shape the social consequences of new digital technologies. Foster plans to spend the spring semesters of 2015 and 2016 as a Visiting Research Fellow at the Digital Ethnography Research Centre.

John Osburg, Assistant Professor of Anthropology, was awarded a Henry Luce Foundation/ACLS Program in China Studies Postdoctoral Fellowship for a project called "Tibetan Buddhism and Moral Personhood in Contemporary China." The project is a six-month ethnographic study of a group of wealthy, urban Han Chinese who have become followers of Tibetan Buddhism. He will examine the integration of Tibetan Buddhist principles into their moral beliefs and ethical practices. The direct linkages being formed between affluent, urban Han Chinese and Tibetan monks have the potential to dramatically reshape Sino-Tibetan relations. Professor Osburg will spend half of the academic year in China, and half in Rochester writing the results from his research.

---
How well is Pivot working? Let us know
Pivot, the search tool that identifies and connects researchers with each other and with funding opportunities, has been available to the University of Rochester community for just over a year.

Now it's time to assess how well it is working and how it might be improved.

Recently a survey was emailed on behalf of the Office of the Senior Vice President for Research to nearly 2,000 UR faculty members, principal investigators and research administrators to assess awareness and use of Pivot and to solicit suggestions.

Recipients are encouraged to respond by the end of this month.

Given the current funding climate, it is vitally important that the UR research community step up its game in applying for external funding. That means exploring all possible avenues of funding, and broadening our base of research collaborations. Pivot is an important tool for doing that.

So your feedback is important. Questions? Contact Charlene Sinclair.


Did you know. . .
Pivot combines a comprehensive, editorially maintained database of funding opportunities (worth an estimated $33 billion) with a unique database of three million pre-populated scholar profiles (including UR researcher profiles), drawing from Community of Scholars and Community of Science profiles. Pivot is available to the entire University community: faculty and students/trainees at all levels, as well as all staff. Registration is easy and requires only a University Net ID. The program provides training documents and short videos for users.

---
Wilmot family, James P. Wilmot Foundation give $4 Million for cancer research
Citing a commitment to cancer research that spans three generations of Wilmot family members, Wilmot Cancer Institute Director Jonathan Friedberg announced combined gifts totaling $4 million from the Wilmot family and the James P. Wilmot Foundation to support cancer research as part of a $30 million research-focused campaign at UR Medicine. Read more . . .


Berk gives $1.5 million for professorship in cardiovascular research
Bradford C. Berk, CEO of the Medical Center and UR Medicine and Senior Vice President for Health Services, and his family are giving $1.5 million to the University of Rochester. In combination with a $500,000 gift from URMC's Department of Medicine, the Berk contribution establishes a distinguished professorship in support of the University's cardiovascular care, research, and educational efforts. Arthur J. Moss will be the first to hold the endowed professorship (see below).

---
Congratulations to . . .
1. Arthur J. Moss, named the inaugural Bradford C. Berk Distinguished Professor. Moss, who has been with URMC for more than 50 years, is a world-renowned expert on electrical disturbances of the heart. He has made some of the most important and long-lasting discoveries in the treatment and prevention of cardiac arrhythmias, particularly a heart rhythm disorder known as Long QT syndrome, and sudden cardiac death. Recently, Moss's research team discovered a simple programming change that makes defibrillators -- devices designed to detect and correct dangerous heart rhythms -- safer and more effective. Within a week, physicians across the country were resetting the devices, which are implanted in about 200,000 U.S. patients every year.

2. Five UR students who are recipients of prestigious National Science Foundation Graduate Research Fellowships. They are:

Amanda Chen '14, bachelor of science in biomedical engineering and minor in chemical engineering. A native of Danville, Calif., Chen plans to spend a year abroad at the University of Cambridge as a Whitaker fellow before enrolling in the biological engineering doctoral program at MIT in fall 2015.

Nicole E. Peltier '13, graduate student in brain & cognitive sciences.

Alena Stasenko '12, graduate student in psychology and brain & cognitive sciences.

Alyssa J. Kersey, graduate student in brain & cognitive sciences, earned bachelors at Indiana University

Sarah E. Koopman, graduate student in brain & cognitive sciences, earned bachelors at Wellesley College

Click here for a list of students who received honorable mentions, and for a list of recent alumni who also received fellowships.

3. Benjamin Hayden, Assistant Professor in Brain and Cognitive Sciences, for receiving a Klingenstein-Simons Fellowship Award in the Neurosciences. The awards support, in the early stages of their careers, young investigators who are engaged in basic or clinical research that may lead to a better understanding of neurological and psychiatric disorders. They provide $75,000 per year for three years. Hayden studies self-control and decision-making from diverse perspectives, including psychology, neuroscience, animal behavior, even philosophy and popular culture. His research has documented the complex neural mechanisms involved in foraging, how the brain computes when to switch behavior. Such basic understanding may be critical to developing new treatments for behavior problems like addiction and obsessive compulsive disorder, diseases that are characterized by an inability to switch behaviors when they have become unproductive. Currently, Hayden is focused on understanding the neural basis of self-control and the mechanisms of value-based choices.

4. The recipients of the 2013-2014 Professor of the Year Awards given out by the Students' Association Government on behalf of the undergraduates of the College of Arts, Sciences and Engineering. Four awards are given out honoring one professor from Humanities, Social Sciences, Natural Sciences and Engineering. They are:

Professor of the Year in the Humanities: Anne Merideth, Senior lecturer, Religion and Classics.

Professor of the Year in the Social Sciences: Kristin Doughty, Assistant professor of Anthropology.

Professor of the Year in the Natural Sciences: Cheeptip Benyajati, Associate Professor of Biology.

Professor of the Year in Engineering: F. Douglas Kelley, Associate Professor of Chemical Engineering.

5. Stephen Kates, Director of the Geriatric Fracture Center, who is the inaugural holder of the Hansjorg Wyss Professorship. Kates' research overlies his clinic practice treating orthopaedic conditions and injuries to the hip, knee and shoulder primarily for the middle aged and elderly patients. Ongoing research includes: Geriatric fracture care, musculoskeletal infections, bone vaccine immunology, system-based care, and health systems research.

---
UR research in the news
"Why can't we provide care to people wherever they are?" asks Ray Dorsey, Professor of Neurology and Co-Director of the Center for Human Experimental Therapeutics, who is leading a national study of video visits for Parkinson's patients. "Think of taking your mom with Alzheimer's to a big urban medical center. Just getting through the parking lot they're disoriented," he says. "That's the standard of care, but is it what we should be doing?" With a $1.7 million grant from PCORI, Dorsey's study is randomly assigning about 200 Parkinson's patients from around the country to receive either their usual care or added virtual checkups from a specialist. His pilot studies have suggested telemedicine allows needed care such as medication adjustments while saving patients time. An Associated Press article about Dorsey's work is being featured by ABC News, the Washington Post, NPR, Newsday and more. Click here to read more about Dorsey's research in this area.

Cynthia Ebinger, Professor of Earth and Environmental Sciences, has traveled the world in search of the ideal places to conduct research on active earth processes such as plate tectonics, sea floor spreading and volcanic activity. She describes her research in this video.

A novel approach to curb heart failure that targets both the heart and the adrenal gland is reported in a study by Alan V. Smrcka, the Louis C. Lasagna Professor in Experimental Therapeutics and Professor of Pharmacology and Physiology, and Burns C. Blaxall, formerly an Associate Professor with the Aab Cardiovascular Research Institute and now Director of Translational Science, Heart Institute at the Cincinnati Children's Hospital. The authors found that a drug compound called gallein blocks a molecular pathway responsible for the development of the disease, notes the Research@URMC blog. The pathway is present in the heart and the adrenal gland and stifling its activity in both places led to a healthier heart in a mouse model of heart failure. The study is reported in the Journal of the American College of Cardiology.

David Brodell, a second-year medical student, traveled to Washington, D.C., recently to share his ideas with officials of the Food and Drug Administration after winning the inaugural "America's Got Regulatory Science Talent Competition," sponsored by the Office of Research Alliances (ORA) and the Clinical and Translational Science Institute (CTSI). Read more . . .

---
PhD dissertation defense
Nikesha Haynes-Gilmore, Pathology, "Conserved Roles of Nonclassical MHC Class lb Genes in Cancer Immunity and Modification of the Tumor Microenvironment in the Amphibian Xenopus Model," 9 a.m., May 22, K-307(3-6408). Advisor: Jacques Robert.

---
Mark your calendar
Today: Scientific Session on Neuroscience Research including keynote presentations by Jonathan Wolpaw, Research Physician at the Wadsworth Center of Neural Injury & Repair and Gerv Schalk, Research Scientist at the Wadsworth Center for Neural Injury & Repair. Hosted by UNYTE Translational Research Network. 11 a.m. to 4 p.m., LeChase Assembly Hall, G-9576. Click here for details.

June 1: Deadline to apply for AS&E funding support for innovative and high-risk projects through PumpPrimer. Click here for more information.

June 5: Study Coordinators Organization for Research and Education (SCORE) Annual Seminar, focusing on Health Research Management for the Human Subject Research Coordinator. 8:30 a.m. to 12:30 p.m. in Helen Wood Hall (1w-304). Additional details and registration information to come.

---
Please send suggestions and comments to Bob Marcotte. To see back issues, click here.