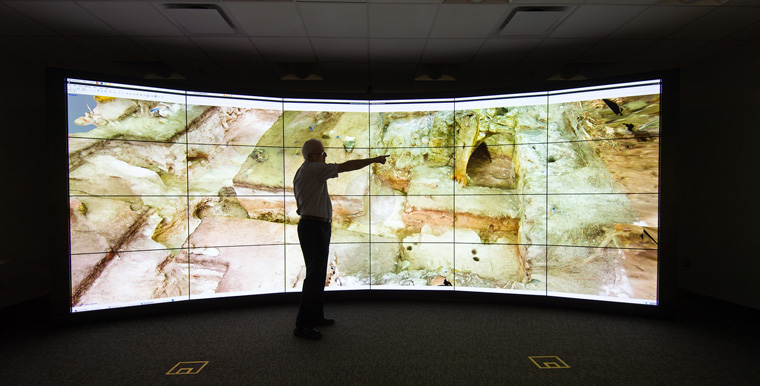 This 3D image, displayed on the VISTA Collaboratory in Carlson Library, shows the Oven Site, excavated by students of Michael Jarvis, Associate Professor of History, on Smiths Island, Bermuda this summer. This image was one of three winning entries in a data visualization contest sponsored by the Health Sciences Center for Computational Innovation.
Preparing 21st century historians
Last fall, Michael Jarvis, Associate Professor of History, picked 200 photos from an archaeological site he and his students had excavated in Bermuda, and fed them into a ReCap 3D software program he had just installed on his computer.

"Having not taken these photos with 3D purposes in mind (with extensive overlap, for example, and from multiple heights and angles), I didn't expected much," Jarvis said. He uploaded the photos for ReCap to process (it takes 8 to 10 hours), turned off the lights, and went to bed.

"The model that greeted me the next morning exceeded my wildest expectations," Jarvis wrote. There, before his eyes, was a detailed, interactive digital landscape of his excavation units that could be explored from an ant's eye view.

It was a transformative moment, made possible by Jarvis's introduction to cutting edge technologies at a UR symposium, "3D Digital Archaeology: Reconstruction, Analysis and Conservation of Cultural Heritage," organized by Professors Renato Perucchio and Elizabeth Colantoni of the Archaeology, Technology and Historical Structures program. The conference brought together scholars from around the world to share the latest advances in 3D modeling of historic sites and structures, and even the use of drones to better document those sites.

This fall, Jarvis has progressed even further -- much further -- from loading his images onto a desktop computer to working with the Center for Integrated Research Computing and its Blue Hive Cluster. Two hundred and seventy-six photos that Jarvis took this summer at the Oven Site excavation site have been "stitched" together into a 3D image that fills the 20-foot long, 8-foot tall screen of the VISTA Collaboratory. It can be rotated in any direction, allowing viewers to peer into the excavated trenches from any direction.

"I'm back to being a student again," Jarvis said, "excited to learn new things. The power of off-the-shelf software is pretty impressive, able to give me great results quickly. And there are lots of video tutorials that people have posted that have helped. Whether it's equipping a drone or modeling topography in Unity, we have a new sort of cyber-republic of learning to help self-taught researchers independent of MOOCs that I've very much benefitted from."

3D modeling allows a researcher to see patterns and relationships among the features of an archaeological dig that would not be evident otherwise, Jarvis said. In this case, it allows Jarvis to "revisit a now buried (and recently hurricane-scoured) site at any time." In preparing for the VISTA demonstration, Jarvis said, he had a "breakthrough understanding" of how the construction of the Oven Site progressed. "I had always assumed it was all built in one phase as a two-room building, with a curious step-down midway along. Now I see a transition reflecting older/younger parts of an evolving structure. I wouldn't have seen this without both the overhead view and then shifting to the view from the bottom of the trench in 3D."

Jarvis also hopes to complete 3D models and photo mosaics of St. George's, the first permanent English settlement in Bermuda, and the third in all of English America. "Virtual St. George's will combine the historical precision of a community study across twelve generations (1612-1900) with 3D renderings of the townscape at various key years (1620, 1660, 1700, 1775, 1812, 1865) and video game-inspired character animation and interactivity with rigorously researched avatars," Jarvis writes at his website. "By stressing public history and digital history alongside traditional historical and interdisciplinary training, I hope to prepare majors and graduate students alike to become 21st-century historians."

Jarvis' research is supported by the Bermuda National Trust, St. George's Foundation, the University, and individual donors, and by UR's Study Abroad and Archaeology, Technology and Historical Structures (ATHS) programs.

Click here to learn more about how digital technology is employed not only by Jarvis, but other UR scholars of cultural history.


Do you have an interesting photo or other image that helps illustrate your research? We would like to showcase it. Send a high resolution jpg or other version, along with a description of what it shows, to bmarcotte@ur.rochester.edu.
---
Rob Clark issues statement on NSF grant inquiries by Congress
Rob Clark, senior vice president for research, issued a statement expressing concern about congressional inquiries into National Science Foundation grants:

"Public investment in scientific research is the cornerstone of our nation's long-term success in meeting economic, global, and national security challenges. In Rochester, we are particularly aware of scientific research's impact on our community's health, economic development, and quality of life. We know that research projects carefully designed to offer insights into the physical world, biological processes, and society continue to make our lives better.

"Funding is awarded on merit-based, peer-reviewed process. In this process, proposals compete for resources based on their scientific merit and broader societal impact. Researchers propose how to solve a scientific problem. Experienced scientists review those proposals and decide which ones are of the highest importance and most merit funding, subject to budget constraints, free from outside interference.

"While Congress has the duty to conduct oversight and ensure accountability of public funds, the integrity and transparency of the scientific process is paramount and has served our nation well. However, the House Committee on Science, Space, and Technology is currently conducting a review on grants issued by the agency for some 60 merit-reviewed projects, including one from the University of Rochester. Like many others in the scientific community, we are deeply concerned about the nature of these inquiries and the impact they could have on the scientific enterprise. Scientific research awarded through peer-review process should not be subject to political or ideological interference."

The Association of American Universities issued a statement about this on Nov. 10, expressing similar concern.

---
UR ranked among top 10 in life sciences impact
The University of Rochester has been identified by the journal Nature Biotechnology as one of the top 10 universities in the nation for the impact of its life sciences research. The publication based its rankings on licenses and/or options executed; gross licensing revenue; startups; NIH awards; and NIH funding.

"This recognition reflects not only the University's success in attracting federal research funding, but our ability to translate this research into new ideas and technologies that stimulate economic activity and will ultimately improve lives," said Stephen Dewhurst, Vice Dean for Research at the School of Medicine and Dentistry. "It is a testament to the exceptional quality of our scientists and more evidence that our faculty continue to outperform their peers when it comes to the impact of our scientific innovation."

Read more . . .

---
Warner School professors examine performance test for beginning teachers
Two Warner School faculty members, Kevin Meuwissen, Assistant Professor of Teaching and Curriculum, and Jeffrey Choppin, Associate Professor of Teaching and Curriculum, have received a one-year research grant from the Spencer Foundation to examine teaching candidates' experiences with the initiation of edTPA and its impact on their teacher preparation programs.

edTPA is the new high-stakes performance test for beginning teachers that New York and Washington states first implemented as a teacher certification requirement in 2013. It is one of the latest education reforms to focus on teacher quality. Thirty-three other states are in the process of considering or adopting its use. The assessment requires student teachers to submit videos of their practice, along with written lesson plans, reflections, and samples of student work, demonstrating that they can plan, execute, and assess instruction.

Amid backlash from teacher preparation programs and student teachers regarding New York's hurried adoption of edTPA, the study is timely because it will help to generate important discussions about the early ramifications of rapidly initiated policy reforms around teacher quality.

Using a mixed methods research approach that includes electronic surveys and in-depth interviews, the nearly $50,000 grant will allow Meuwissen, principal investigator, and Choppin, co-principal investigator, to explore what occurred in the first and second cycles of edTPA implementation (2013-14 and 2014-15) to better understand its consequences for beginning teachers and teacher education programs, and to inform future implementation of the assessment in ways that support teacher learning and practice.

Read more . . .

---
Basics of IP: How a three-legged stool illustrates the subtleties of patent law
(This is one in a series of articles about the importance of intellectual property and its commercialization to the University and its researchers. It is based on a current UR Ventures lecture series, "Intellectual Property and Commercializing Technology" being offered by the office of the AS&E Dean for Research. The next presentation, "How to Find Inventions, What Makes a Good Invention, and How to Find Prior Art," will be at noon Dec. 9 in the Gowen Room at Wilson Commons, lunch provided.)

The Manual of Patent Examining Procedure from the U.S. Patent and Trademark Office is 3,714 pages. But a successful patent application really boils down to two key principles:

Is it new? And is it something that wouldn't already be obvious to somebody with ordinary skills in that area of technology?

That seems straightforward enough, but the actual application of these two principles can have some interesting twists and turns.

To illustrate, Reid Cunningham, IP attorney with UR Ventures, uses this hypothetical example from the distant past, when people lived in caves and sat around fires on rocks and logs.

It occurs to somebody that a flat, wooden surface with four legs would be much more comfortable and a lot easier to move around. Voila: someone invents the stool.

Is it new? Yes. Is it not obvious? Certainly; there's never been anything like it before. It receives a patent.

However, a large individual sits on the stool and breaks it. This individual adds a fifth leg for added strength, and also applies for a patent. It is new? Yes; simply by virtue of having five rather than four legs it is novel. Is it non-obvious? Yes; this is the first time anybody has added a leg to strengthen a stool.

The five-legged stool, too, gets a patent.

But then someone decides a six-legged stool would be even stronger. It is novel -- there has not been a six-legged stool -- but the patent is denied, because it is now obvious that adding more legs adds more strength.

Here's where things get interesting: What if somebody removes a leg, creating a three-legged stool? Is it new? Yes, we have only had stools with four or more legs. Is it not obvious? Well, it could be argued that we now have four-, five- and six-legged stools, so changing the number of legs is now obvious.

But in this case, a patent attorney could argue, a new, unexpected result occurred: A three-legged stool doesn't wobble on an uneven surface like all the others do.

And that's why the three-legged stool gets a patent, but a six-legged stool doesn't.

(Next: Some do's and don'ts.)

---
"One-stop shopping" for data questions, analysis
Need help preparing a data management plan for that grant proposal you're working on? Have questions about the best way to present spatial or geographical data?

Kathleen Fear, Data Librarian, and Blair Tinker, Research Specialist for GIS -- both with the Numeric, Spatial and Research Data Services Center at the River Campus Libraries -- would be happy to help.

"We aim to be the one stop shopping for data questions and resources here on campus," Fear explained. "Anything dealing with data you can talk to us about."

That includes obtaining access to data sets, creating and acquiring GIS data, and research data services.

Tinker, for example, is an expert in geocoding and demographic data analysis. Fear's services include assisting with organizing data, creating meta data and writing data management plans. "I am happy to read drafts," she adds.

Contact Fear or Tinker with questions. Linda Hasman manages data services at Miner Library.

(Next: UR's membership in the Inter-university Consortium for Political and Social Research -- ICPSR -- gives its researchers and students access to a valuable archive of social and behavioral science studies and data sets.)

---
Learn about Pivot's funding and collaboration tools
Chris Horn from Proquest will discuss the various tools available for locating funding opportunities as well as potential collaborators with the Pivot funding and collaboration search product licensed by the University. The presentation will be from 2 to 3 p.m., Tuesday, Nov. 18 in the K207 (Whipple) Auditorium at the Medical Center. There will be a question and answer period after the presentation. All River Campus and Medical Center faculty and administrators are encouraged to attend.

---
New investigators can benefit from NSF Day
The National Science Foundation (NSF) and the Maryland Science Center is holding an NSF Day on Dec. 8 at Baltimore's Inner Harbor.

NSF Days provide insight and instruction on how to compete for and secure NSF funding for science, engineering and education research. The day-long workshop will provide background on the Foundation, its mission, priorities, and budget. There will also be an overview on proposal writing, NSF's merit review process, and programs that fall within the NSF's seven scientific and engineering directorates, as well as funding opportunities that cross disciplinary boundaries.

Additionally, NSF representatives will be on hand in breakout sessions to personally engage in discussions with attendees about potential research proposals.

Registration is $100; this workshop is especially useful for new investigators.

---
Fulbright Postdoctoral Scholar Awards
The Fulbright Program is offering an additional application cycle for a select number of 2015-2016 postdoctoral awards, with the later deadline of Jan. 15, 2015.

Fulbright Postdoctoral Scholar Awards are open to U.S. scholars who have recently completed their doctoral degrees -- typically within the five previous years. These grants present an excellent opportunity for recently minted PhDs to deepen their expertise, to acquire new skills, to work with additional resources and to make connections with others in their fields. Postdoctoral awards are available in STEM fields, the arts, humanities and social sciences.

Scholars will be expected to engage with graduate students in the host country and to be involved with host university training in cutting edge research in their specializations. In addition to their primary research or teaching activities, grantees will be asked to give public talks, mentor students, and otherwise engage with the host country academic community. To learn more about these awards for early career scholars visit the Fulbright website or the 2015-2016 Catalog of Awards.

---
Introducing a new faculty member
David Weber has joined the Department of Pediatrics, Endocrinology as an assistant professor. His research is focused on investigating the relationships between body composition, bone health, and chronic disease in the pediatric population. He and his research collaborators have developed techniques for the use of dual energy Xray absorptiometry (DXA) to independently assess fat and lean body mass index in children and are currently using these methods to better understand the relationship between body composition and cardiometabolic disease in a variety of childhood disorders. He is also interested in understanding the reasons for impaired bone health and increased risk of fracture in patients with type 1 diabetes in order to develop and evaluate therapeutic interventions aimed at improving bone strength. He received his MD from the University of Kansas School of Medicine in 2006 and an MS in clinical epidemiology from the University of Pennsylvania in 2013.

---
Congratulations to:
Joanna Wu, the Susanna and Evans Y. Lam Professor of Business Administration at the Simon School who, with co-author Ed Owens, won the Best Paper Award at the 2014 Review of Accounting Studies Annual Conference last month for their paper, "Quarter-end Repo Borrowing Dynamics and Bank Risk Opacity." Review of Accounting Studies (RAST) is one of the top five journals in accounting. Wu has research interests in international financial reporting, the behavior of financial analysts, management compensation, voluntary disclosure, and mutual fund performance. Her work has been published in the Journal of Accounting and Economics, Journal of Finance, Journal of Accounting Research, and The Accounting Review, among others. She is an editor of the Journal of Accounting and Economics.

Hennessey Lustica, Doctoral Student in Counseling and Human Development at the Warner School, for being named a 2014 NARACES emerging leader at the recent North Atlantic Region Association for Counselor Education and Supervision (NARACES) 2014 Regional Conference. The theme of this year's conference was "Lighting a Fire: Promoting a Professional Counselor Identity for the Benefit of All." Lustica presented "Post-Traumatic Stress Disorder (PTSD) in Children under 6: Case Conceptualization and Treatment Using an Integral Framework."

---
UR research in the news
"We have no idea how long a technological civilization like our own can last," says Adam Frank, Professor of Physics and Astronomy. "Is it 200 years, 500 years or 50,000 years? Answering this question is at the root of all our concerns about the sustainability of human society." In a paper in the journal Anthropocene, Frank and co-author Woodruff Sullivan, Professor at the University of Washington, call for creation of a new research program to answer questions about humanity's future in the broadest astronomical context. The authors explain: "The point is to see that our current situation may, in some sense, be natural or at least a natural and generic consequence of certain evolutionary pathways." Adds Frank: "Are we the first and only technologically-intensive civilization in the entire history of the universe? If not, shouldn't we stand to learn something from the past successes and failures of these other species?" Frank and Sullivan begin with the famous Drake equation, a straightforward formula used to estimate the number of intelligent societies in the universe. In their treatment of the equation, the authors concentrate on the average lifetime of a Species with Energy-Intensive Technology (SWEIT). Frank and Sullivan calculate that even if the chances of forming such a "high tech" species are 1 in 1,000 trillion, there will still have been 1,000 occurrences of a history like our own on planets across the "local" region of the Cosmos. Read more . . .

---
PhD dissertation defenses
Anant Agrawal, Biochemistry and Biophysics, "Structural Basis of Splice Site Recognition by U2AF65 and its Relationship to Human Genetic Disease." 10:30 a.m., Nov. 19, Neuman Room (1-6823). Advisor: Clara L. Kielkopf.

Dhruba Jyoti Basu Roy, Biochemistry and Biophysics, "Exploiting the Self-assembly of Hydrogel Nanoparticles for Novel Applications in Biosensor Design and Cell Patterning." 9:30 a.m., Nov. 20, Neuman Room (1-6823). Advisor: Benjamin Miller.

---
Mark your calendar
Today: Disability Studies Cluster Symposium: "Complicating Normalcy: Disability, Technology, and Society in the Twenty-First Century." 8:30 a.m. to 4:15 p.m., School of Nursing. Organized around the documentary film FIXED -- The Science/Fiction of Human Enhancement, which explores the meanings of "disability" and "normalcy" in contemporary times through the examination of technological and pharmacological advances designed to "fix or enhance the human body," and the bioethical implications and social tensions that arise from these scientific advances. Register here.

Nov. 17: Deadline for initial abstracts for SMD Scientific Advisory Committee (SAC) "superpilot" awards. Click here to read the full RFA.

Nov. 19: 2014 Regional Proteomics Symposium, 9 a.m. to 5 p.m., Class of '62 Auditorium and the Flaum Atrium. Speakers from a variety of Western New York universities and institutions, and a poster session highlighting protein identification work at the University of Rochester. Register here. For more information, contact Mark D. Platt, MSRL Director at mark_platt@urmc.rochester.edu or at (585) 276-6804.

Nov. 19: DSMB: Qualification, Confidentiality and Indemnification. CTSI Skills-building Workshop. Presented by Karl Kieburtz, CTSI Director, and Karen Rabinowitz, Legal Counsel and Associate Director of Collaborations in the Center for Human Experimental Therapeutics (CHET). Noon to 1 p.m., Helen Wood Hall Auditorium (1w-304).

Nov. 21: Data Visualization, Large and Small. Workshop will cover data visualization geared towards complex biological data sets generated by different profiling technologies. Strategies for incorporating a large amount of information into a small space, and how presentation choices could bias the message. Practical demonstrations will use MATLAB. 10 a.m. to noon. Nesbit Computer Room (G-7545).

Nov. 21: The Center for Integrated Research Computing (CIRC) symposium, 11:30 a.m. to 1 p.m., Computer Studies Building (CSB) 209. Pierre-Alexandre Gourdain from the Department of Physics and Astronomy will describe how computing and laboratory experiments help improve our understanding of the universe. Jason Myers from the University of Rochester Genomics Research Center will discuss a Perl-based tool for processing miRNA RNA-seq data. Pizza and soda will be served.

Nov 21: Venom evolution and function in parasitoid wasps. Department of Biology Donut Talk. Presented by Mrinalini, Biology postdoc. 3-4 p.m., Hutchison 316.

Nov. 25: Bone-targeted drug delivery. Presented by Danielle Benoit, Assistant Professor of Biomedical Engineering and Chemical Engineering. CTSI Seminar Series. Noon to 1 p.m., Helen Wood Hall Auditorium (1w-304).

Dec. 9: How to Find Inventions, What Makes a Good Invention, and How to Find Prior Art. Reid Cunningham, IP attorney, UR Ventures. Noon to 1 p.m., Gowen Room, Wilson Commons. RSVP to Melissa.napolitano@rochester.edu

Dec. 10: Celebration of Authorship, featuring printed and electronic books, edited volumes and texts, as well as published compositions and recordings produced by University faculty and staff from all fields. 3:30 to 5:30 p.m., Hawkins Carlson Room in Rush Rhees Library. Click here for more information.

---
Please send suggestions and comments to Bob Marcotte. To see back issues, click here.