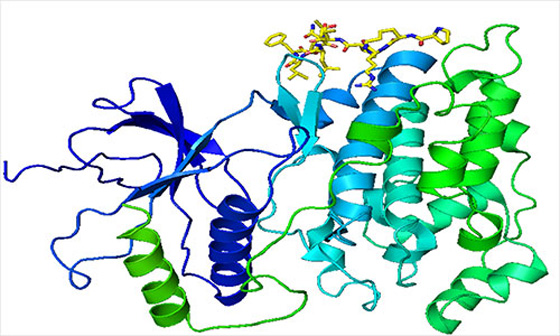 This is an illustration of c-Jun N-terminal kinase, aka "JNK." (Credit: Wikipedia)
Protein found that initiates DNA repair
A research team led by University biologists
Vera Gorbunova
and
Andrei Seluanov
has
discovered a protein that may serve as a first responder to help repair DNA
when the strands of the molecule break.
Biologists, geneticists, and other scientists who study the cellular processes of aging have long focused on a gene known as sirtuin 6 (SIRT6), which helps repair DNA. But how SIRT6 is activated has been unknown.
"
We wanted to find how SIRT6 receives its signal to spring into action.
Once we learn that, we may be able to activate SIRT6 even without stress," says Gorbunova, who is the Doris Johns Cherry Professor in the Department of Biology.
The researchers alternately applied chemical inhibitors to human skin cells to determine which proteins were essential in getting SIRT6 to repair the broken DNA strands. They discovered that
one protein was involved in activating the gene in response to oxidative stress — c-Jun N-terminal kinase
, which goes by the simpler term JNK.
When JNK was inhibited, SIRT6 was not activated and the broken strands of DNA were not repaired efficiently
.
The study is the latest work by Gorbunova and Seluanov to shed light on the molecular mechanisms that drive the aging process. Their previous work involved understanding the prominence of an inferior DNA repair process later in life, as well as how errant DNA fragments — called jumping genes — are typically kept inactive.
Understanding the molecular, chemical, and genetic process of aging has
implications for both longevity and quality of life
. While more research and clinical work need to be done, such studies help pave the way for possible treatments in the future. For example, Seluanov says the results may allow pharmaceutical researchers to one day
design drugs that activate SIRT6 in ways that reduce molecular damage
. Read more
here
.
Do you have an interesting photo or other image that helps illustrate your research? We would like to showcase it. Send a high resolution jpg or other version, along with a description of what it shows, to Bob Marcotte .
---
Warner receives grant to study rural teachers'
access to online learning experiences in math
The $2.8 million, NSF-funded project is part of the Warner School's Learning in the Digital Age (LIDA) strategic initiative, a collaborative, multi-disciplinary effort to leverage new technologies and online spaces to enhance learning in K-12, higher education, and other learning environments. The project will be under the direction of PI
Jeffrey Choppin
, associate professor and chair of teaching and curriculum, and co-PI
Cynthia Callard
, associate professor and executive director of the Center for Professional Development and Education Reform.
Central to the project will be a research team, led by Choppin, which will study online professional development activities
to better understand the limitations and benefits of conducting such activities in virtual, rather than face-to-face, settings
.
The team has considerable experience conducting research in middle school mathematics classrooms, including prior projects that studied the impact of the Common Core State Standards for Mathematics, face-to-face teacher professional development, and the impact of digital curriculum resources.
Findings from the project have
the potential to inform the design of professional development in the digital age, and ultimately contribute to research on professional learning in online contexts that extend beyond K-12 education
into other areas, such as higher education, the health care profession, and other domains where professional development is needed and would benefit from high-quality online opportunities. Read more
here
.
---
Training improves oncologist/patient communication
Training oncologists and their patients to have high-quality discussions improves communication, but troubling gaps involving prognosis still exist between the two groups, according to a new study in
JAMA Oncology
.
The 265 patients who agreed to participate in the research at Wilmot Cancer Institute or the UC Davis Comprehensive Cancer Center had been diagnosed with advanced cancer (stages 3 or 4). Researchers coached them about what to ask their doctors and how to voice their concerns. The 38 doctors in the study were also given state-of-the-art communications workshop training.
Results showed that
patients who received training were much more likely to ask questions, ask for clarification, and express their views
. Doctors and patients also had
more clinically meaningful discussions around topics such as emotions and treatment choices
, results showed. In fact, the trained group was nearly three times more likely than the untrained group to talk about difficult topics such as prognosis.
"We have shown in the first large study of its kind that it is possible to change the conversation in advanced cancer," says corresponding author
Ronald Epstein
, professor of family medicine and a leading authority on the topic. "This is a huge first step."
And yet, despite the focused efforts, shared understanding about prognosis was lacking.
For example, a few of the patients believed it was "100% likely" they would be cured, while one-third said it was "likely" they would be cured, despite their diagnoses of incurable cancer. A majority thought they would be alive in two years. Median survival was just 16 months.
Being hopeful and having a realistic understanding of what to expect with advanced cancer are both important, says Epstein, who is also director of the Center for Communication and Disparities Research.
"
We need to try harder to communicate well so that it's harder to miscommunicate
," he says. "Simply having the conversation is not enough — the quality of the conversation will influence a mutual understanding between patients and their oncologists." Read more
here
.
---
Deflazacort shown as safe, effective Duchenne treatment
New research has shown that the corticosteroid deflazacort is a safe and effective treatment for Duchenne muscular dystrophy. The findings, which appear this month in the journal
Neurology
,
could pave the way for the first U.S.-approved treatment for the disease
.
"Duchenne muscular dystrophy patients have limited treatment options and a desperate need for effective therapies," says
Robert Griggs
, professor of neurology and lead author of the study. "This study shows that deflazacort may provide an important treatment for delaying the progression of the disease."
Duchenne muscular dystrophy (DMD) is
found almost exclusively in boys
. The disease is
often fatal by the time the individual reaches his late teens
. An estimated 28,000 people in the U.S. suffer from the disease.
While there is no approved treatment for DMD, the corticosteroid prednisone is often used "off label" to treat the condition. Several studies, beginning with research conducted by Griggs and his colleagues more than 20 years ago, have shown that daily use of corticosteroids can increase muscle mass and slow muscle degeneration in DMD patients, prolonging their ability to walk and preserving respiratory function. However, many DMD patients in the U.S. are not prescribed corticosteroids, primarily due to concern over the side effects of prolonged drug use in children.
While
deflazacort is approved for use in Europe and elsewhere
to treat DMD,
efforts to obtain U.S. Food and Drug Administration (FDA) approval were abandonned soon after a Phase 3 clinical trial
in the mid-1990s. The company sponsoring the research lost interest and the study results were never published.
At the urging of patients and their families,
Griggs and others spent decades attempting to get access to the original study data
. Meanwhile, another company — Marathon Pharmaceuticals — acquired the rights to deflazacort and began a new push to gain FDA approval. The researchers were never able to obtain the data from the original clinical trial sponsor and in the end
had to painstakingly reconstruct the study results
from the information collected at each individual study site. The data forms the basis for the new
Neurology
study.
The study, which involved 196 DMD patients, showed that deflazacort was safe, effectively preserved muscle strength, and was
associated with less weight gain than prednisone
. Read more
here
.
---
'Tell how you are planning your future' for KL2 award
Robert Holloway
offers this advice to young faculty members applying for a KL2 award:
Tell a narrative about your research to date — and where you want to go with it in the future
.
"You need some preliminary data. It doesn't have to be a lot, but something that is developmental — showing you've collected data, this is how you will use that data in your (KL2) career award, and this is how you plan to use it afterwards," says Holloway, the Edward A. and Alma Vollertsen Rykenboer Chair in Neurophysiology who directs the KL2 program for the University's Clinical and Translational Science Institute.
"That sequence — making sense of your development as a researcher — is critical. You want it to read naturally; a story about how you are planning your future."
The
KL2 Mentored Career Development Program
provides awards of $75,000 a year for two years to help young faculty members refine their skills, define their goals, and compete for their own research funding
. Two to three KL2 awards are made each year.
A
new emphasis this year is on an individualized curriculum
, Holloway says. New advanced certificate programs — shorter versions of a full master's program — consist of 4 to 5 courses in such subjects as clinical research methods, health services research, and biomedical data science.
Though KL2 scholars can pursue their own area of mentored research, the program has identified three key areas that build on University research strengths and promote the CTSI goal of making translational research faster and more effective. The three areas are:
1. Enabling technologies
, for example applications that can monitor patients from distant locations.
2. Regulatory science
, including research on the safety and effectiveness of FDA approved products.
3. The electronic health record
as a resource for research.
The CTSI has identified mentors, courses, conferences, and external partners for scholars who choose to pursue research in the three areas. Recipients will also be encouraged to participate in a new, twice monthly series of CTSI research methods forums in which young faculty can discuss their research ideas and get feedback.
"The goal of the KL2 is to get to the next funding level, whether it be a K or R series award," Holloway says.
In the 10-year history of the award here,
31 of 125 applications have been funded
. More than half of the recipients have been women; 13 percent have been underrepresented minorities, Holloway says.
The 31 recipients have since produced 400 peer-reviewed papers and obtained more than $21 million in external funding.
"It's been a very successful program," Holloway says.
Most of the applicants and recipients are from the School of Medicine and Dentistry. "We encourage and would like to see more applications from the Eastman School of Dentistry and the School of Nursing," Holloway says. Only one applicant has been from the River Campus.
"Certainly, with the overlapping research interest in promoting interdisciplinary work, we would like to see more applicants from the River Campus
as well."
How to apply
Click
here
to read the full RFA. Email
Katie Libby
by 5 p.m. Monday, Oct. 10, 2016, if you intend to apply. Full applications are due on Friday, Nov. 11.
---
Congratulations to . . .
Robert Waag
, professor emeritus of electrical and computer engineering, who
received the 2016 Lifetime Achievement Award
from the Hajim School last week. During 46 years of research at the University, Waag has
helped improve the resolution and clarity of ultrasonic images
, earning international recognition for his pioneering research in medical imaging, biomedical ultrasound, and acoustics. Read more
here
.
Harris "Handy" Gelbard
, professor of neurology and director of the Center for Neural Development & Disease, who will
receive the Hilary Koprowski Prize in Neurovirology
at the International Symposium on Molecular Medicine and Infectious Disease at Drexel University. Gelbard will be
recognized for developing an unconventional drug that shows promise in treating brain disorders associated with HIV
. Gelbard's drug, URMC-099, calms the immune system when it goes awry, as happens in HIV Associated Neurocognitive Disorder (HAND). In HAND, immune reactions to HIV particles in the brain damage nerve cells and cause dementia. Because patients affected by HAND also have HIV, it was imperative that URMC-099 not interfere with the antiretroviral drugs that keep HIV-positive patients alive. Read more
here
.
---
Introducing a new faculty member
Gregory Heyworth
has joined the Department of English as an associate professor. Heyworth is the founder and director of the Lazarus Project, a nonprofit initiative to
recover damaged cultural heritage objects using imaging technologies
. The Lazarus Project has digitally restored scores of damaged works and objects in libraries and collections around the world. Heyworth has published and lectured extensively on medieval literary criticism and on his work with the Lazarus Project. He currently is preparing
Textual Science and the Future of the Past
with Roger Easton of Rochester Institute of Technology. The book,
an intellectual history and a practical introduction to the latest technologies and techniques of textual recovery
, will explore topics such as codicology; paleography; imaging techniques and processing; and the history of the book, manuscripts, and textual science. Heyworth received his PhD from Princeton University.
---
HSCCI supports short-term computational projects
The
Health Sciences Center for Computational Innovation
requests applications to support laboratory staff in accelerating research in computational biology and health, and in taking advantage of the high performance computational resources of the University.
Funds are available to support laboratory staff for
short-term, early-phase work necessary to allow investigators to translate their ideas into computer code or models, and to get new biocomputational/health-related scientific projects up and running
. Applications are due by Monday, Oct. 31. Click
here
to view the full RFA.
---
Phd dissertation defense
Sarah Bibyk
, Brain & Cognitive Sciences and Linguistics, "A Rise by Any Other Name: An Investigation of the Production and Comprehension of Rising (and Falling) Intonation in Questions." 10 a.m., Sept. 15, 2016. 269 Meliora Hall. Advisors: Michael Tanenhaus and Gregory Carlson. (
NOTE: relisted to show this is a joint degree.
)
---
Mark your calendar
Today:
CIRC symposium. Ignacio Franco from the Department of Chemistry will discuss simulations of the Stark control of electrons along nanojunctions. Alex Aiezza from the Aab Cardiovascular Research Institute will discuss secondary analysis of high-throughput sequencing data. 11:30 a.m. to 1 p.m., Goergen 108.
Sept. 20:
Center for AIDS Research: guest speaker and roundtable discussion. Ken Cadwell of the Skirball Institute, New York University School of Medicine presents "Host-microbiome Interactions and Inflammatory Bowel Disease," 10 a.m. to 11 a.m., Ryan Case Method Room (1-9576), and co-leads roundtable discussion on newly established germ-free mouse facility at URMC, 11:30 a.m. to 12:30 p.m. in KMRB 1.9624. Read more
here
.
Sept. 22-24:
Department of Neurology 50th anniversary celebration, including gala banquet, department updates, and poster and platform presentations showcasing research by current faculty, alumni, fellows, and residents. Read more
here
.
Sept. 26:
5 p.m. deadline to submit initial abstracts for pilot awards from the Clinical and Translational Science Institute in three categories:
Incubator Program
,
investigator-initiated and UNYTE
, and
novel biostatistical and epidemiologic methods
.
Sept. 26-28:
MEDTECH2016 Conference on Innovation Impact: Keeping New York's Finger on the Pulse. Join executives and senior leaders from New York State's bio/med industry who will focus on the need to re-think the way players interact in the healthcare market — from development through adoption — leveraging the strengths of nontraditional partnerships to produce groundbreaking results. Hilton Albany, 40 Lodge St., Albany, New York. Read more
here
.
Sept. 29:
Identifying journals for publication; avoiding predatory publishers. Noon to 1 p.m., Miner Classroom 1. Sign up
here
.
Sept. 30:
"Community and Research Partnering to End the Epidemic," the 2016 Center for AIDS Research Scientific Symposium, 8 a.m. to noon, Class of '62 Auditorium. Click
here
for more information.
Oct. 10:
5 p.m. deadline to indicate intent to apply for the CTSI Career Development Program (KL2 Scholars Program). Email
Katie Libby
. Click
here
for the full RFA. Full applications are due Nov. 11.
Oct. 11-13:
"Symposium on Maladaptive Behaviors: Why We Make Bad Choices." Memorial Art Gallery. Keynote speaker: Trevor Robbins, head of pscyhology at Cambridge University. More than two dozen distinguished U.S. and international experts. Sponsored by the School of Medicine, the Ernest J. Del Monte Institute for Neuroscience, and the Silvio O. Conte Center. Click
here
to learn more.
Oct. 21:
5 p.m. deadline to apply for Program of Excellence Awards of up to $50,000 each from the Center for AIDS Research, for collaborative projects involving co-PIs from the School of Nursing and from the School of Medicine and Dentistry. Click here for the
full pilot announcement
.
Oct. 31:
Applications due for awards from Health Sciences Center for Computational Innovation. Awards are for short-term, early-phase work by lab staff to allow investigators to translate their ideas into computer code or models, and to get new biocomputational/health­related scientific projects up and running. Click
here
to view the full RFA.
Nov. 1:
Deadline to apply for a CTSI Population Health Research Postdoctoral Fellowship. Click
here
for more information and application instructions.
Please send suggestions and comments to Bob Marcotte. You can see back issues of Research Connections, an index of people and departments linked to those issues, and a chronological listing of PhD dissertation defenses since April 2014, by discipline.