Academic Living Centers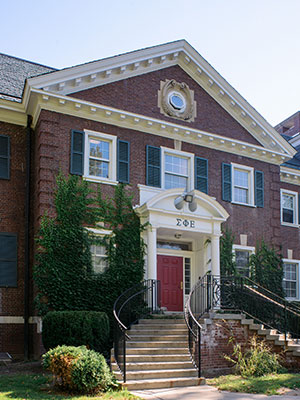 Academic Living Centers (ALCs) offer students the opportunity to form a group around a specific theme or focus and then create a living and learning environment in a freestanding house on the Fraternity Quadrangle.
These houses provide unique facilities for groups to create integrated educational experiences in a residence-based community, and they offer exciting and new possibilities for student-faculty interaction. Houses are assigned to interested and qualified student groups on a competitive basis for up to three-year terms. At the end of three years, groups may reapply and be considered along with other groups for the houses.
In exchange for housing, ALCs and their members are expected to act as role models in the College community and must abide by all University rules and regulations. Groups are expected to complete the goals and mission of their Academic Living Center. These often include, but are not limited to, planning events, community outreach, and being a resource for the College community.
Current Academic Living Centers
Named after the abolitionist and social reformer Frederick Douglass, the mission of the Douglass Leadership House (DLH) is to celebrate and raise awareness of the many facets of the black experience including its culture, politics, history, and Diasporic roots. The Douglass House represents a physical expression of Douglass' principles, while serving to connect students, alumni, and the Rochester community.
For more information about the Douglass Leadership House, check out their website and Facebook page, or email Sasha J. Eloi at se001k@admin.rochester.edu
Anyone who wants to live in a student-run community atmosphere and is interested in the performing arts—from writing to acting, music-making to tech—is encouraged to apply for admission into the house.
Since its inception in 1971, the Drama House has served as a diverse and adventurous community for all students committed to the spread of the performing arts. While many of our members are passionately dedicated to the theatre arts, they also possess a broad array of interests including music, film, fashion, literature, creative writing, and art. What unites us all together is a common goal to make our house a viable outlet for student cultural life on campus.
Residents of the house host an assortment of events including:
Creative house projects
Fireside Chat Seminars with University faculty and professors
Independent student-directed plays, musicals, and live music acts
Exclusive appearances by both the In Between the Lines (IBTL) Improv Troupe and The Opposite of People (TOOP) Theatre Company
The house is also used by the English department and the University's International Theatre Program, creating a unique and intimate academic environment. If you have a passion for the arts, an open mind, and an endless imagination, the Drama House welcomes you with open arms!
For more information about the Drama House, check out the website and Facebook page, or email house advisor Nigel Maister at nigel.maister@rochester.edu.
Sigma Phi Epsilon is founded upon the principles of virtue, diligence, and brotherly love. Sigma Phi Epsilon seeks to impress upon its members the true significance of the fraternal relationship, and to create and perpetuate friendship among all persons. Additionally, Sigma Phi Epsilon seeks to develop and strengthen the character of its members and instill in them those principles which are essential of an individual as a member of society. To achieve this goal, we embrace the ideal of the Balanced Man: sound mind, sound body.