Health Promotion Office
Get Involved
There are a number of ways students can get involved with the UHS Health Promotion Office. We are always looking for student input for our activities.
Opportunities include:
---
UR Student Health Advisory Committee (URSHAC)
Chaired by a UR undergraduate student, URSHAC offers students the opportunity to have an impact on the health care services offered for them. The committee meets with the Director of University Health Service and other representatives of the University Health Service and the University Counseling Center to share ideas, offer suggestions, and discuss topics of concern.
URSHAC is chaired by Emily Laskey. Marjorie Rowe serves as the Administrative Chair. Meetings will be held on zoom on Wednesday evenings during the fall semester.
Application Process:
Students who want to have an impact on health care services for students are welcome to join URSHAC. Interested students are asked to complete a brief application form that is available here: https://forms.gle/AkCdhNh2GDK1xwj39
Fall 2020 Meeting Dates: (All meetings will be on zoom.)
Wednesday, September 9, 6:15-7:15 p.m.
Wednesday, September 30, 6:15-7:15 p.m.
Wednesday, October 21, 6:15-7:15 p.m.
Wednesday, November 11, 6:15-7:15 p.m.
Questions:
If you would like more information about URSHAC, e-mail Emily Laskey, URSHAC Chair, Marjorie Rowe, URSHAC Administrative Chair, or Amy McDonald, UHS Staff Advisor.
---
Peer Health Advocacy Course (PH 216)
Interested in inspiring your peers to make healthy lifestyle choices? Then PH 216: Peer Health Advocacy is for you! Open to students in any major, this course focuses on contemporary health and wellness issues for college students, including:
Alcohol and other drugs
Relationships and sex
Mental wellness
Nutrition
Physical activity
Students are introduced to the concepts, theory, and practice of health promotion and peer-based health advocacy. In addition, you will be challenged to grow as a leader by developing the necessary skills to become an effective peer health advocate. Throughout the semester, you will strategically develop a comprehensive health promotion program on a health and wellness topic relevant to college-aged students.
Once you have completed the course, you are eligible to apply for the Peer Health Advocate Internship Program.
PH 216 is next offered during the spring 2020 semester. For information, contact Amy McDonald, UHS Senior Health Educator, at amcdonald@uhs.rochester.edu.
---
Peer Health Advocacy Internship
Peer Health Advocates (PHAs) are student leader who empower fellow students to make healthy lifestyle choices. They are trained to develop, promote, and provide health and wellness-related outreach. This includes educational workshops, tabling events, and other health promotion programs.
In addition, PHAs serve as positive role models by committing to live healthy lifestyles themselves. Requirements include one 75 minute class per week plus 60 hours of field work per semester as a PHA in the UHS Health Promotion Office. Students will utilize their knowledge of behavior change theory and public health planning frameworks to work on a variety of health promotion programs on campus. Interns will choose a topic area to focus on: alcohol and other drugs, relationships and sex, mental wellness, nutrition and physical activity. Upon completion of this internship, students will develop a comprehensive online portfolio to showcase their project work to future graduate schools and employers.
To be considered for the PHA Internship, you must complete the PH 216: Peer Health Advocacy with a final grade of B or higher, submit an application, and complete the interview process.
For more information, read the PHA position description (PDF) or email Amy McDonald, UHS Senior Health Educator, at amcdonald@uhs.rochester.edu.
---
Public Health Ambassadors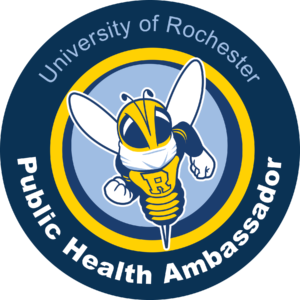 Our Public Health Ambassadors program was created with the purpose of educating our campus community on healthy behaviors, promoting safe practices, and ensuring adherence to new regulations related to COVID-19. Our ambassadors are committed to helping ensure the health and safety of our campus community.
Students who would like to become a Public Health Ambassador are asked to complete a brief application and a short training.
For more information about Public Health Ambassadors, email Zoe Black, or visit the Public Health Ambassadors webpage.
---
Collaborate on projects, programs, and events
UHS Health Promotion Office staff welcome and encourage the involvement of individuals and groups in the planning of projects, programs, and campus-wide health events.
To partner with our office, email Amy McDonald at amcdonald@uhs.rochester.edu, call 585-273-5775 or stop by our office. We are located in Rooms 428, 430, and 432 on the forth floor of the UHS Building on the River Campus.