Health Promotion Office
Nutrition
Most students don't realize that a healthy diet can impact their studies. Healthy strategies include:
Eating a variety of whole foods, including plenty of fruits and vegetable
Choosing whole grains over white refined grains
Opting for water over soda and caffeinated beverages
But according to the 2020 National College Health Assessment, University of Rochester students are falling short of the national dietary recommendations. For example, 70% of students consume only 1-2 servings of fruit per day, and 58% of students consume only 1-2 servings of vegetables per day.
While healthy, local food choices are readily available across campus, we realize your demanding schedule might take precedence over making time for a healthy meal. That's why our nutrition programs are created for the busy Rochester student. We provide practical tips and real-life strategies for eating healthy every day.
We also recognize that food insecurity is a problem that many of our students face. According to the 2020 National College Health Assessment, 35.5% of students reported sometimes or often not being able to afford to eat balanced meals. 25.1% of students have skipped meals because they did not have enough money for food. If this is something you also struggle with, consider checking out the on-campus Food Pantry! The Food Pantry is open to all undergraduate and graduate students.
Our line-up of EAT Healthy programs teach students that healthy food can be Easy, Affordable, and Tasty. Check out our online program, cooking demonstration, and market tours below.
---
EAT Mindfully Online Program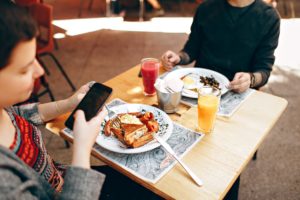 Challenge yourself each day to implement a new strategy to help you pay attention to what you you eat and how you eat it. That could mean turning off the technology while you enjoy lunch, becoming more aware of when you're hungry (and when you're not), or feeling motivated to choose foods that are both satisfying and nourishing .
This program is customized to YOU, so that you can make the changes you need to EAT Mindfully.
---
 EAT Healthy in the Kitchen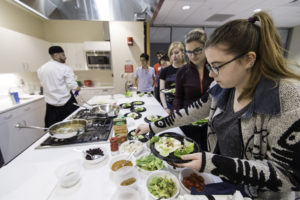 Do you live in a residence hall or apartment with a kitchen, but have no idea how to prepare a healthy meal? Check out our cooking demonstrations!
Offered throughout each semester in the Community Kitchen in Douglass Commons, you'll get hands-on experience making simple and delicious meals. Interested in scheduling an EAT Healthy in the Kitchen program? Complete our program request form.
Note: A small fee may apply for this program.