Health Promotion Office
Nutrition
Most students don't realize that a healthy diet can impact their studies. Healthy strategies include:
Eating a variety of whole foods, including plenty of fruits and vegetable
Choosing whole grains over white refined grains
Opting for water over soda and caffeinated beverages
But according to the 2017 National College Health Assessment, University of Rochester students are falling short of the national dietary recommendations. For example, only 5% of students are consuming the suggested five servings of fruits and vegetables per day. In fact, most students (about 59%) are eating only one or two servings each day.
While healthy, local food choices are readily available across campus, we realize your demanding schedule might take precedence over making time for a healthy meal. That's why our nutrition programs are created for the busy Rochester student. We provide practical tips and real-life strategies for eating healthy every day.
---
E.A.T. Healthy in the Kitchen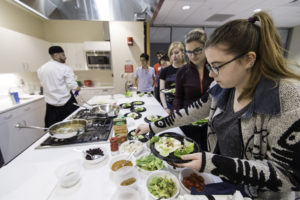 Do you live in a residence hall or apartment with a kitchen, but have no idea how to prepare a healthy meal? Check out our cooking demonstrations!
Offered throughout each semester in the Community Kitchen in Douglass Commons, you'll get hands-on experience making simple and delicious meals. More details and class schedule are coming soon for the spring 2018 semester.
Note: A small fee may apply for this program.
---
E.A.T. Healthy @ Hillside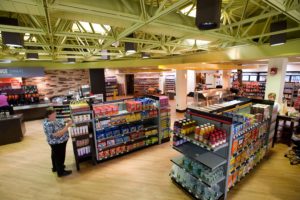 Our Hillside Market Tours teach students how to make smart shopping choices on campus. With a few simple ingredients, you can have a health meal—without needing a real kitchen to cook it in!
Our tours include ingredient lists, recipes, and shopping tips. More details are coming soon for the spring 2018 semester.