Health Promotion Office
Physical Activity
Staying active in college can be difficult when balancing academics, extracurriculars, and social commitments. According to the Physical Activity Guidelines for Americans report released by the US Department of Health and Human Services, college students should do at least:
150 minutes (two hours and 30 minutes) a week of moderate intensity aerobic physical activity, OR
75 minutes (one hours and 15 minutes) a week of vigorous-intensity aerobic physical activity, OR
An equivalent combination of moderate- and vigorous-intensity aerobic activity, AND
Include muscle-strengthening activities that involve all major muscle groups on two or more days of the week
Results from the 2017 National College Health Assessment indicate that only about half of University of Rochester students meet these recommendations. The Health Promotion Office encourages students to take advantage of the many opportunities to stay active on campus, including:
---
Beginners Guide to Working Out
Increase productivity. Decrease stress. Improve confidence.
Want to exercise but don't know where to start? The Beginner's Guide to Working Out is a seven week online program where students who are already motivated to exercise will build self-confidence and self-efficacy. This will lead to students building healthy exercise habits and learning to create their own workouts.
---
Fitness Center Workout Cards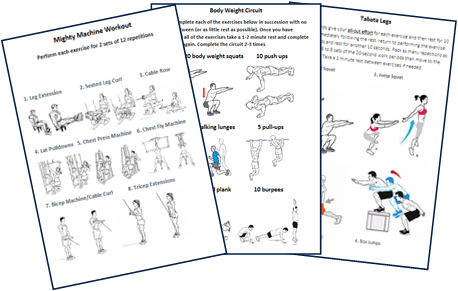 Want to work out at the Bloch Fitness Center, but not sure where to begin? Pick up one of our workout suggestion cards. Suitable for beginners, these customized workouts help you get started. Find workouts for a body weight circuit, machine circuit, and tabata workouts.