Health Promotion Office
Sleep Support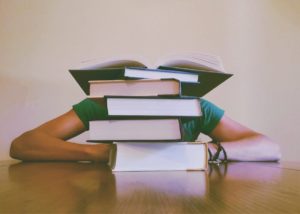 Are you sleepy all day but then can't shut your brain off at night? Need caffeine to stay awake in class? Feeling irritable, stressed, and can't concentrate?
Many students struggle to get a good night's sleep, which can lead to decreased focus, memory impairment, and increased stress. In fact, about 25% of Rochester students report their academic performance was adversely affected by sleep in the last 12 months.
Time to start catching those Zzzzs at night and turning them into As in the classroom! We offer two programs to help get you on the right track.
---
Sleep Solutions
A four-week course on discovering more about the essential we all crave — sleep! Our in person workshop series takes a deep dive into sleep factors along with strategies to attain the best night's sleep possible. The course includes:
Week 1: A lesson on the science of sleep, including sleep cycles, sleep inertia, and the importance of sleep for cognitive functioning.
Week 2: A lesson on the environmental effects on sleep, including blue light, binge watching, alcohol, caffeine, and more.
Week 3: A lesson on the art of the nap, which will teach students how to nap properly & effectively and the benefits of the nap.
Week 4: A final workshop on how you can improve your sleep, which will include meditation, aromatherapy and other changes to facilitate better sleep.
Sleep Solutions has been cancelled for the Spring 2020 semester.
We plan to offer this four-week course in Fall 2020. The dates will be posted here in September. Contact Amy McDonald, UHS Senior Health Educator, if you have questions about Sleep Solutions.
---
Zzzzs to As Online Sleep Challenge
Our online program provides students with practical tips and strategies to calm the mind for a better night's sleep. The 21-day challenge includes:
An online presentation covering the science and physiology of sleep, as well as sleep challenges common to college students.
Informational emails about sleep & diet, caffeine & alcohol consumption, technology use, and environmental factors that disrupt sleep.
Relaxation and mindfulness training.
Simple & practical tips.
Sleep logs and other helpful tracking tools.
Free nap kit & sleep makeover assessment with one of our Peer Health Advocates.
Register
Registration for this online program is open all year and students can begin any time. To sign up, visit our registration page. Upon registration you will receive an email to complete a sleep questionnaire. After that, participants will benefit from motivational quick tips (sent approximately every three days) and educational emails (sent once per week).
---
Nap Map
Napping during the day will elevate your mood and give you more energy to conquer the rest of your day. Also, napping will vastly help you consolidate newly learned information. Without critical period of REM sleep in the minutes to hours after a learning experience, no significant consolidation of that information can occur.
Think you don't have time to nap? Well, if you spend 20 minutes or more walking to Starbucks and waiting for your drink, couldn't you just find a cozy spot to take a nap instead? Check out our favorite napping spots on campus and then design your perfect nap. (Nap Map to download a PDF of the Nap Map.)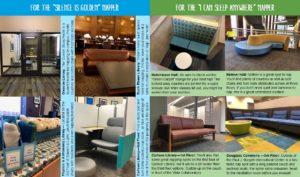 ---
UR Getting Sleepy Group Presentation
Our team of Peer Health Advocate Interns can teach your group all about healthy sleep habits! This is the perfect presentation for students who prioritize studying and socializing over sleep. Participants will learn the importance of good sleep habits and understand how things such as alcohol and technology disrupt a normal sleep cycle. The presentation concludes with a relaxing meditation and lavender aromatherapy.
Perfect for an RAs, Greek organizations and other student groups. To request, please complete our presentation request form.