The University Health Service and the University Counseling Center are offering a number of resources for students.
From the University Counseling Center:
Our Healing Breath
grieving | connecting | witnessing | sharing
Drop-in group for UofR Students of Color who would like a space to process the impact of racial trauma and systemic racism. The groups will be led by therapists of color who work at the University Counseling Center. The links to the zoom meetings are on the flyer.
Tuesday, June 9 at noon (https://urmc.zoom.us/j/94135414725)
Thursday, June 11 at 3:30 (https://urmc.zoom.us/j/95073826268)
Virtual Therapy Sessions
Effective March 20, 2020, the University Counseling Center will cease in-office therapy sessions following guidance from the Centers for Disease Control and other public health experts to isolate and create social distance. UCC will be offering virtual therapy sessions to full-time students who will be in the Rochester area. For more information about virtual therapy sessions, check the UCC website. Students  outside the Rochester area can search ThrivingCampus.com to identify a therapist in their area. If you have any questions about connecting with a therapist in your area, call UCC at 585-275-3113 and ask to speak with a UCC Case Manager.
TAO Self-Help
This is a private online library of behavioral health resources to help you understand and manage how you feel, think, and act. Learn stress management, mindfulness skills, problem-solving, relationship skills, and strategies to avoid dwelling on your concerns and to develop helpful thinking patterns.You can access these resources any time throughout the Spring Semester. Click here to access TAO Self-Help.
Virtual Resources to Support Your Mental Wellness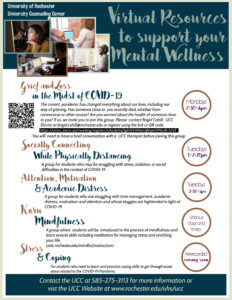 Resources include the following offered by the University Counseling Center. Contact UCC at 585-275-3113 or visit the UCC website for more information.
Socially Connecting While Physically Distancing (Tuesdays, 1:00-2:20 p.m.) A group for students who may be struggling with stress, isolation, or social difficulties in the context of COVID-19.
Attention, Motivation, and Academic Distress (Tuesdays, 3:30-5:00 p.m.) This is a group for students who are struggling with time management, academic distress, motivation and attention and whose struggles are heightened in light of COVID-19.
Koru Mindfulness (Various days and times) A group where students will be introduced to the practice of mindfulness and learn several skills including meditation for managing stress and enriching their life. For information about days and times, click here.
Stress and Coping (Pre-recorded sessions. Coming soon.) This is for students who need to learn and practice coping skills to get through acute stress related to the COVID-19 pandemic.
Coping While Quarantined
Check out Coping while Quarantined to learn about typical reactions to being quarantined, as well as strategies to help you cope including: taking steps to get the facts, being your own advocate, educating yourself, staying connected, relaxing your body often, maintaining a sense of hope and positive thinking, and exercising regularly. You can reach out to UCC to talk with a therapist via video or phone by calling 585-275-3113.
Managing Fears and Anxiety About Novel Coronavirus (COVID-19)
As information about novel coronavirus (Covid-19) unfolds, there can be a wide range of thoughts, feelings and reactions. Check the UCC website for tips to help you put information and concerns in perspective, manage your anxiety, and maintain commitment to our University values of equity and respect.
Care for Your Coronavirus Anxiety
This toolkit provides resources for anxiety and your mental health in a global climate of uncertainty. Check the resources in Ask an Expert, Free Meditations, Take Care, Take a Break, and more.

When You are Facing Traumatic Stress
Traumatic stress can occur in reaction to a range of experiences and can affect both people directly connected to an event as well as those who are not directly involved in the trauma.The struggle to understand why such tragedies take place can be overwhelming, but understanding normal responses to these difficult events can aid you in coping effectively with your feelings, thoughts and behaviors, and help you along the path to recovery.It is common for people who have experienced traumatic situations to have strong emotional reactions. Click here to learn about some typical reactions to traumatic stress and steps you can take to help restore emotional well-being and a sense of control.
From the UHS Health Promotion Office: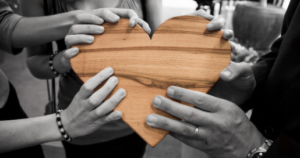 UR Supported
Feeling stressed? We're here to support you. If you are struggling with feeling stressed, overwhelmed, or having difficulty balancing it all, we are here to support you. We understand that this is a very unsettled time in the world, and you may be feeling a variety of troubling emotions right now. You are not alone! Although the previous UR Supported curriculum is not able to be delivered virtually, we would like to offer you a variety of resources that could help you during this difficult time. Check UR Supported for a list of resources from campus services, the UHS Health Promotion Office, and the Mindful University Project.
Additional Resources:
Student Support Basic Needs Hub – University of Rochester
The Student Support Basic Needs Hub was created to facilitate the connection of campus and community resources for students who are experiencing a time of critical need. The hub provides urgent, essential student necessities, such as food, clothing, housing, and access to academic tools. Assistance provided through the hub is not intended to replace or supplement current student financial aid, and it does not need to be repaid. If you are a student in need and would like to request resources, please complete the resource request form. Please note that information may be shared internally among University of Rochester staff members to the extent necessary to consider and/or complete the request.
Coronavirus Sanity Guide
The Coronavirus Sanity Guide is free for patients and providers and touts practical, actionable ways to cope with fear, stress, and anxiety with guided meditations, podcasts, and talks. Additional resources are being added to this guide as they are created. These resources are free for all.
Managing Anxiety & Stress – from the CDC
The emotional, social, academic, and financial disruption from social distancing measures, including online learning, residence hall closures, "stay at home" or "shelter in place" ordinances, and mass gathering restrictions, in combination with 24/7 media coverage and the uncertainty of the trajectory of this pandemic is fostering increased stress, anxiety, and fear. The CDC has developed guidance to manage stress and anxiety with several self-care recommendations.
Resources from Koru Mindfulness
Check out Cultivating Resilience during COVID-19 on the Koru Mindfulness website. The site includes resources to help us be ready to respond with thoughtfulness and wisdom to whatever comes our way during this uncertain time.
Headspace
Check out Headspace, a science-based meditation and mindfulness site that provides resources to reduce stress, boost compassion and resilience, and reduce negative emotions.