Research Experiences for Undergraduates (REU)
Advancing Human Health, From Nano to Network
Human health research at the University of Rochester (UR) covers a wide range of engineering and science disciplines and a breadth of topics including accessibility, drug delivery and the development of therapeutic and novel medical devices.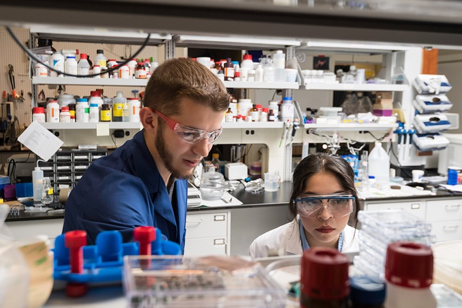 Students who are interested in understanding human health as a continuum of interrelated complex systems and questions will excel in this REU program.
Collaborating UR schools include:
Hajim School of Engineering
University of Rochester Medical Center (URMC)
School of Medicine and Dentistry (SMD)
Our best research students come through recommendations from faculty and fellow students who recognize talent at all levels.
Faculty mentors have appointments in:
Biomedical engineering
Chemical engineering
Electrical and computer engineering
Mechanical engineering
Our 10 core faculty mentors are 60 percent women and 10 percent underrepresented minority. Collectively, they have mentored over 140 undergraduate students and produced 38 publications with undergraduate students.
The Advancing Human Health, from Nano to Network program is funded by the National Science Foundation (NSF) and is currently in a renewal year. Program operation for Summer 2020 is contingent upon successfully being renewed by the National Science Foundation.
Program Dates
This program runs from May 27-August 1, 2020.