Economic Development
Since 2006, the University has been the largest single employer in Rochester. This fact is only the most prominent sign that the University helps to drive the economy in the Rochester region.
With a direct payroll of over $500 million and a total budget of $1.4 billion, the University of Rochester Medical Center contributes significantly to the University's effect on the local economy. According to a Center for Governmental Research economic impact study in 2002, the total economic output of the Medical Center is $1.9 billion annually, and a total of 20,000 Rochester-area jobs can be directly or indirectly attributed to the Medical Center and its affiliates.
Economic Development : Connected
The University is the city's top employer, with 17,800 employees—an increase of 600 (3.5 percent) in the last year
More than 6,700 of those employees reside in the city of Rochester, the remainder in surrounding communities
Medical Center capital improvement projects have created 2,700 construction jobs
More than 18,500 University alumni live locally
55 University graduates from the Simon Graduate School of Business are CEOs or presidents of local companies
Some 30 local start-up companies are based on University-created technologies, with an average of 4 to 5 new companies per year
Patients are drawn to the Medical Center from an area reaching Buffalo, Syracuse, and the Pennsylvania border. Patients from outside Monroe County represent upwards of 60 percent of total clinical services in some specialized areas. Such patients—and the families who often accompany them for extended treament—support local businesses when they, for example, purchase food and lodging.
The new James P. Wilmot Cancer-Center—a 163,000-square-foot facility now under construction—will dramatically increase patient capacity and improve the quality of care. The Center for Governmental Research projects that the expansion will create 1,000 new permanent jobs through direct and indirect employment, provide 750 construction jobs, and lead to at least $18 million annually in new research funds.
University-based research boosts the Rochester economy in a variety of ways. The University of Rochester is among the top ten U.S. universities in licensing revenue, earning just under $40 million in 2006. The Office of Technology Transfer helps to transfer intellectual property licenses to private industry and assists in the creation of start-up companies. Developing such companies and keeping them in Rochester—along with the jobs and revenue they produce—are other areas of success for the University. Rochester-based companies such as Vaccinex, VirtualScopics, Socratech, Koning, LAGet, SiMPore, and iCardiac, to name a few, are all products of University research.
The Center for Electronic Imaging Systems, a NYSTAR Center for Advanced Technology at the University, generated a record $114 million in economic development for New York State in 2006. Over the past five years, CEIS has delivered $315 million in economic impact in New York State in new jobs, revenues, cost savings, capital improvements, and acquired funds.
University scientists and facilities are a resource local companies can harness to advance their research and development objectives. In 2006, the University's Eye Institute and Bausch & Lomb renewed their research partnership, a collaboration that has already produced revolutionary advances in eye surgery. The Medical Center is also working with CareStream (formerly a division of Kodak) to help develop its next generation of digital medical imaging and health care information technologies.
Local companies benefit from leadership provided by graduates of the Simon Graduate School of Business. Thirty-five Simon graduates are CEOs for businesses in the Rochester region, twenty are presidents, twenty-four are CFOs, eleven are COOs, and two are CIOs.
The University is an active participant and leader in regional economic development initiatives, including Greater Rochester Enterprise, the Rochester Business Alliance, the Finger Lakes W.I.R.E.D. Initiative, High Tech Rochester (HTR), the University Technology Seed Fund, and Excell Partners. Two of these organizations, HTR and Excell, were founded by the University and provide critical financial, managerial, and infrastructure support and serv-ices for early-stage high-tech and biotech companies in the region.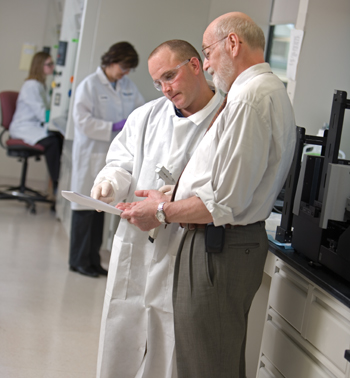 Spin-off Companies
The Power of Entrepreneurship
The new Center for Entrepreneurship is making use of a $3.5 million grant from the Ewing Marion Kauffman Foundation and a further $7 million in matching funds to make entrepreneurship integral to courses and schools across the University. A number of entrepreneurship-focused programs have already begun, including the Young Entrepreneurs Academy, which helps children in grades 6 through 12 develop real businesses; the Institute for Music Leadership at the Eastman School, which includes a focus on music entrepreneurship; and the Center for Nursing Entrepreneurship (CNE).
The first of its kind in the United States, the CNE gives nurses the support they need to start and successfully run a business in the health care field, which helps keep experienced nurses in the profession. The CNE currently operates several businesses, including the Center for Lifelong Learning, Health Checkpoint, Passport Health, the Nutrition and Weight Management Center, the school-based clinic at East High School, the Flu Prevention Program, and the Center for Telehealth, which together served more than 35,000 clients in the Rochester area last year.
Creating Work Locally
Using local machinists, high-energy physicists at the University are building a device to shed light on what the universe is made of, where it came from, and what its fate may be. Down a 400-foot well at the Fermi National Accelerator, they are constructing a detector to study neutrinos, the "ghost particles" of the universe, in more detail than anyone ever has before.
When Fermilab asked University of Rochester physicist Kevin McFarland to head the construction of a new kind of neutrino experiment, he readily looked to local businesses to help with the enormous undertaking.
"The construction project employs many engineers, both the university's own technical crew and outside machinists for making custom parts," says McFarland. "Even some of the raw material for the detector comes from local vendors where possible." New York Manufacturing, a seven-person shop run by husband and wife team Sal and Bo Anselmo, is one of the local facilities to which McFarland turned to help build the detector. The shop recently built part of the support structure—a large, 14-foot-long platform. "This is one of the biggest platforms we've made," says Sal Anselmo.
Before the neutrino detector is finished in 2009, McFarland hopes as much as $3 million may flow into the local economy from the U.S. Department of Energy, the National Science Foundation and the Particle Physics and Astronomy Research Council in the United Kingdom.
High-Tech Future
In 1999, two University researchers decided to see if they could make software do what radiologists naturally do in their heads—take the many flat images from an MRI, CAT, or ultrasound scan, and turn them into three-dimensional models. The raw scans become vivid renditions of bones, joints, and organs, all easily manipulated so a doctor can zoom around and into any structure to see how it may actually look inside a living patient.
Kevin Parker, dean of the School of Engineering and Applied Sciences, and Saara Totterman, professor of radiology, teamed with two graduate students, Josť Tamez-Pena and Edward Ashton, to create VirtualScopics. The University granted a sabbatical and reduced workloads to help them get started.
"The involvement of the university is a significant resource," Parker said. "It allowed VirtualScopics to expand its capabilities, or to solve problems without spending huge sums of money finding someone from outside Rochester." VirtualScopics has now developed successful collaborative relationships with companies such as Pfizer Inc., Johnson & Johnson, GE Healthcare, and others.
"Everyone is interested right now in the economic future of high-tech New York," Parker says. "The question is what are the elements that need to be in place for a good high-tech economic future, and one of the elements is venture capital; you also need a generator of new technologies and people who want to employ the new technologies as entrepreneurs. And the University has been stepping up to do that."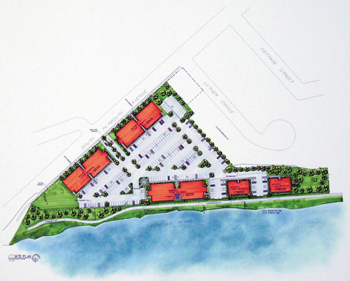 Riverfront Development
A University and City Gateway
Taking a walk along the Genesee River will soon be a whole new experience—for both city residents and the University of Rochester community. University CFO Ronald Paprocki says several projects in southwest Rochester will help connect the campus to its neighbors across the river while creating a vibrant "college town."
Brooks Landing—the privately-funded waterfront development between Brooks Avenue and Genesee Street—will include an 80-room hotel as well as a retail and office building occupied in part by the University, a coffee shop, and additional retail space. The development should be completed by the spring of 2008.
The University is also partnering with private developers to bring a five-building, 120-unit apartment complex to South Plymouth Avenue that will provide housing to about 400 University students. The Riverview Apartments are scheduled to open in the fall of 2008. "Feedback from our Sector 4 neighbors, city leaders, and the University community has been overwhelmingly positive," Paprocki said. "Everyone is excited for this new opportunity to revitalize the area and enhance our relationship with the city."