28 Jun

June 2016
Promoting Urban Education Success
Why do some urban K–12 schools have more success than others? Leveraging its partnership with East High School, the University will help provide some answers through the new Center for Urban Education Success.
Created with the help of a generous commitment from University Trustee Sandra Parker and John "Dutch" Summers, the center will serve as the intersection for University's work at East High and the Warner School of Education's programs, community outreach, and research about urban schools.
The establishment of the center is the next step in the University's efforts to create best practices and develop the research that leads to lasting improvements for K-12 urban education on a global level.
Read about the center and the gift that made it possible on the Warner School's website.
To give your support to the Center for Urban Education Success or other projects at Warner, contact Preston Faulkner at pfaulkner@warner.rochester.edu or 585-276-3636.
Advancing Cardiac and Surgical Capabilities
In May 2015, the University celebrated the culmination of years of dreaming, planning, and building at the dedication for the new Golisano Children's Hospital. The ceremony officially marked the conclusion of Phase I construction. Shortly after the ribbon was cut, Phase II began.
Construction on the building's fourth and sixth floors is helping to bring the facility to the forefront of pediatric surgery and pediatric cardiology centers in the Northeast. Phase II features six new operating rooms in the William and Mildred Levine Pediatric Surgical Suite, 23 private pre-op and post-op recovery rooms, and now, the Clay E. and Rita M. Buzzard Pediatric Cardiology Cath Laboratory Suite.
The Buzzard Suite was named in recognition of a $2 million gift from Rita Buzzard, in honor of her late husband, Clay. Buzzard's gift is one of the two largest gifts the children's hospital has received in support of Phase II.
The second gift came from Rochester-area festival creators Andrew McDermott and Robert Burch, who pledged $750,000. In recognition of their generosity, the Levine Suite will include the Fairport Music Festival Pediatric Cardiac Operating Room.
Learn more about these generous donors and Phase II in the official gift announcement.
For information on how to support Golisano Children's Hospital, contact Scott Rasmussen at srasmussen@admin.rochester.edu or 585-273-5932.
Research Leadership for Autism Spectrum Disorder
Families, medical professionals, and researchers across the country have access to state-of-the-art autism-related information, services, and support through the Autism Treatment Network (ATN).
The ATN is a collaboration of Autism Speaks® and some of the nation's preeminent children's hospitals and academic institutions, as well as preeminent faculty members such as the University of Rochester Medical Center's Tristram Smith, PhD.
Smith, with Susan Hyman, MD, directs the ATN site in Rochester. He is also the director for research at the Strong Center for Developmental Disabilities. Author or coauthor of several of the most widely-cited studies on treatment outcomes for children with autism spectrum disorders (ASD), Smith has conducted federally funded studies on the efficacy of ASD interventions for decades.
Earlier this month, Smith received the well-deserved honor of being named the inaugural Haggerty-Friedman Professor in Developmental/Behavioral Pediatric Research.
The Haggerty-Friedman Professorship was established by gifts from Robert J. Haggerty '51M (Res) and the late Stanford B. Friedman '57M (MD) with additional support from their colleagues, families, and friends.
"Tristram is one of the University's finest researchers, working in a critical area of pediatrics," said Joel Seligman, president, CEO, and G. Robert Witmer, Jr. University Professor. "I am delighted we are able to recognize his expertise and achievements with this wonderful professorship, given to us through the generosity of Drs. Haggerty and Friedman and the many other donors who contributed to its creation."
Haggerty and Friedman are among those who laid the groundwork for advances in developmental and behavioral pediatrics. Haggerty, professor and chair emeritus of the Department of Pediatrics, tirelessly promoted the health of children and adolescents through the establishment of integrated services and policies. Friedman was a pioneer in adolescent medicine and behavioral pediatrics who was dedicated to the behavioral pediatric community.
Smith is now building on the work, and legacies, of his predecessors. Some of his current ASD studies involve comparisons between interventions and outcomes, such as different models for establishing communication in nonverbal children; approaches to help parents become effective teachers; and medications and behavioral interventions for children who have challenging behaviors.
"We have one of the largest research programs for individuals with Autism Spectrum Disorder in the United States," said Mark B. Taubman, MD, CEO of the Medical Center and UR Medicine and dean of the School of Medicine and Dentistry. "Tristram is among the reasons why our program is also among the strongest."
Man of Many Miracles
Every year since 2008, Golisano Children's Hospital has featured the stories of five "Miracle Kids." The children are always different, but one name shows up on a nearly annual basis: George M. Alfieris '92M (Res), '94M (Flw).
Director of pediatric cardiac surgery, Alfieris holds a rare subspecialty certification in congenital cardiac surgery and is one of two pediatric cardiac surgeons in the region. And when it comes to the most complex congenital heart diseases, no one in New York State has a higher cardiac surgery survival rate.
It should come as no surprise that when it came time for the University to choose the first holder of the Tansukh, Sarla and Rajesh Ganatra Distinguished Professorship in Pediatric Cardiac Surgery, Alfieris was the clear choice.
Part of longtime support of pediatric cardiology, the Ganatra Distinguished Professorship was created by the Ganatra family in gratitude to the Medical Center doctors who helped their family and loves ones. Tansukh Ganatra, his wife, Sarla, and their son, Rajesh, are dedicated to improving the lives and happiness of future generations through cardiology research at Golisano Children's Hospital and the Medical Center's Aab Cardiovascular Research Institute.
"The Ganatras are a family who truly believe in helping others and giving back," said Joel Seligman, president, CEO, and G. Robert Witmer, Jr. University Professor. "I'm deeply grateful they chose to establish a professorship that enables us to recognize the superlative talent of Dr. George Alfieris."
Alfieris is broadly published, including journals such as Critical Care Medicine, The Journal of Thoracic and Cardiovascular Surgery, and Pediatric Cardiology, and has presented his research at more than 60 institutions and conferences around the country.
"Every year we admit children who are very sick and require very complex surgeries to treat their afflictions," said Mark B. Taubman, MD, CEO of the Medical Center and UR Medicine and dean of the School of Medicine and Dentistry. "George's highly specialized skill set has saved many children's lives and made him an invaluable resource for our cardiac care team and families across the Finger Lakes region."
For information on how to support pediatric cardiac surgery or another area, contact Jodi Revill at jrevill@ur.rochester.edu or 585-276-4978.
Making Waves with Waves
Medical ultrasound technology uses high-frequency sound waves to produce detailed images that help physicians diagnose conditions affecting the body's organs and soft tissues. What if this technology could also be used to help treat the problem? Diane Dalecki '83, '85 (MS), '93 (PhD), director of the Rochester Center of Ultrasound, has already asked the question, and she is currently working on the answer.
Dalecki's lab, which is dedicated to advancing the use of ultrasound in medicine and biology, is developing ultrasound-based technologies for tissue engineering and regenerative medicine. The ultimate goal: have the ability to fabricate living, functional artificial tissues and organs.
Tissue engineering and regenerative medicine are just a part of an impressive list of work that led to Dalecki being named the University's Distinguished Professor of Biomedical Engineering.
"Diane has become one of the country's leading experts on the interaction between ultrasound and biological systems," said Joel Seligman, president, CEO, and G. Robert Witmer, Jr. University Professor. "As she was the first person in the world to pace heartbeats with pulsed ultrasound, it is particularly appropriate that she be the first recipient of this professorship."
The distinguished professorship was established by the University through royalties from the Blue Noise Mask. Invented by Kevin Parker, Ph.D., the William F. May Professor in Engineering, and Theophano Mitsa '88 (MS), '91 (PhD), the Blue Noise Mask is a widely adopted halftoning technique that prints shades of gray in less time and at a higher quality than traditional methods. It is a patented process that has been licensed worldwide by more than a dozen companies, including Hewlett-Packard, one of the world's largest computer printer manufacturers. The royalties have funded four other endowed distinguished professorships and provided support for research and scholarships.
"Funding made possible by the Blue Noise Mask underscores the importance of recognizing world-class work and retaining world-class people," said Robert L. Clark, senior vice president for research and dean of the Edmund A. Hajim School of Engineering & Applied Sciences. "Diane is at the top of both categories as an outstanding researcher and an exceptional teacher."
Dalecki has been a recipient of the Goergen Award for Excellence and Artistry in Undergraduate Education and is a three-time recipient of the Undergraduate Engineering and Applied Sciences Professor of the Year Award.
For information on how to support Diane Dalecki's work or research being conducted in another area, contact Eric Brandt at ebrandt@alumni.rochester.edu or 585-273-5901.
Meliora Weekend 2016: Better Than Ever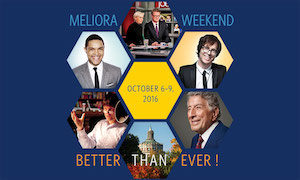 Why better than ever? Aside from the standard Rochester answer of "that's what we do," it's because the University will also be celebrating the success of The Meliora Challenge, which will be concluding at the end of this month.
Make sure October 6 through 9 is clear. With several new features and more special guests than ever before, this is a can't-miss Meliora Weekend. Registration and ticketing open July 27.
To register and get all the weekend details visit the brand new rochester.edu/melioraweekend.
Discovery Ball: A Torch for Breast Cancer Research
Here's something scary: there's a protein on the surface of cancer cells known simply as "HER2" that, in excessive amounts, tends to make cancer cells grow more quickly and makes them more likely to spread.
Here's something awesome: doctors at Wilmot Cancer Institute's Pluta Cancer Center used precision medicine to target the HER2 protein in Melanie Wolk's aggressive form of breast cancer. Coupled with a bi-lateral mastectomy, the targeted treatment completely eradicated all traces of the disease.
Wolk's survivor story was featured at the 16th annual Discovery Ball, which celebrated the advancement of Wilmot Cancer Institute's capabilities in translational breast cancer research. Under the thematic statement "Together, we are a fire that burns bright in the darkest moments, lighting the way forward," more than 600 grateful patients, community members and friends, and UR Medicine faculty and staff in attendance generously contributed more than $620,000 in net support.
The attendees' generosity will enable the Institute to develop and offer more clinical trials, offer new treatments and technology long before they are widely available, and draw more top scientific and medical talent to Rochester.
According to breastcancer.org, 246,660 new cases of invasive breast cancer are expected to be diagnosed in women in the U.S. this year. Continued support at the Institute gives those in the Finger Lakes region the chance to live longer and healthier lives.
You can help fuel the quest to develop life-saving discoveries and even a cancer cure by making a gift to the Wilmot Cancer Institute.
Highland Expansion Receives Record Support
When Joe Johnson '93M (Res) completed his residency at the Medical Center, one of the reasons he stayed in Rochester was that Highland Hospital gave him the opportunity to practice medicine in a more personal environment.
"It was small. It was community-based. Everyone knew each other," said Johnson, now the chief of surgery at Highland. "It continues to be a small hospital, but it's grown so much."
And it's still growing.
Highland Hospital is currently undergoing a $28 million expansion that includes six state-of-the-art operating rooms and a 26-bed observation unit. For Johnson, this means having the space to house equipment for more advanced surgical care.
Johnson isn't just a beneficiary of the additional space; he's also among the leaders making it a reality. He and his wife, Elizabeth Supra '91M (Res), have committed $200,000 to name one of the six new operating rooms.
The doctors' generous commitment was announced during the 10th annual Highland Hospital Gala. Attended by more than 700 Highland Hospital friends, volunteers, and staff, the gala helped raise an additional record-setting $275,000 in net support. These gifts, and leadership support from donors like Johnson and Supra, are providing critical funds for Highland's expansion.
Every year for the past decade, the Highland community has gathered at the gala to ensure the hospital is able to continuously deliver excellence in patient- and family-centered care. This can't be done without exceptional people, which is why each year the gala recognizes a physician whose work is exemplary and extraordinary. For exemplifying the Highland Promise as a physician, teacher, and colleague, David Holub, M.D., was awarded Highland's Physician of the Year.
Gala attendees were shown how physicians like Holub contribute care experience that leaves a lasting impression through the LeFrois family's story.
One Day, Two Challenges, 1,000+ Donors
Around halfway through the University's second annual Day of Giving, Mark '78 and Jill Goldstein '79N were ready to make a gift in response to the Givant Challenge, when they learned it had already been met.With the idea of participating in a challenge already planted in their hearts, the Goldsteins decided to create their own by committing to match any gift up to a total of $50,000.
For their gift, the Goldsteins added to the Mark & Jill Goldstein Endowed Scholarship Fund, a fund they created in 2012. The Fund supports students pursing a liberal arts degree in the School of Arts & Sciences with a preference for those with outstanding personal and academic qualities and the first in their family to attend college.
The Goldsteins' commitment and challenge contributed to a Day of Giving total of $846,916 from 1,189 donors. Alumni, students, faculty, staff, parents, and friends made gifts to areas across the University and Medical Center. Gifts of all amounts provided support to current and future care-givers, music makers, entrepreneurs, and educators, and critical funds for research and the arts.
Miss this year's Day of Giving? Make today a day for giving by giving your support to a meaningful area of the University.Most importantly, thank you, for giving one more time.<