UPDATE 11/13/20:
We've made some updates. You may notice some changes, but continue to use the tool as usual!
This ensures your events are even more secure than before.
Step 1
The steps below show how to display the Zoom meeting link as the location in the calendar invite, but hidden from the event listing page.
Log in to rax.rochester.edu and create a new event
Select 'Use an existing event template' and choose the template titled '*Zoom Event'
Setup your event as normal, but in the 'Location Name' field, enter your Zoom webinar link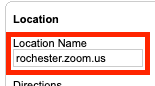 Step 2
The following provides steps to generate the code needed for calendar invites. The code hides the Zoom information on the event listing page, but will still be visible to the user via the calendar invite.
Ask the Special Events team for the attendee invitation
Copy the invitation, and head back to this tool
From the 'Select your conversion method menu', select 'Zoom' as your conversion method
Paste the invitation in the box below this menu
Click 'Generate' and the code will be created in the code box with the blue bar to the left
Click on the 'Copy to Clipboard' button
In your event, under 'Event Description' select the button.
Highlight 'Place Code Here' and paste the generated code into the box.

*Do not delete any existing code, simply replace the text saying 'Place Code Here'*

Click, 'Next' and you're all set!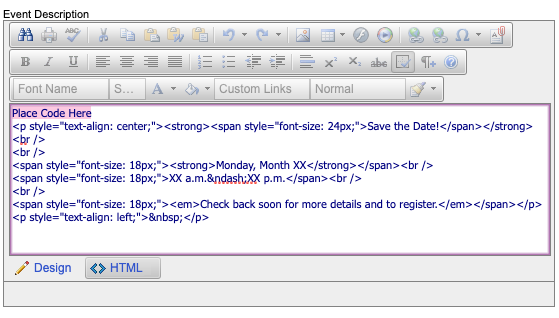 Select your conversion method
If you have any questions, please contact the Internet and Digital Technology team.