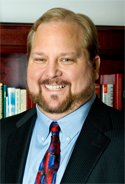 "The greatest use of life is to spend it for something that will outlast it."
— William James
During the previous 12 months, we have witnessed a period of extraordinary change in the global economic landscape. Whether or not we are through the worst is yet to be seen, but I am confident that our nation will successfully navigate this financial crisis as it has done in the past. This crisis has affected each of us personally. It is one more reminder that all of our lives are interconnected.
Although the effects of the crisis will not be known for a while, we can be certain that the nation will need its great research universities now more than ever. Universities like the University of Rochester are among the oldest institutions in the world because what we do is eternal. We educate young people. We open up the frontiers of research and scholarship. We discover cures for disease, care for the sick, help solve complex financial and social problems, and help the human race understand the world around us. We offer a depth and range of experiences and services unlike any other organization. We are particularly important to society during challenging times because the demands for the services we provide increase exponentially.
The early part of a recession is typically the most challenging for philanthropy, and in the short term, we face a great deal of uncertainty. Yet, let me emphasize that Advancement is a permanent strategy that engages the University's trustees, officers, academic leaders, donors, volunteers, faculty, and staff as partners in the process of institution building. The relationships we build with our donors and prospects today will outlast this crisis. Their hopes, dreams, and passions will also endure. Regardless of the economic climate, we must continue to engage our alumni, parents, and friends in the life of the University and show them the ways we are making a real difference in the lives of those we serve—whether it is providing new scholarship support for students whose parents have lost their jobs or providing support to our hospitals so we can meet the demands for our health services from the uninsured. What we do affects people's lives in a direct and immediate way.
There are many good reasons to be hopeful about our future. Let me highlight a few significant moments from this past fall:
On Friday, October 17, Board Chair Edmund A. Hajim publicly announced a $30 million gift commitment to the University of Rochester's School of Engineering and Applied Sciences — the single largest gift commitment in University history. Ed's generosity sends an inspirational message about his confidence in the University's future. This bold statement, made during this challenging economic period, demonstrates extraordinary faith in the role of higher education to strengthen American competitiveness. Through his vision, leadership, and philanthropy, Ed is accelerating the momentum of our great University. His transformative gift will have a positive impact on many lives in our community and in the world for generations to come.
Meliora and Eastman Weekends were spectacular, and attendance topped 7,000. Thanks to the contributions of an increasing number of school and unit partners, we were able to showcase many wonderful facets of our University. Let me take this opportunity to acknowledge President Seligman, Peter Lennie, Doug Lowry, Brad Berk '81M (MD, PhD), Raffaella Borasi, and Mark Zupan for leading sessions that intellectually engaged our alumni, students, parents, and friends in so many ways. I would also like to thank our many volunteer leaders who helped make reunion and class activities so special.
The George Eastman Circle is quickly approaching another milestone: 1,000 Charter Members. On Friday, October 17, the University celebrated the success of the Charter phase at the Rochester Riverside Convention Center. George Eastman Circle National Co-Chairs Larry Bloch '75 and Tom Sloan '65, '67 (Mas) along with Gwen Meltzer Greene '65, chair of annual giving programs, and President Joel Seligman led the program, and special entertainment was provided by Tony Award winner Christian Hoff, star of the Broadway show Jersey Boys. The Charter Members are the vanguard of a new generation for the University of Rochester. Their leadership, visibility, and enthusiasm are vital as we expand the George Eastman Circle in the years ahead.
As we move forward, let us maintain our focus on the long term and stay committed to our plans. We know that we have an uphill road ahead of us. Generations do not choose the eras through which they pass, but they are measured by how they rise to the challenges of their moment in history. By being mindful of those things that endure, we will position ourselves to create a stronger University of Rochester in the years ahead.
Meliora,
James D. Thompson
Senior Vice President
Chief Advancement Officer