2010 Annual Fund Total Reflects Historic, Collective Effort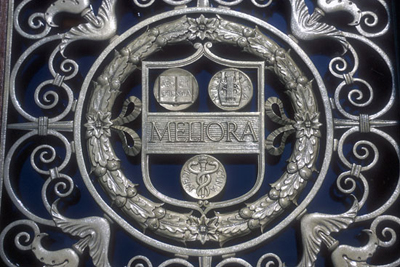 A collective effort of close to 37,000 supporters closed the 2010 fiscal year for the University of Rochester Annual Fund with a record-breaking $10.5 million performance. Rochester alumni, parents, and friends joined forces in a great coalition to exceed an exceptionally ambitious goal to double the Annual Fund in 7 years. After 4 years of tremendous growth, a 13.7 percent increase was posted this year. This historic effort has led to doubling the Rochester Annual Fund in just five years, a full two years ahead of a very aggressive target.
"I am so proud of our University and those who support it," said Gwen Greene '65, Annual Giving Programs chair and member of the Board of Trustees. "Thanks to this astonishing transformative effort, we are strengthening and expanding the University's impact on the thousands of lives we touch through world-class education, health care, research, art and culture, and so much more. Clearly our alumni, parents, and friends understand the meaning of Meliora, and they know that this historic milestone will truly make our University ever better."
Growing momentum in unrestricted giving during the past several years has vaulted the University of Rochester into prominence as one of the fastest growing annual funds in the nation. This year's achievement further enhances our position and strengthens the University's service to the Rochester community and the world.
Giving by more than 1,400 members of the George Eastman Circle — the University's premier annual giving society — helped boost the 2010 total. These leaders play a key role in building excitement for the current effort to raise the University of Rochester's position among the world's top research institutions. Working together, George Eastman Circle members are making a powerful, collective impact at the University and are establishing a foundation for all of our future success.

National Councils Provide Leadership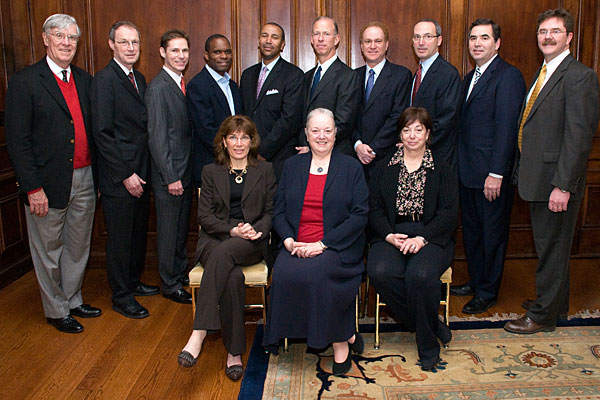 In October 2007, the University of Rochester's Board of Trustees unanimously endorsed the formation of National Councils across the institution. All of the University's schools now have engaged leadership advisory groups. An Alumni National Council has also been formed, the first campus-wide National Council. Below, listed in order of their formation, is an overview of our National Councils:
Arts, Sciences and Engineering (pictured above)


School of Medicine and Dentistry


Simon Graduate School of Business


Warner Graduate School of Education


Eastman School of Music


School of Nursing


Alumni (University-wide)
Another major stride in the development of a University-wide, integrated volunteer structure is the establishment of a new Dean's Advisory Committee for the Edmund A. Hajim School of Engineering and Applied Sciences.
National Councils were established through partnerships with the Schools' deans and academic leaders. These leaders help create a shared vision, review strategic plans, and provide professional and market insights. This iteration supports improved leadership and the pending public launch of the capital campaign.
Council members are involved in a wide variety of important activities, such as engaging with and reporting to the Board of Trustees, the Strategic Planning Advisory Committee, a growing program of Regional Cabinets, the George Eastman Circle, and roles with other School and University groups. National Council participation further integrates our expanding University volunteer structure.

Total membership of these advisory leadership groups is fast approaching the 100 mark. Significant progress has been made, and efforts are ongoing to expand our network of leaders around the globe.
Click here to view a photo gallery of the National Councils.
Major Changes and Improvements Under Way at Eastman Dental/EIOH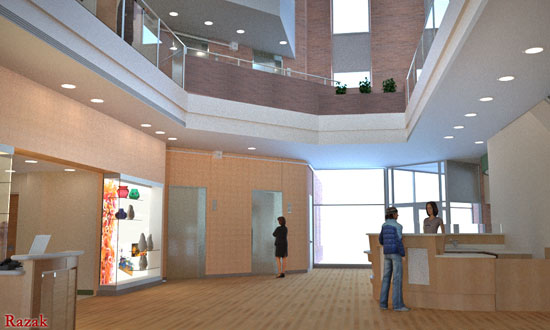 For years, an ever increasing demand for service has had Eastman Dental handling thousands more regular and emergency patient visits than their space allowed. But major renovations and changes to clinical operations occurring over the last 18 months are now providing better service to patients and enhancing the educational experience for residents.
Eastman Dental Urgent Care, a first-of-its kind facility, treats about 50 patients a day since it opened this spring. Other renovations include a beautiful new atrium (pictured above), new entrances, and larger, more comfortable waiting and treatment rooms in the different specialty areas. Processes are in place for streamlining operations and improving customer service. Late last year, Eastman Dental Downtown had a complete makeover, adding four more chairs to double its capacity.
In other news, a search committee is being formed to replace current Eastman Institute for Oral Health (EIOH) director Cyril Meyerowitz, D.D.S., M.S., who announced he will step down in one year. The EIOH, which replaced Eastman Dental Center as a University of Rochester Medical Center division in 2008, is the integrated entity responsible for research, education, and clinical care in dentistry at the University.
In addition, the Master's Program in Dental Science has been revamped, designed to assist in growing the clinical research base of the Institute and train residents in clinical and translational research.
Click here to read more about Eastman Dental Urgent Care.
Click here to read more about Dr. Meyerowitz.