Special Meliora Weekend Events Held for George Eastman Circle Members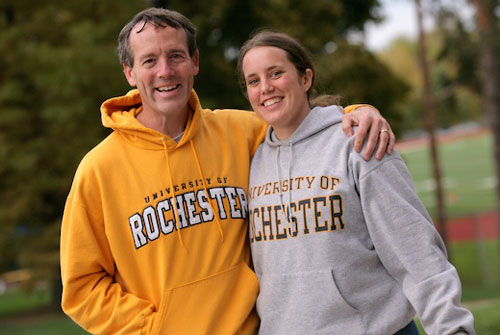 In keeping with a tradition that has gained momentum in recent years, Meliora Weekend 2010 will offer numerous opportunities for George Eastman Circle members to participate in exclusive events. We are pleased to be able to provide these options for our premier annual giving society.
Eastman Circle members have done far more than contribute through generous financial support. They have instilled a sense of shared purpose in our community on a scale never before achieved and have been instrumental in helping launch a new era in University of Rochester history. We invite you to be our guests at Meliora Weekend 2010 and experience the enthusiasm and the new levels of excellence the university has achieved thanks to your involvement.
David Sedaris, one of the nation's pre-eminent humorists, will speak on Friday, October 15 at 8 p.m. at the Alumni and Advancement Center. He will meet audience members for a book signing immediately after his presentation. Included in the evening is a reception for Eastman Circle members that begins at 6:00 p.m.
This year's keynote speaker, Dr. Sanjay Gupta, will present his address from 11 a.m. until noon on Saturday, October 16. Founders, Patrons, Benefactors, and Fellows of the George Eastman Circle are invited to attend a luncheon with Dr. Gupta following the keynote. Both events will be held in the Robert B. Goergen Athletic Center.
We also want to remind you that the George Eastman Circle Hospitality Suite will be open on Saturday, October 16 from 9 a.m. to 6 p.m. This year's location is the Welles-Brown Room of Rush Rhees Library. Members are encouraged to stop by for light refreshments, computer access, and to check baggage.
Advance registration for the events with David Sedaris and Dr. Sanjay Gupta is required. Please return the response card from your invitation or call the Office of Donor Relations at (585) 275-7498.
For Meliora Weekend 2010 information and updates, click here.
For more information on the George Eastman Circle, click here.
If you would like to become a member of the George Eastman Circle or upgrade your membership level, contact Justin Croteau, George Eastman Circle director at Justin.croteau@rochester.edu or (585) 276-3597.
School of Nursing Supporters Honored at the Dean's Diamond Circle Dinner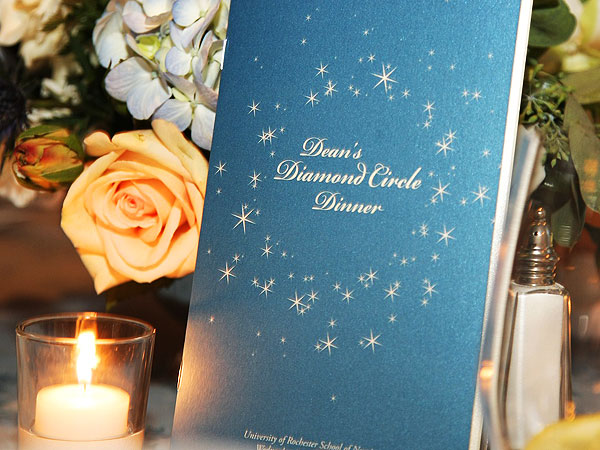 Top alumni awards and the screening of a new University video were part of the program at the Dean's Diamond Circle Dinner celebration on September 15. Diamond Circle members are among the School of Nursing's most generous and dedicated supporters. They are honored at this event annually, which includes many of the University's top leaders as guests.
Speakers this year included Kathy P. Parker, PhD, RN, FAAN, dean of the School of Nursing; Bradford C. Berk '79M (MD), '81M (PhD), university senior vice president for health sciences and CEO of the University of Rochester Medical Center; and Joel Seligman, president of the University of Rochester. President Seligman recognized Dean Parker's leadership, which has positioned the School of Nursing for growth in the years ahead. Berk spoke about the vital importance of a strong foundation in nursing education to the Medical Center's excellence. He also discussed the new emphasis at the University of Rochester on patient-centered care.
Dean Parker expressed her deepest appreciation to School of Nursing donors, extending special thanks to T.C. Lewis '60 and Pam Lewis '62. They have made a generous gift to the school in honor of T. C.'s 50th Reunion as part of the Goergen Challenge. Dean Parker also recognized the members of the School of Nursing National Council for their hard work as volunteers. The council is working in partnership with University leaders to implement the school's strategic plan and assist the impending capital campaign. Related to this effort, she announced the school has adopted a new theme: Transforming Health Care – Transforming Lives. This message is consistent with the Medical Center's goal of Medicine of the Highest Order and the University of Rochester's motto, Meliora.
Dean Parker presented the Dean's Medal to Rachel Brody Bandych, who accepted the award on behalf of her family. They were recognized for their dedication to perpetuating the legacy of the late Ruth Miller Brody '42N, '46W (EdM), the School of Nursing's third director. Mrs. Brody's lifelong devotion to nursing education and her commitment to recruiting the finest faculty remain a vibrant part of the school through the Ruth Miller Brody and Bernard Brody Professorship.
Evelyn Marie Lutz '55N, '63 received the John N. Wilder Award. Now retired, her distinguished career spanned more than four decades of service to nursing practice and academia. After gaining experience at Strong Memorial Hospital, she went on to hold teaching and leadership positions at Case Western Reserve University (where she earned her doctorate), Kent State University, and Xavier University. A loyal and generous School of Nursing supporter, she is a Charter Member of the George Eastman Circle and has made a generous bequest in her will to nursing research.
Diamond Circle members are steadfast scholarship supporters. Currently, the school is striving to provide 50% scholarship assistance to attract and retain the most talented students. This funding is essential for the preparation of a new generation of health care leaders, practitioners, and researchers. Dinner attendees viewed a new University video showing the impact of scholarship gifts and their increasing importance at the school. School of Nursing National Council members Roger Friedlander '56 (University Trustee) and Jonathan Terry; T.C. and Pam Lewis; and Nursing students and scholarship recipients Terri Glessner '10N (DNP), Kathy Marchiony '11N (MS), Krista Englert '11N, and Virginia Cartwright '12N (MS), all participated in the video project.
To view the School of Nursing scholarship video, click here.
To see a photo gallery of the Dean's Diamond Circle Dinner, click here.