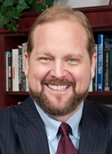 Another fantastic Meliora Weekend! I want to congratulate and thank everyone for their involvement in what has truly become a "Meliora Week" for us. We conducted important Board and National Council meetings; we had a sneak preview of the Eastman Theatre's new wing and cheered at the Eastman Theatre's illumination of the new Dale Chihuly "Blue and Gold Chandelier"; and we celebrated some of our best alumni at a series of school awards dinners. Meliora Weekend officially started on Thursday, and by the time campus settled down on Sunday afternoon with our final events, we had staged an astonishing 240 events!
Thank you to the hundreds of volunteers who contributed their hard work, ideas, energy, and enthusiasm to make this a weekend to be remembered. My deep appreciation also goes to the Advancement team and our many academic and administrative partners across campus. The series of events on health issues, for instance (Sanjay Gupta's keynote address, Dr. Brad Berk's and Mary Berk's Compassionate Care talk, the Presidential Symposium on Health Care with Hugo Sonnenschein, Sanjay Gupta, Philip Pizzo and Steven Goldstein, and several other events from medical alumni), is an example of the collaboration among staff, alumni, administrators, and trustees in developing great programming. No other university I know attempts anything this comprehensive and complex, nor do they offer events of the quality and with the precision the University of Rochester produces year after year.
The range of events we all enjoyed and from which we gained so much proved what is possible when all the members of our community work together. United by our shared belief in the ethos of "ever better," we are making strides today that impact many lives. What we do today – at this crucial moment in our history — also shapes the future. Let us continue to move forward with a shared vision and purpose to improve our world today.
Meliora!
James D. Thompson
Senior Vice President
Chief Advancement Officer