What's cooking?
"We make a big pot of hot cider on my mom's stove every Thanksgiving morning—the aroma fills the house. I started making glögg for when we celebrate Christmas with my husband's family as a nod to their Scandinavian heritage."
— NORA RUBEL | Jane and Alan Batkin Professor in Jewish Studies and chair of the Department of Religion and Classics
Besides being a noted food, religion, and culture scholar, Rubel is also an entrepreneur. She and her husband, Rob Nipe, run Grass Fed, a kosher and vegan butcher shop in Rochester, N.Y.
Recipe one:
Hot spiced cider
1 gallon unpasteurized apple cider
1 sliced orange
3 cinnamon sticks, broken in half
6 whole cloves
6 whole allspice berries
4 star anise
Bring to a boil cider, orange slices, and spices, and then drop to a very low heat.
Let simmer at least 20 minutes or for hours so your home smells festive.
Ladle into mugs.
Recipe two: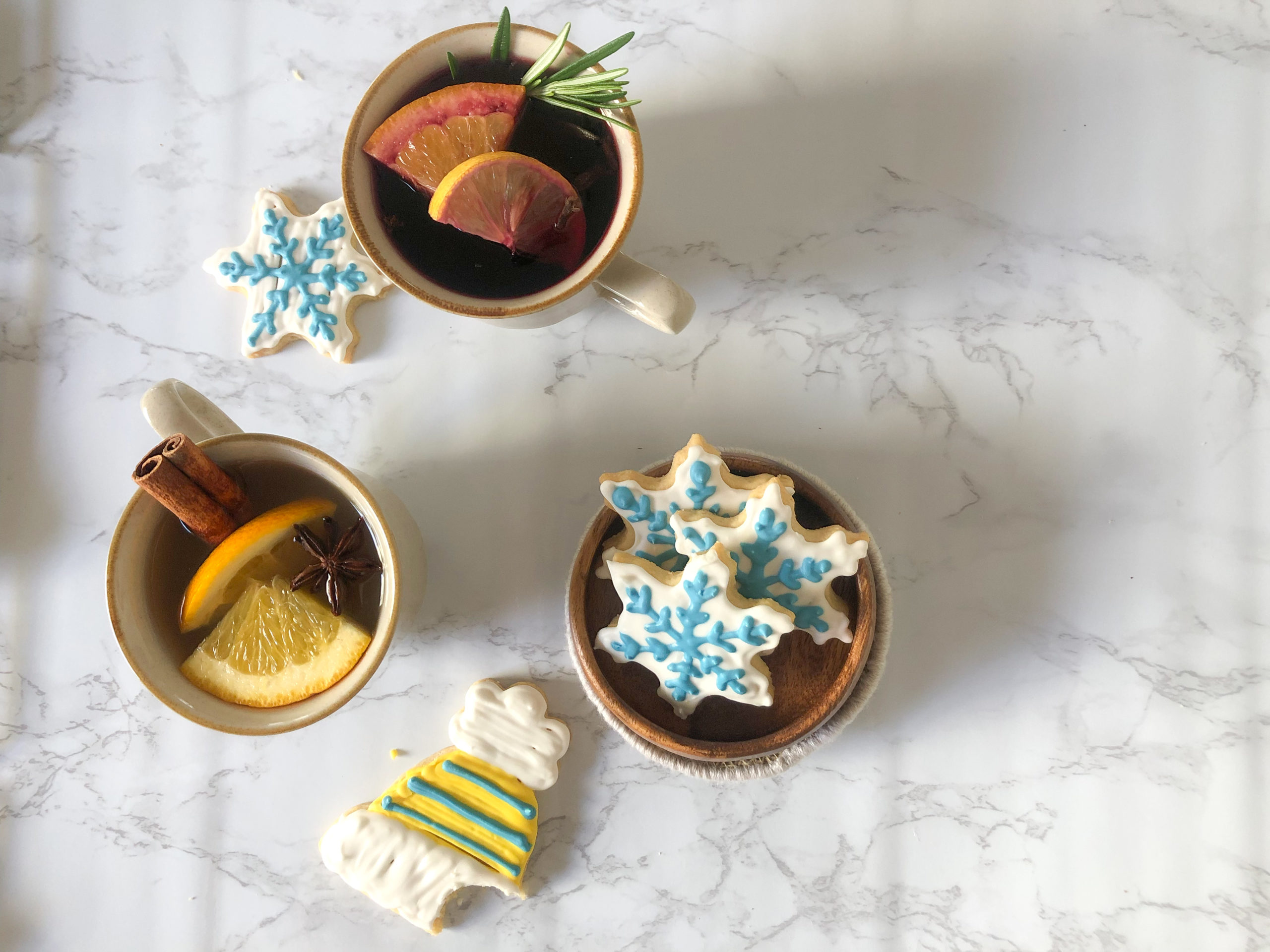 Glögg (mulled wine)
1 bottle full-bodied red wine, a Shiraz or Zinfandel
Aquavit OR orange-flavored liqueur such as Grand Marnier
12-15 juniper berries
7-10 green cardamom pods
¼ cup organic sugar
1 sliced orange
1 sliced Meyer lemon
3 kumquats (halved)
Orange or lemon slices
Combine juniper and cardamom in a tea ball or cheesecloth.
Heat wine, sugar, the kumquats, half the orange, half the Meyer lemon, and spices over medium heat until sugar dissolves, about 5 minutes.
Ladle into mugs (serves about six).
Stir ½ ounce of liqueur into each.
Garnish with orange or lemon slices.
"This recipe has been in our family for years. We make and decorate these cookies with our kids every year, then share with family and friends."
— EMMETT WILSON '14 (MA) AND MARISA WILSON
Recipe three:
Cut-out cookies
Makes about 3 dozen
3 cups flour
1 teaspoon baking soda
1 teaspoon baking powder
Dash of salt
1 cup butter, softened
1 cup sugar
2 egg yolks
½ cup sour cream
1 ½ teaspoons vanilla extract
Preheat oven to 350F
Sift together flour, baking soda, baking powder, and salt in separate bowl.
Cream the butter and sugar with an electric mixer in separate bowl.
Add egg yolks, sour cream, and vanilla to the butter and sugar mixture; mix until blended.
Slowly add the dry ingredients—the dough should be very stiff.
Split dough into manageable pieces.
Roll out the dough on a floured surface to about ¼ inch and cut into desired shapes.
Bake 8-10 minutes on a cookie sheet.