One Community Field Day
Friday, April 22, 2016
12:30 p.m.–3:00 p.m.
Wilson Commons Porch & Quad (Rain location: Havens Lounge)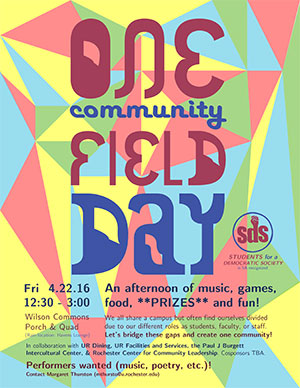 An afternoon of music, games, food, **PRIZES** and fun!
We all share a campus but often find ourselves divided due to our different roles as students, faculty, or staff. Let's bridge these gaps and create one community!
In collaboration with UR Dining, UR Facilities and Services, the Paul J Burgett Intercultural Center, and Rochester Center for Community Leadership.
Performers wanted (music, poetry, etc.)!
Contact Margaret Thurston (mthursto@u.rochester.edu).