Advising Week (x2)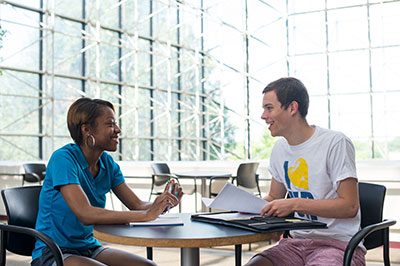 October 21 through November 1st.
Each semester, during the weeks prior to registration, a number of special events are held so that students can meet with faculty, learn about academic opportunities, and prepare for registration.
Students are encouraged to:
Attend departmental events and advising office hours.
Meet with your Undergraduate Advisors
Review information on this website and CDCS
Meet with Advisors, Peer Advisors and/or First-Year Fellows to further discuss academic plans and connecting to academic resources.
Sophomores, we ask you to begin the steps to declare your major during this time. Please visit the link to learn more about the steps to declare your major.
Events
Advising Week events include departmental advising hours, a humanities-focused advising session with faculty from a number of disciplines, interest meetings, and the Undergraduate Research Fair. See the department/program advising information below for the specific opportunities and events.
Registration Dates and Times
Registration for the fall 2019 semester opens on Monday, November 4.
For more specific registration information see the registration schedule. Please note: this schedule will be updated during the month of March to have dates for the Fall Semester.
Peer Advising
In addition to meeting with your advisor, we encourage you to contact departmental peer advisors with questions you might have. Peer advisors can help with course selection, major declaration, and more. Visit the peer advisor page for more information.
---
Department/Program Advising Information
Please continue to check back as additional events may be added.