iClicker (classroom response system)
For further assistance:
Contact your faculty support specialist
Help Desk: 585-275-2000
Email: University IT Help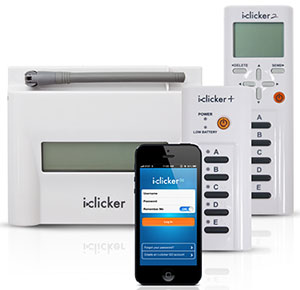 iClickers are a device that allows you to poll a group of students. An instructor asks a multiple choice and students use iClickers to select a letter from A-E. The students responses are recorded and available to the instructor for grading or analyzing.

iClicker is the brand name of a classroom response system (from Macmillan New Ventures). Some professors use iClicker in the anonymous polling mode. Each individual responds without providing unique identifying information. In some cases, professors may wish to use iClicker to identify each individual and use the activity collected via iClicker as a "class participation" grade. Still others will assign extra credit based on the number of correct responses a student gives during the class session. There are a number of different ways iClicker remotes can be used. iClicker is also newly integrated with the AS&E Blackboard system at learn.rochester.edu You can have students register their iClicker remote by providing a link in your course. All remotes will be registered within Blackboard itself (no need to register on iClicker's external website).
Some questions may come up when you choose to adopt iClicker for your course. Macmillan publishing maintains a Support site for instructors here: iClicker Cloud for Instructors
Links for Students using iClicker
HELP! I'm having trouble with my clicker or registration, who do I call?
If you're having trouble with your clicker unit, you should first consult the iClicker Support Portal. The link to the portal is here: Contact iClicker Support. If you have more general questions and want to read more there is a Student information portal as well: iClicker Cloud for Students
Having problems registering a used clicker?
If you have purchased a used clicker from the bookstore and are having trouble registering it, please call 1-866-209-5698 and choose "Technical Support" from the phone menu. Explain that you purchased a used clicker and are having trouble registering.
Where can I purchase a unit for my class?
Units can be purchased at the same location you purchase your class textbook. Ask your instructor where he or she has arranged for you to purchase the iClicker unit.Most instructors will tend to request stock of the iClicker student response unit at the University Bookstore, and iClickers can also be purchased online.
A clicker still seems expensive -- is there anything I can do to save money?
There are a few things that you can do to bring down the cost of a clicker. It is in your best interest to shop around to get the best price on a new or used iClicker. You can sell your clicker back to the bookstore -- but you may want to wait until you graduate, as a number of courses use iClicker.
You can also share your iClicker! More than one person can register an iClicker. Exchanging clickers between classes could be difficult, but is not discouraged. Clicking for a peer, however, is academic misconduct!
Why don't we use web-based system that would work with smartphones or laptops?
iClicker Cloud is a web-based system. While there is a convenience bonus for a web-based clicker system, the subscription price for iClicker's Web clicker system is on par with purchasing a regular clicker. Since instructors primarily use clickers to focus your attention on class, many would prefer not to invite the distractions of web-enabled devices. So it depends on the decision the instructor has made.