Top University Preparatory Program at University of Rochester (TUP@Rochester)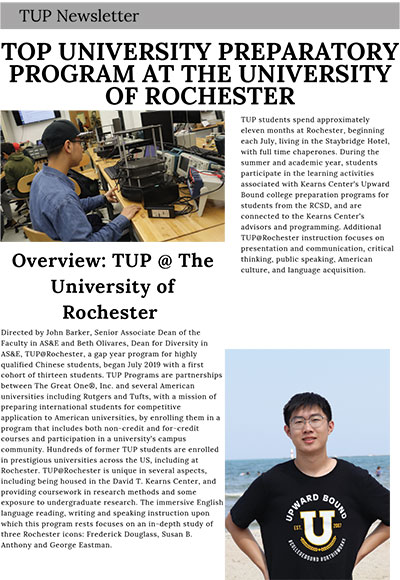 TUP@Rochester is a gap year program for highly qualified Chinese students that prepares them for competitive application to American universities. Students in this program take both non-credit and for-credit courses at the University of Rochester and learn what it's like to be a part of our campus community.
Hundreds of former TUP students are enrolled in prestigious universities across the US, including at Rochester. TUP@Rochester is unique in several aspects, including being housed in the David T. Kearns Center, and providing coursework in research methods and some exposure to undergraduate research. The immersive English language reading, writing, and speaking instruction focuses on an in-depth study of three Rochester icons: Frederick Douglass, Susan B. Anthony, and George Eastman.
TUP students spend approximately eleven months at Rochester, running from July to June and live in the Staybridge Hotel, with full time chaperones.
During the summer and academic year, students participate in the learning activities associated with Kearns Center's Upward Bound college preparation, and are connected to the Kearns Center's advisors and programming for first year students, participating in courses like CAS 145: Navigating the Academy. Additional TUP@Rochester instruction focuses on presentation and communication, critical thinking, public speaking, American culture, and language acquisition.
During the spring semester, students will take existing undergraduate courses to more fully prepare them for American higher education and academic expectations, while enhancing their transferable skills of global citizenship.
In the spring of 2020, TUP students are enrolled in calculus, introductory psychology, introductory linguistics and music theory, in addition to an eight-credit intensive writing course.
TUP students are eligible to apply to Rochester for admission; however, admission is not guaranteed and applicants must meet the University's usual standards for admission.
Costs
The cost of the TUP Program includes the following:
Application fee
Non-refundable deposit
Summer, fall and spring tuition, fees and health insurance
Housing
Meals
Ground transportation between the TUP Academy and the University of Rochester
Eligibility
A minimum GPA of 3.0 on a 4-point scale is required for admission to the TUP Program. Candidates must provide their secondary school transcripts translated in English to gain admission to the TUP program.
Proof of Funding
Proof of funding for this program must be documented. Acceptable documentation includes a personal bank statement or certificate of deposit.
Visa
Participating students must have an F-1 visa.
Apply
This program intended for high school students completing the 11th or 12th grade, who are traveling to the US without dependent family members (i.e. spouse and/or children).
Please submit application with all required documents no later than May 28, 2021 to begin the program in fall of 2021.
---