Tibetan Buddhism Among Contemporary Han Chinese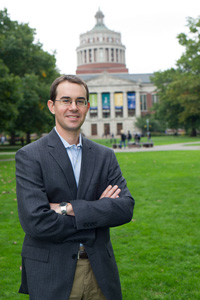 John Osburg, assistant professor of anthropology, was awarded a Henry Luce Foundation/ACLS Program in China Studies Postdoctoral Fellowship and the Chiang Ching-kuo Junior Scholar Grant.
The project—called "Tibetan Buddhism and Moral Personhood in Contemporary China"—is a six-month ethnographic study of a group of wealthy, urban Han Chinese who have become followers of Tibetan Buddhism. Osburg will examine the integration of Tibetan Buddhist principles into their moral beliefs and ethical practices.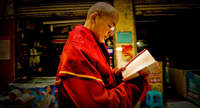 The rapid spread of Tibetan Buddhism among Han Chinese has emerged in the context of a growing religious revival in post-Mao China. In reaction to the perceived spiritual void left by the retreat from Maoist collectivism, many Chinese have been drawn to Buddhism, Christianity, and other religious traditions in greater numbers.
Osburg's research is interested in how—in the wake of the Chinese Communist Party's campaigns against "traditional" culture, marketization, and globalization—some individuals attempt to reconstruct a coherent moral order by appropriating a religious tradition understood by them to be "non-modern."
The direct linkages being formed between affluent, urban Han Chinese and Tibetan monks have the potential to dramatically reshape Sino-Tibetan relations.
Osburg's study focuses on three central questions:
Why is Tibetan Buddhism seen as such a powerful source of ethical and moral guidance?
What draws followers to Tibetan Buddhism as opposed to other religious traditions such as Christianity, Daoism, and Chinese Buddhism?
And in what ways has this engendered transformations in their moral beliefs and ethical practices?
Osburg will spend half of the academic year in China, building on and expanding his research network from his previous field research in China. That project examined elite social networks comprising entrepreneurs and government officials in the city of Chengdu, Sichuan, and culminated in the publication of Anxious Wealth: Money and Morality Among China's New Rich.
Fluent in Mandarin Chinese, Osburg will attend rituals, teachings, pilgrimages, and empowerments; conduct interviews with Han Chinese followers of Tibetan Buddhism (and, when appropriate, their friends, colleagues, and relations); and examine the participants' interactions with lamas, monks, and other lay Buddhists through Chinese social media programs.
Upon his return from China, Osburg will spend the other half of the academic year in Rochester writing the results of his research.
Learn more about Osburg's research.