Translating Vision—and Vision Research—Into Reality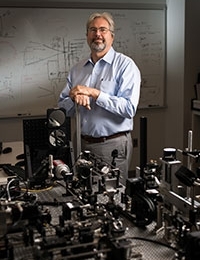 The University of Rochester's Center for Visual Science (CVS) lies at the hub of vision research on the River Campus and URMC.
To best address the challenges in eye care, faculty members collaborate from across various departments. These include brain and cognitive sciences, neurobiology and anatomy, neurology, the Flaum Eye Institute, and The Institute of Optics.
"Nobody else in the world has this close a proximity between engineering and medicine," says David Williams, director of the center. "The research happening at Rochester could revolutionize vision correction and how we look inside the eye."
The Synergy of Science, Engineering, and Medicine
Approximately 100 Rochester faculty members engage in vision research projects. Within CVS is the Advanced Retinal Imaging Alliance (ARIA) team. ARIA is a multidisciplinary lab coordinating the efforts of science, engineering, and medicine. The team's goals are to understand how the visual system works and to achieve visual restoration.
"Our strength is the breadth of our expertise," says Jennifer Hunter. She is one of ARIA's principal investigators and an assistant professor of ophthalmology in the Flaum Eye Institute. "We each come from a different background: clinical, neuroscience, physics, vision science, psychology, optics. That multitude of perspectives enables us to apply different insights to our experiments and projects."
ARIA's other principal investigators include Associate Professor of Ophthalmology Mina Chung, Professor of Ophthalmology Bill Merigan, as well as Williams, the William G. Allyn Professor of Medical Optics. Together they lead the team of research associates, postdoctoral fellows, and graduate students.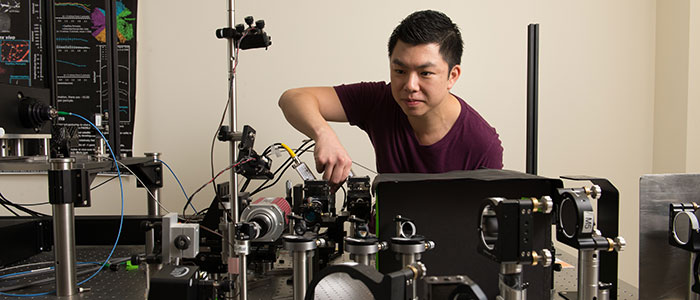 Focusing on the physiological: Working with Bill Merigan, postdoctoral fellow Kenny Cheong examines the role of retinal ganglion cells in visual perception
Studying the normal, healthy eye allows for a deeper understanding of the changing or diseased eye. Williams' laboratory, for example, invented a high-resolution camera to take the first pictures ever of all three of the classes of cone. Cones are the photoreceptor cells in the retina responsible for daytime vision and our perception of color.
These and other discoveries create new possibilities for imaging retinal structures in the living eye.
Pioneering New Technologies to Improve Eyesight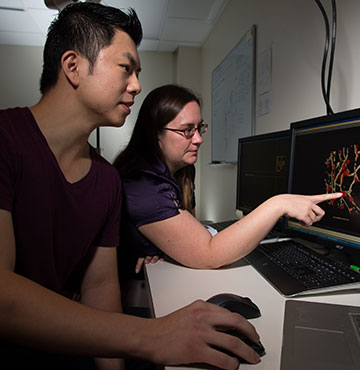 ARIA's experiments continue to build on foundational visual research. Case in point: Two-photon fluorescence imaging, in which scientists use complex lasers and progressively longer wavelengths to image retinal cells that are otherwise transparent.
"Fifteen years ago, we were looking into the retina on a cellular scale, at the level of cones. With today's engineering advances, we now look at the eye's microscopic structures—the smallest cones, the even-smaller rods—as well as its functions, such as blood flow," says Hunter.
Such developments in imaging and recording neurons move the researchers closer to the goal of curing blindness.
"There are a host of methods that have promise for restoring vision to the blind. These include stem cells, opto-genetics, and gene therapy," says Merigan. But optical recording and imaging remain crucial because they help scientists determine if the methods work.
"We're lucky at Rochester to have all of these pieces—from early adaptive optics to physiology—in one place," Merigan says.
Clinical and Commercial: Beyond the Laboratory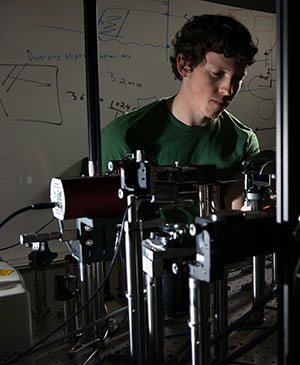 Working closely with clinical faculty is a key part of the center's mission, hence its co-location with the Flaum Eye Institute. This allows researchers to apply certain techniques (such as imaging of the blood supply) immediately to patients (those with glaucoma or diabetes).
In addition to the clinical relationships, CVS also fosters industrial partnerships and commercial collaborations. For example, engineers from Canon (the imaging and optical manufacturers) work alongside Rochester's scientists and engineers to co-develop commercial prototypes.
The goal is to facilitate making the technology as accessible as possible, as soon as possible. The laboratory instruments and set-ups are not ideal for clinical use, so the commercial partners work to package the technology more efficiently and cost-effectively.
A Vision for the Future
For more than five decades, CVS has pursued excellence in visual science by combining vision and action, research and application, internal and external collaboration. And today, its researchers—including the ARIA team—remain at the forefront of advancing knowledge about the visual system.
Learn more about theCenter for Visual Science and ARIA.