Undergraduate Research Exposition
Overview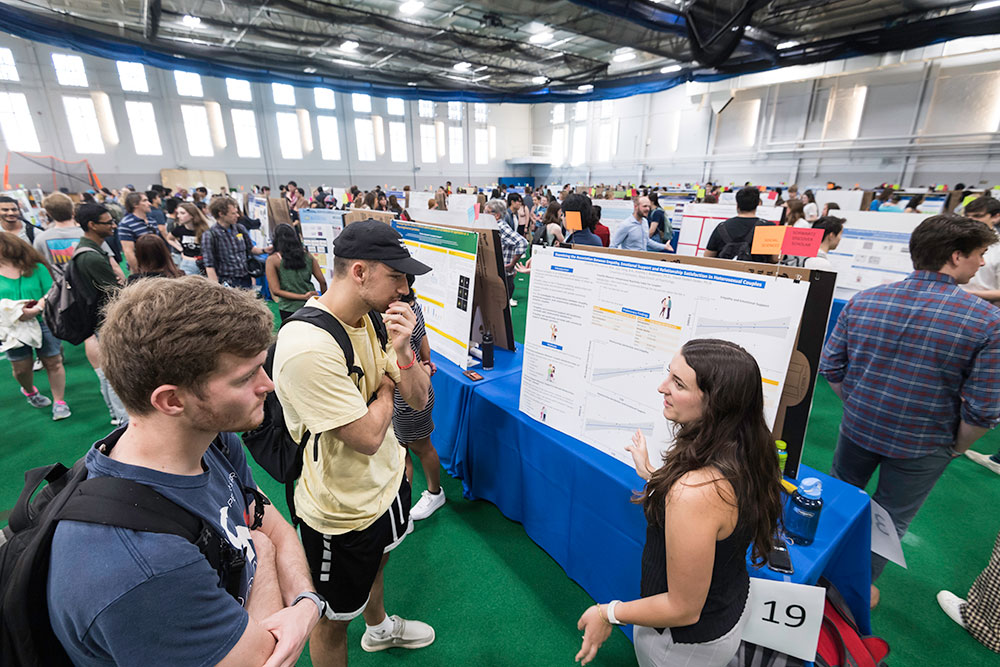 The Undergraduate Research Exposition is a College-wide event in which University of Rochester students at all levels and in all areas of study are invited to present their investigative and creative work. The Expo reflects the passion for learning that enlivens the University, professors and students alike, and that finds expression in varied forms, in every area of study.
2023 Expo Recap
The College's 2023 Undergraduate Research Exposition was held April 14 at the Goergen Athletic Fieldhouse and featured poster presentations from 112 University of Rochester students.
The disciplines of humanities, natural sciences, engineering and mathematics, and social sciences all were represented at the afternoon session. Topics ranged from the impact of World War I on the field of psychiatry and Margaret Fuller's poetry and prose, to the debilitating bone disease staphylococcus aureus osteomyelitis and the emotional awareness in children with fetal alcohol spectrum disorders.
Four categories of awards were handed out following the Poster Fair:
President's Award
Awarded to the top oral presentation from each of the four disciplinary areas of the Speakers Symposium, where students give 15-minute presentations on their projects.
President's Award Winners

| Discipline | Winner | Title |
| --- | --- | --- |
| Engineering and Mathematics | Icel Sukovaty '23 | "Fiber Coupling with Engineered Scattering Elements" |
| Humanities | Anna Grace Wenger '23 | "The American Feminine Sublime: Margaret Fuller's Poetry and Prose" |
| Social Sciences | Morgan Gillespie '23 | "Uncovering the Effect of Gender on Perceptions of Politicians' Preferred Policy Positions" |
| Natural Sciences | Kyra Sandercock '23 | "Examining the Role of CCL20/CCR6 Chemokine Signaling in Staphylococcus aureus Osteomyelitis" |
Deans' Award
Awarded to the other students who participated in the Speakers Symposium.
Deans' Award Winners
Discipline
Winner
Title
Engineering and Mathematics
Alexander Martin '24
"Hi5: Hand Pose Estimation with Zero Human Annotation"
Yongyi Zang '23
"Euterpe: A Web Framework for Music Interaction and Creation"
Humanities
Isabelle Miranda '23
"The Representation of Transgender Mental Health and Gender Experience in US Films"
Sam Streicher '23
"Motherhood as a Vector for Sexism in Treatment Refusal Controversies"
Social Sciences
Pramod Manohar '23
"Heat and Its Impacts on Study Time"
Anh Vu '24
"Icons and Idols: Parasocial Relationship Development and Implications for Well-Being for LGBTQ+ Individuals"
Natural Sciences
Kallam Kara-Pabani '24
"Sexual-dimorphism in the Microglial Response to Inhibition of Colony Stimulating Factor 1 Receptor in Adult Mice"
Div Patel '24
"Segregation of Bidisperse Granular Material in a Circular Tumbler Flow as a Lens into Riverbed Armouring"
Professors' Choice Award
Awarded to four students participating in the Poster Fair, one from each of the four disciplinary areas. The judging panel included 14 University professors across various disciplines. Among the criteria considered: knowledge of the topic and visual presentation.
Professors' Choice Award Winners

| Discipline | Winner | Title |
| --- | --- | --- |
| Engineering and Mathematics | Adira Blumenthal'23, '24 (T5) | RxASL: Making Medication Apps Accessible for Deaf People |
| Humanities | Julia Granato '22, '23 (T5) | Encounters with Death and Difficult History: A Multicultural Study of Dark Tourism Sites Displaying Human Remains |
| Social Sciences | James Sheinbaum '23 | Me, My Ruminative Thoughts, and I: First-Person Singular Pronoun Usage as a Moderator of the Association between Brooding and Depression in Adolescents |
| Natural Sciences | Samuel Gautheir '23 | Development of Conditional Hypoimmunogenic ESC Lines |