Undergraduate Research Exposition 2022
     
   
See highlights from Expo HERE
Overview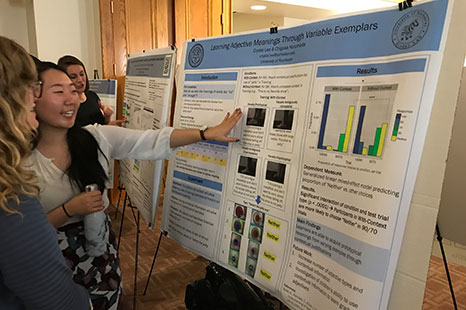 The Undergraduate Research Exposition is a College-wide event in which University of Rochester students at all levels and in all areas of study are invited to present their investigative and creative work. The Expo reflects the passion for learning that enlivens the University, professors and students alike, and that finds expression in varied forms, in every area of study.
---
Speakers Symposium
The Speakers Symposium consisted of four sessions on Friday, April 15, each representing a distinct disciplinary section of the College: humanities, engineering and mathematics, natural sciences, and social sciences. There were three presentations during each session; each speaker gave a 10-minute presentation with 5 minutes of Q & A immediately following.
Speakers Symposium sessions were recorded; links to each session are below:
ENGINEERING & MATHEMATICS (linked to recording)

Helena Schreder '22 (Deans' Award recipient)

Hydraulic Resistance Model for Interstitial Fluid Flow in the Brain

Ena Haseljic '22 (President's Award recipient)

Manufacturing a Sleeve-Like Microfluidic Biosensor to Diagnose Sepsis Using Biomarkers in Sweat

Justin Sennyondo '22, Omar Hamad '22, Humfrey Kimanya '23, Dung Nguyen '22 (Deans' Award recipients)


Structural Assessment of Concrete Vaulted Maya Temples of Bonampak, Chiapas, Mexico
HUMANITIES (linked)

Catherine Ramsey '22 (President's Award recipient)

"Prison City Blues (Make Me Wanna Holler)": A Study on the Effects of Living in a Prison Town Through the Shared Movement Lexicon of People Living in Auburn, New York

Austen Walker '22 (Deans' Award recipient)

Hermafroditas: Bodies, Pleasure and Policing in 1803 Spanish America

Niharika Thakur '22 (Deans' Award recipient)

Dissenting Voices: Oral Histories of the Emergency
NATURAL SCIENCES (linked)

Hoang Anh Tran '23 (President's Award recipient)

The Role of THUMPD3 Methyltransferase in RNA Modification and Protein Translation

Coralee Everett '22 (Deans' Award recipient)

Developing Hydra Vulgaris as a Model Organism to Study Cell Polarity

Amelia Ostrow '24 and Kevin Liu '22 (Deans' Award recipients)


"Wait, was that a Question?": Flexibility and Stability in the Comprehension of Meaning in Human Speech Sounds 
SOCIAL SCIENCES (linked)

Evon Mahesh '23 and Annie Rosenow '22 (President's Award recipients)


Exclusionary Zoning in Monroe County

Princeton Chee '22 (Deans' Award recipient)

Prosociality within Close Relationships: A Means to Decrease Loneliness and Strengthen Well-being

Marguerite Curtis '22 (Deans' Award recipient)

COVID-19 Vaccine Hesitancy among the Latino Community in Rochester, NY: an Ethnographic Approach 
Poster Presentation
The Poster Presentation Fair serves as a place for all undergraduate students who have conducted research in the last year to present their findings to the College community and beyond.  The poster session was held in the Feldman Ballroom of Douglass Commons.
A Virtual Poster Fair is available until April 15, 2023: ResearchExpo2022.virtualpostersession.org.
PROFESSORS' CHOICE AWARD: Awarded to four students/co-presenters participating in the Poster Fair, one from each of the four disciplinary areas
Engineering & Mathematics

Tianwei Jiang '22 and Zilin Zeng '22

"Singing Glasses" -- Digital Adaptation of the glass instrument

Humanities

Philip Cavallo '22

Football, Italian Immigrants, and Argentinidad: The impact of the footballers Luis Monti, Raimundo Orsi, and Guillermo Stábile as Agents of Nationalism

Natural Sciences

Alexis Morgenstern '23

Keratinocytes Demonstrate a Differentiation Dependent Susceptibility to S. aureus Invasion in Accordance With α5 Expression

Social Sciences

James Sheinbaum '23

 Understanding Depression through Speech:  Creating a Transcription Procedure for the UCLA Life Stress Interview
Award Ceremony
The following Expo Awards were presented immediately following the poster session:
President's Award: Awarded to the top oral presentation from each of the four disciplinary areas of the Speakers Symposium
Deans' Award: Awarded to the other participants selected for a Symposium presentation
Professors' Choice Award: Awarded to four students participating in the Poster Fair, one from each of the four disciplinary areas
In addition, the Students' Association will present their Professor of the Year Awards.
---
How to Get Involved
Students who have engaged in research and who are interested in participating in the Speakers Symposium are requested to fill out an application form by the March 15 deadline. Students interested in the Poster Fair only must submit an application by April 1. We will accept recommendations until five days after the student deadline. See "Important Dates" below.

Whether or not you are involved in undergraduate research, we invite you to attend the Exposition and see some of the exciting things your fellow students are doing.
Application Procedure for Students
Students interested in participating in the poster fair and/or speakers symposium should fill out an application form. Your supervisor need not be a Rochester faculty member; letters in support of your presentation may be written by your mentor/P.I. regardless of location, institution, or affiliation.
PLEASE NOTE:
It is NOT necessary that the research was conducted at Rochester.
All current University of Rochester undergraduates may submit an application.
Only one application per project is necessary. If submitting a co-presented project, please designate one student as communications liaison to complete the application. Add a "co-presenters: Full Name, major(s), and class year" line to the top of your abstract.
Judges reviewing the applications will be looking for the following:
Quality of research
Student's command of the subject
Topic interest to a broad audience

Important Dates for Expo 2023
February 1 – Expo application opens
March 15 – Student SPEAKERS SYMPOSIUM applications due by midnight
March 20 – Symposium recommendations due by midnight
April 1 – Student POSTER ONLY applications due by midnight
April 5 – Poster recommendations due by midnight
April 21 (tentative) – Undergraduate Research Exposition
The University of Rochester is committed to providing inclusive experiences and equal access to programs and services.  If you anticipate needing any type of accommodation, please contact Ann Robinson (ann.robinson@rochester.edu).  In all situations, a good faith effort (up until the time of the event) will be made to provide accommodations.
---
Printing Resources
Expo presenters are responsible for printing their own posters. Ask your research mentor about helping with the costs of printing. Poster size is 36"h x 48"w (landscape orientation). In "page setup," resize to 36"h x 48" wide, then "save as" PDF.
The URMC's Xerox Print Services are available for printing of student posters; there are also many online printing services that you may use.
Matte and glossy poster paper is available
Choose "wide format"
Must be .pdf
Turnaround times are 3 business days depending on drying time.
Located in G-7230. You can reach them at 585-275-3879
Open from 8:00 a.m. - 5:00 p.m., Monday - Friday
ONLY cash, check, or UR account number are accepted as payments
PLEASE ALLOW AMPLE LEAD TIMES FOR PRINTING of posters to be sure they are ready before April 15th.
---
Writing Resources
Below is a link with writing tips and examples from PLOS (Public Library of Science), a non-profit, Open Access publisher.  Topics covered include:
How to Write a Great Title
How to Write an Abstract
How to Write Your Methods
How to Report Statistics
How to Write Discussions and Conclusions
How to Edit Your Work
https://plos.org/resources/writing-center/
---
Poster Design Resources
Below are a few links with tips on designing your poster:
Strong Scientific Posters: Presenting Science Concisely with Bruce Kirchoff
Better Posters blog - Plan, Design and Present an Academic Poster, by Zen Faulkes - many brief articles with tips; check out the "Key Posts" links in the column on right side
10 ways to use fewer colors in your data visualizations, by Lisa Charlotte Muth 
Making an exciting poster in the arts and humanities  -  from The Council on Undergraduate Research, The Arts & Humanities Division
Designing Conference Posters, by Colin Purrington  - Downloadable Templates; Do's & Don'ts; How to make your poster more engaging; What to put in each section; Printing; Presenting
Biorender: Create Professional Science Figures in Minutes. Browse thousands of pre-made icons and templates from more than 30 fields of life sciences.