Undergraduate Research Exposition
Expo 2020 will be virtual!
The Office of Undergraduate Research cordially invites you to this year's Virtual Undergraduate Research Exposition! In a time of change and uncertainty, we are determined to show our unwavering support of our student researchers and their mentors. This April 17–24, please join us in viewing, asking questions, commenting, and "liking" student contributions on this year's electronic Expo platform. In addition to projects in Engineering & Mathematics, Humanities & Performance, Natural Sciences, and Social Sciences, we are happy to feature two special guests: Rochester Center for Community Leadership's Community Engaged Scholarship Cohort and Hajim's Grand Challenges Scholars. Professor Chen Ding, the 2020 recipient of the College Award for Undergraduate Teaching and Research Mentorship, will also be featured.
CLICK HERE to view the submissions.
---
Overview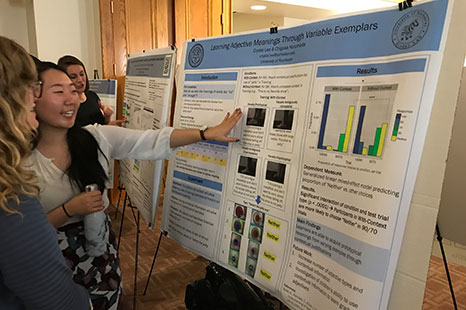 The Undergraduate Research Exposition is a College-wide event in which University of Rochester students at all levels and in all areas of study are invited to present their investigative and creative work. The Expo reflects the passion for learning that enlivens the University, professors and students alike, and that finds expression in varied forms, in every area of study.
Symposium
The Symposium will include three to four participants selected by judges from each of four disciplines, reflecting the most accomplished undergraduate work throughout the College.
The Symposium will consist of four concurrent sessions, running from 12:30-1:30 p.m., in four separate locations on campus. The sessions will represent distinct disciplinary sections of the College: humanities, social sciences, engineering and mathematics, and natural sciences.
Poster Presentation
The Poster Presentation Fair will serve as a place for all undergraduate students who have conducted research in the last year to present their findings to the College community.
The Poster Presentation Fair will begin at 2 p.m. in the Palestra in Goergen Athletic Center and end at approximately 3 p.m. Student-participants will offer brief synopses of their work to audience members traversing the room. A variety of hors d'oeuvres and beverages will be available for attendees and guests.
Awards
The Expo Awards Ceremony will take place in the Palestra in Goergen Athletic Center at approximately 3:10 p.m. It will include the presentation of the:
President's Prizes: Awarded to the top four presentations from the four disciplinary areas of the Symposium
Deans' Prizes: Awarded to the other participants selected for a Symposium presentation
Professors' Choice Awards: Awarded to four students participating in the Poster Fair
The prizes will consist of a plaque or a medallion but more importantly the distinction of having the work recognized and celebrated. In addition, the Student Association Professor of the Year Awards and the College Award for Undergraduate Teaching and Research Mentorship will be presented.
View a list of the 2019 award winners here! Congratulations to all participants.
---
How to Get Involved
Students who have engaged in research and who are interested in participating in the Symposium or the Poster Fair are requested to fill out an application form by the March 1 deadline. 
Whether or not you are involved in undergraduate research, we invite you to attend the Exposition and see some of the exciting things your fellow students are doing.
Application Procedure for Students
Students interested in participating in the poster fair and/or speakers symposium should fill out an application form. Your supervisor need not be a Rochester faculty member; letters in support of your presentation may be written by your mentor/P.I. regardless of location, institution, or affiliation.
PLEASE NOTE:
It is NOT necessary that the research was conducted at Rochester.
All current University of Rochester undergraduates can submit an application.
Only one application per project is necessary. If submitting a co-presented project, please designate one student as communications liaison to complete the application. Add a "co-presenters:" line to the top of your abstract that includes your co-presenter's full name, major(s), and class year.
Judges reviewing the applications will be looking for the following:
Quality of research
Student's command of the subject
Topic interest to a broad audience

Important Dates
January 15 – Exposition application opens
March 1 – Student applications due by midnight
March 30 – Notification of decision on submissions will begin during the first week of April
April 17 – Undergraduate Research Exposition