Diversity and Inclusion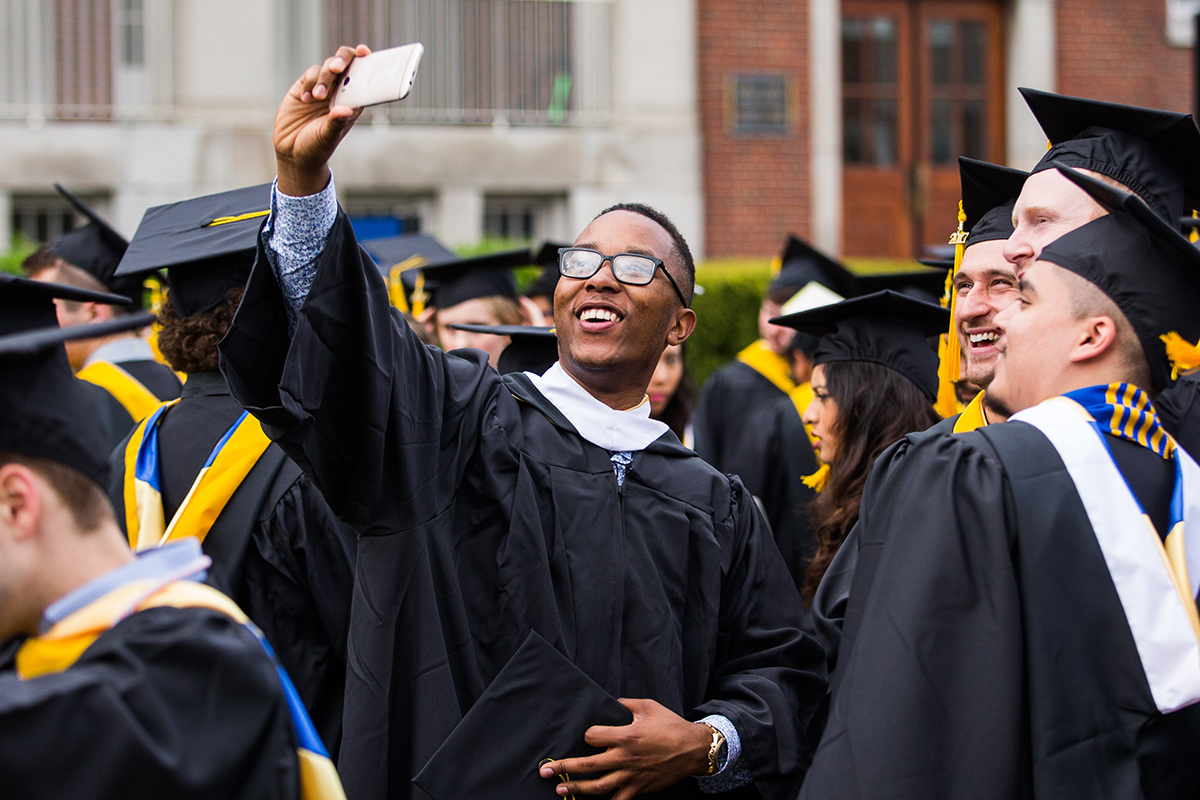 Our commitment to creating an inclusive community
The University of Rochester envisions itself as a community that welcomes, encourages, and supports individuals who desire to contribute to and benefit from the institution's missions of teaching, research, patient care, performance, and community service. In a pluralistic culture, that community includes faculty, students, and staff who represent important differences.
Read more:
Diversity and Inclusion: Schools and Centers
Each of the University's schools and colleges have offices devoted to diversity initiatives at the school level.
2018 Annual Diversity Conference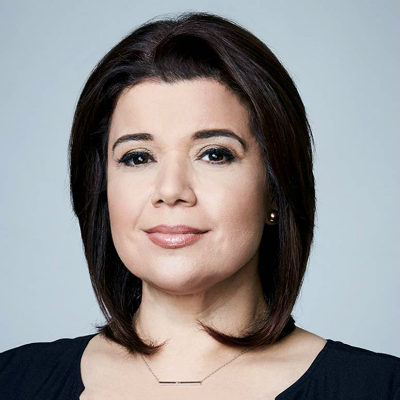 Keynote Speaker: Ana Navarro
April 13, 2018
Ana Navarro, Republican Strategist and political analyst for CNN and CNN En Español, will be the keynote speaker at the 2018 Annual Diversity Conference on Friday, April 13.
Reports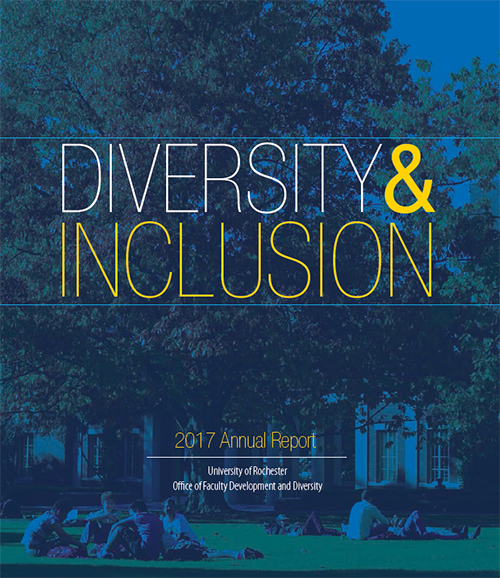 The eleventh annual diversity report builds on the work of the 2016 Commission on Race and Diversity and the work of the Presidential Diversity Council, identifying points of change and progress that are helping to ensure that our institution is one where everyone feels welcomed, valued, and respected every day.
As part of continuing efforts to address race and diversity, the University participated in a Diversity Engagement survey in Spring 2016. More than 12,000 faculty, staff, trainees, and students completed the survey.
News and announcements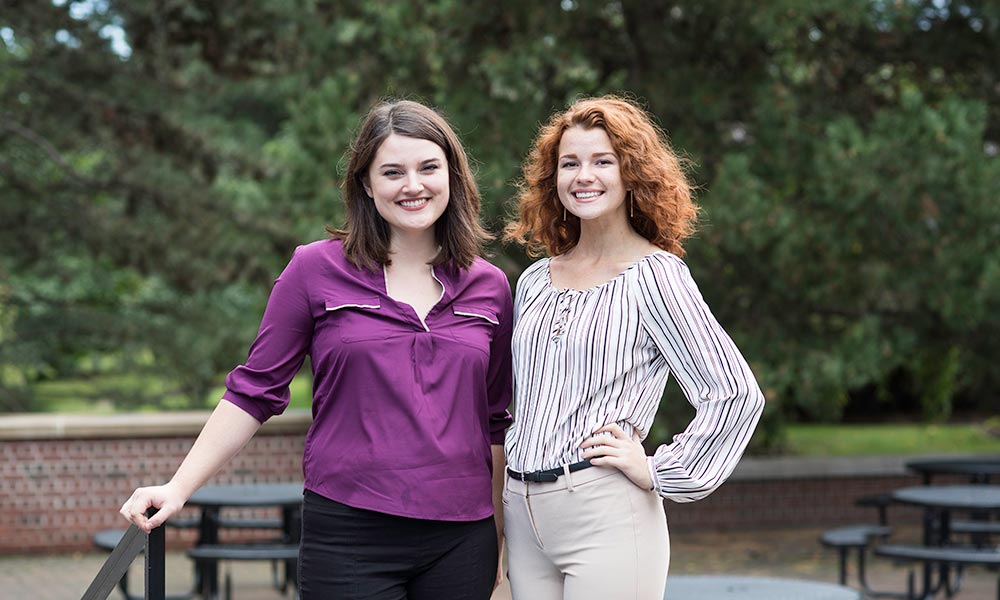 Podcast: First all-female Students' Association leadership team shares plans
The University's first all-female Students' Association leadership team talk about their plans for the 2017–18 academic year in this recent episode of Quadcast. Jordan Smith and Rebecca Mooney discuss their passions, their futures, and "shattering a glass ceiling."
The School of Nursing has been selected to receive the 2017 Health Professions Higher Education Excellence in Diversity (HEED) Award from INSIGHT Into Diversity magazine. The award is the only national honor recognizing U.S. medical, dental, pharmacy, nursing, osteopathic, and allied health schools that demonstrate an outstanding commitment to diversity and inclusion. During a recent episode of 13 WHAM's "Many Voices, Many Visions", School of Nursing Dean Kathy Rideout and recent graduates Stephanie Murphy and Timothy Kuhmann discussed the award and the School's efforts to support diversity and inclusion.
In a message to the University community, the faculty and student co-chairs announced the formation of the Commission on Women and Gender Equity in Academia, comprised of faculty, students, and trainees from across all campuses and schools.
Martin Luther King Jr. Day is a University Holiday
The President's Diversity Council voted unanimously to have Martin Luther King Jr. Day recognized as a University holiday, commencing in 2018. "This is a fitting and important step to signify our commitment to diversity," says President Joel Seligman.
The website, www.rochester.edu/it/wcmstest/lgbtq, is a central landing point for University of Rochester community members interested in issues of gender and sexual diversity. Faculty, staff, and student volunteers developed the website as a part of a working group of the LGBTQ Advocacy Committee.
Why does racism play a part in motivating some students to go on to college, while it seems to deter others? Winston Scott '19 is preparing a study into how children react when they begin to perceive racism.
Programs and Initiatives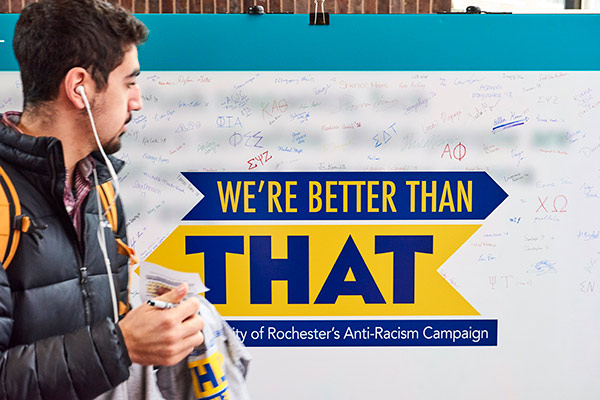 The "We're better than THAT" campaign educates students, faculty and staff on ways to approach difficult conversations on divisive topics and to stop hate speech and racism in our community.
The Safe Space program addresses ways to reduce homophobia and heterosexism to make our institution a safer and freer environment for all members of our community regardless of sexual orientation or gender identity/expression.
BUILD Xavier (Building Infrastructure Leading to Diversity) is a part of a larger initiative by the National Institutes of Health: Enhancing the Diversity of the NIH-funded workforce. Xavier University of Louisiana has developed a program called Project PATHWAYS, which includes several components targeting students, faculty, and several non-academic centers on Xavier's campus. The University of Rochester is one of the partnering institutions with Xavier University. This program encourages diversity in the scientific research workforce.
Stay connected