Annual Diversity Conference
Overcoming the Invisible: April 13, 2018
Keynote Speaker: Ana Navarro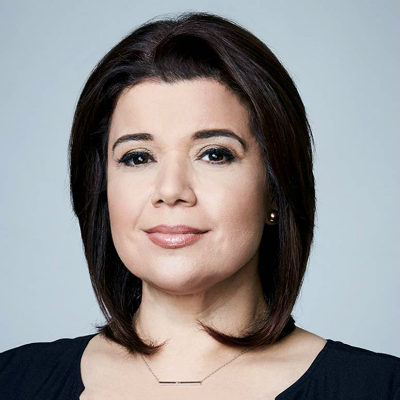 Ana Navarro, Republican Strategist and political analyst for CNN and CNN En Español as well as a political contributor on ABC's The View, will be the keynote speaker at the 2018 Annual Diversity Conference on Friday, April 13.
The Miami New Times describes Navarro as a "Republican power-consultant," and the Tampa Bay Times calls her "a sought-after voice in Republican politics and an adviser for any presidential hopeful," saying, "with confidants Jeb Bush and Marco Rubio, she is poised to play a big role in the GOP response to immigration reform and Hispanic outreach." Respected on both sides of the aisle for her straight shooting and candor, Navarro frequently appears in the media—sought after by Meet the Press, Bill Maher's Real Time, Anderson Cooper 360, and The View, to name a few.
"Ana speaks the truth, and she is willing to speak the truth to power without reservation. . . . She has the ear of lots of elected officials," says Republican consultant Brett O'Donnell. "She is in touch with the political issues people are talking about, and in presentations, she discusses the latest hot button issues in politics, giving audiences an insider's view of the upcoming elections and a roadmap for where the country is headed."
Conference Overview
Each year the Annual Diversity Conference brings together the University of Rochester and Greater Rochester communities, highlighting a theme to help guide the focus for the day. Diversity-related topics may involve, but are not limited to: race/ethnicity, class, gender, culture, sexuality or orientation, disabilities/abilities, religion, or age.
This year's theme is "Overcoming the Invisible." The conference aims to explore hidden identities, evolve beyond the social constructions that drive perception, and find pathways to create meaningful change.
Contact for Questions: Ashley N. Campbell, Director of Diversity Programming, 585-273-4297 or ashley.n.campbell@rochester.edu.
Conference Agenda
| Time | Overview of Activity |
| --- | --- |
| 8:00am to 8:30am | Conference Check-in |
| 8:30am to 10:00am | Keynote Presentation with Q&A to Follow |
| 10:15am to 11:45am | Concurrent Breakout Sessions |
| 12:00pm to 1:00pm | Lunch |
| 11:45am to 1:45pm | Poster Session |
| 1:45pm to 3:15pm | Concurrent Breakout Sessions |
| 3:30pm to 5:00pm | Concurrent Breakout Sessions |
Call for Proposals
The workshops are designed for conference attendees to dig deeper into the theme for the conference. The subthemes of the conference function as conference tracks to provide continuity for the day's activities. All proposal submissions are due Friday, January 26, 2018 by 5pm, EST.
Our Box of Identities
Our identities shape our experiences in society and our interactions with each other. Regardless of how we are identified or choose to be identified, these identities speak to the ways in which we see and function in the world. Workshops within this category shall focus on any of the following questions:
What are the social implications of being defined by our identities?
How do we create inclusive environments that may not initially include us?
How do we overcome others' perceptions of our abilities and identities?
Our Social Politics
The national and international landscapes impact our lived experiences. Our belief systems, values, and social groups are target points when dealing with our families, workspaces, and civic responsibilities. Workshops within this category shall focus on any of the following statements or questions:
What cultural shifts have heightened the discomfort or attacks based on belief system?
What type of civic engagement requires awareness of socio-cultural values?
Our Ability to Transcend
Our contributions to the world are varied. As we learn and grow from one another, we can find pathways to create meaningful change. Workshops within this category shall focus on any of the following statements or questions:
What are new ways to examine our roles in education, healthcare, human resources, or any other industry that create cultural shifts?
Call for Posters
The poster submissions should demonstrate personal/professional research or community projects that connect to the conference's overall theme. All poster proposal submissions are due Friday, March 30, 2018 by 5pm, EST.
Past Diversity Conferences