2011 Diversity Conference:
Why Diversity?
Keynote: Daryl G. Smith
Daryl G. Smith is Professor of Education and Psychology at the Claremont Graduate University, Claremont, California. Dr. Smith's research interests center on diversity in higher education, evaluation and organizational change, college governance issues, women in academe, women's colleges, institutional research, student affairs, and classroom teaching. These areas of expertise have been presented in numerous venues as keynote, invited, and plenary addresses.

Welcome
Maggie Brooks, Monroe County Executive presented a proclamation supporting the YWCA's "Stand Against Racism" campaign. Click here to see the Stand Against Racism public service announcement. President Seligman and Provost Kuncl gave opening remarks which were followed by a keynote address by Daryl G. Smith, Professor of Education and Psychology at The Claremont Graduate University.

President's Statement
This annual conference reflects not only my personal commitment to diversity, but also the unanimous view of our Board of Trustees and our senior leadership. Our ultimate goal is to create as welcoming, inclusive, and diverse a campus as we can, and today is another important step in working toward this goal.

Theme
The conference featured 18 workshops highlighting themes and efforts within each school, and within our faculty, staff, and student body. These workshops engaged participants in thinking about the culture in which we work, the research that supports a focus on diversity, and our commitment to connect with the community.

Closing Performances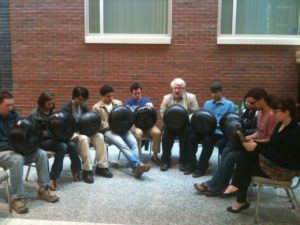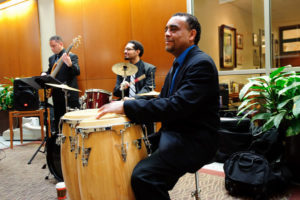 The Eastman Mbira Ensemble, led by Glenn West, gave a performance. Native to the Shona culture of Zimbabwe, where it is revered for its unique ability to summon and communicate with ancestral spirits, the Mbira is an instrument with 22 to 28 metal keys fixed to a wooden soundboard, which is then wedged to a gourd resonator, used to amplify its resonance.
The Mambo Kings
Rochester's own Mambo Kings have been together since 1995. Musical Director Richard DeLaney, percussionist Wilfredo (Freddy) Colon, saxophonist John Viavattine, percussionist David Antonetti, and bassist hector Diaz are enjoying great success as upstate NY's foremost Latin jazz ensemble and have rapidly earned a national reputation for their explosive blend of Afro-Cuban rhythms and jazz improvisation.