2016 Diversity Conference: #URDiversity: What Do You Stand For?
Keynote: Shaun King
As a speaker, Shaun King offers an articulate and historically grounded take on the most pressing problems of the day. In addition to his work with the New York Daily News, Shaun King is a political commentator for the Tom Joyner Morning Show. He lives in Brooklyn with his wife and their five young kids.
Visit Shaun King's website

Theme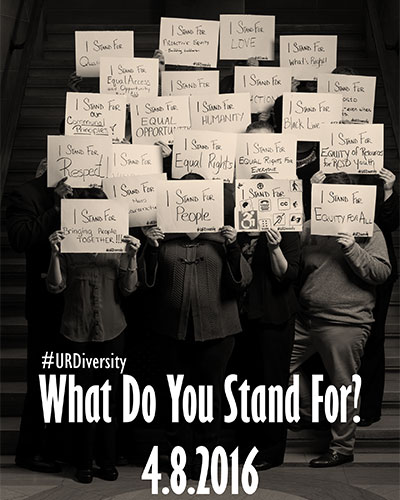 This conference urged our community to examine how each individual's academic, personal and professional passions further diversity and inclusion within the greater societal context.
Diversity and inclusion are critical to fulfilling the University's Mission "Learn, Discover, Heal, Create—and Make the World Ever Better." To that end, our workshop presenters were focused on activism in these four arenas:
Learn: How does race still confound our nation? How can we constructively discuss difference? What are the skills and competencies needed to grow and to hone ways of acting in the environments in which we find ourselves? What do we need to learn?
Discover: How can research help us discover new ways to be inclusive? What research exists that specifically works within an inclusive lens? How do these discoveries inform institutions, neighborhoods, and our greater community?
Heal: What progress has been made to heal structural racism on campuses and in the Rochester community? How do we work on combating issues that emanate from "isms"? How do we focus our work and research to improve the lives of those who are disenfranchised in our community? How do power structures marginalize groups and individuals in higher education institutions and the Greater Rochester community?
Create: How can we use our innovative, entrepreneurial, creative and artistic energy to make strides in inclusion? What is the role of the Arts in activism?
For more information, please contact Ashley N. Campbell at ashley.n.anderson@rochester.edu or 585-273-4297.