Celebrating Juneteenth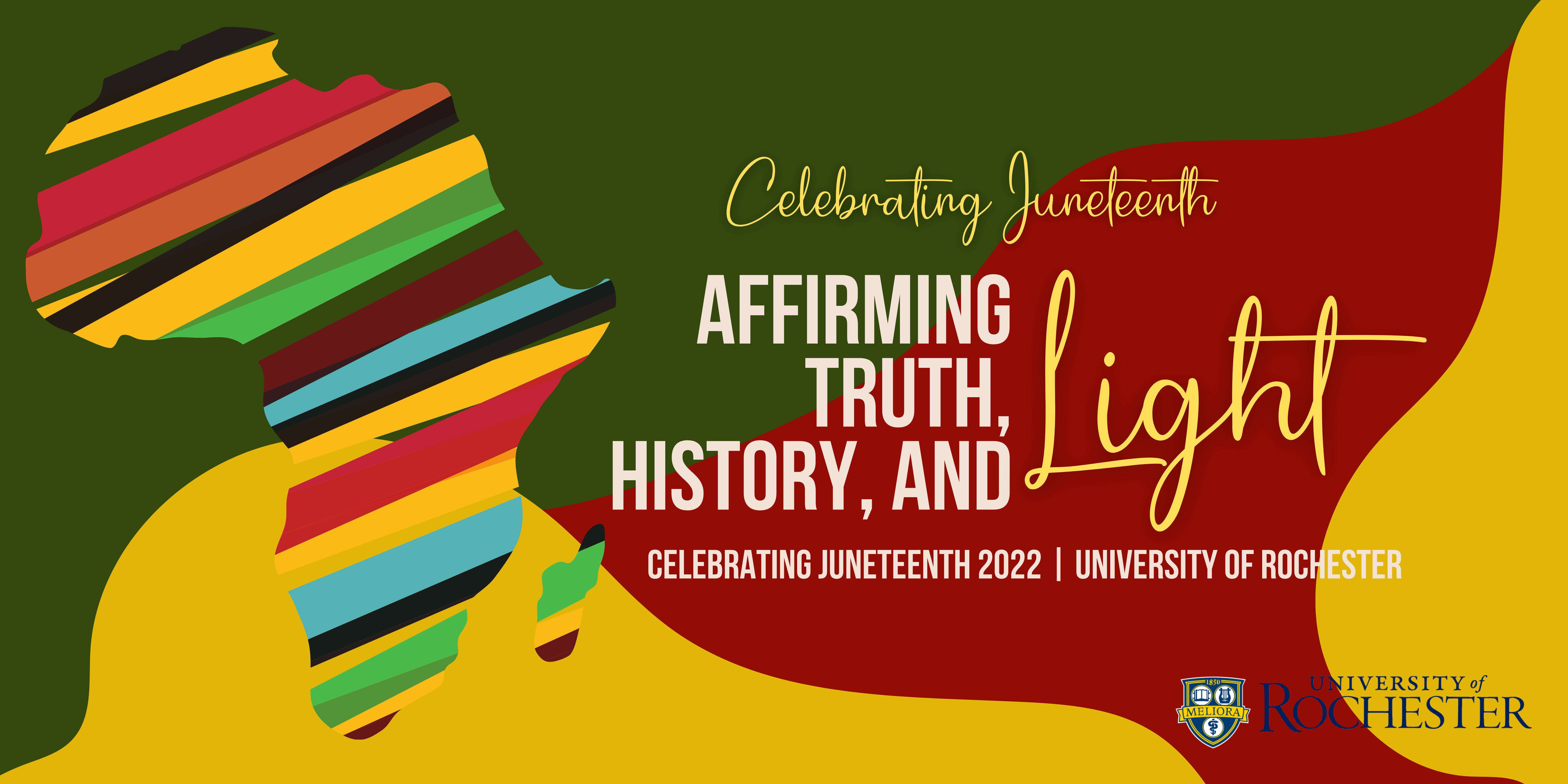 Celebrating Juneteenth
Affirming Truth, History, and Light
Juneteenth—also known as National Freedom Day—is the oldest nationally celebrated commemoration of the ending of slavery in the United States. Often, many communities read the Emancipation Proclamation, the Thirteenth Amendment, or a local declaration honoring freedom from enslavement. In James C. Anyike's African American Holidays text, he writes "the reading of those documents symbolizes how our ancestors stood in front of the 'the big house' to be informed of their legal freedom." Celebrations of Juneteenth are intended to be expressed with great joy—not avoiding or ignoring many concerns of the present but acknowledging the constant drive for freedom.
The University of Rochester is excited to recognize Juneteenth on Monday, June 20, an official university holiday.
Expressions of Freedom Exhibit
Thursday, June 16, 2022 | 10 am to 7 pm
Join us for a day-long Juneteenth celebration featuring artistic expressions of freedom, vendors from the Greater Rochester community, Juneteenth-related food items, and much more. Sponsored by the University of Rochester's Institutional Office of Equity and Inclusion and the Office of Human Resources in honor of the traditions and practices of persons of African descent.
10:00 a.m. | Expressions of Freedom Exhibit Opens
10:15 a.m. | Viewing: 'Freedom' from Netflix's High on the Hog in Douglass Commons 401
11:30 a.m. | Lunch provided by Meliora Catering (lunch is free) & Desserts provided by Northern Nola and Get Caked
11:30 a.m. | Affirming Truth, History, and Light Program
A short program to formally celebrate the purpose of the gathering with remarks from President Mangelsdorf and Vice Presidents Mercedes Ramírez Fernández and Kathleen Gallucci. The program will also feature SeQuoia Kemp '16, '20N, and Reenah Golden, Founder, CEO, & Artistic Director of The Avenue BlackBox Theatre.
1:00 p.m. | Viewings of Juneteenth-related Films and Television Series in Douglass 401
3:00 p.m. | Live Expressions of Freedom
Live performances by musicians, dancers, and singers share their understanding and interpretation of "freedom."
5:00 p.m. | Expressions of Fun and Movement
Opportunities for guests to enjoy dancing, door prizes, gaming, and more for the final portion of the event.
7:00 p.m. | Expressions of Freedom Exhibit Concludes
Juneteenth Celebrations Within the Greater Rochester Community 
You are invited to be part of the Juneteenth celebrations that are taking place within the Greater Rochester Community. The following programs may or may not be hosted by the University of Rochester or its affiliates.
June 2 – June 5, 2022 | ARTs + Change Conference: Activate. Reimagine. Transform.
June 10 – June 11, 2022 | Volunteers in Partnership Leadership Conference (View the website for more insight)
June 16, 2022 | Celebrating Juneteenth: Expressions of Freedom Exhibit, University of Rochester River Campus, Feldman Ballroom, Douglass Commons from 10am to 7pm
June 17 – June 25, 2022 | CGI Rochester International Jazz Festival (View the website for more insight)
June 18, 2022 | ROC Freedom Riders Juneteenth Annual Bike Ride: Celebrating and Supporting Black Culture at 10am (To register, visit the Eventbrite page)
June 18, 2022 | Greater Rochester Martin Luther King, Jr. Commission and Rochester City School District's My Brother's Keeper Initiative Rochester Juneteenth Festival, MLK Memorial Park 353 Court Street, Rochester, NY 14607 from 11am to 7pm
June 18, 2022 | Legacy Drama House's Melanin Market, Legacy Drama House 112 Webster Avenue, Rochester, NY 14609 from 12pm to 4pm (View the social media page for more insight)
June 20, 2022 | Juneteenth Official Federal Holiday (View the White House Proclamation of 2021) and University of Rochester's university holiday
June 23, 2022 | REAL Conversation featuring Dr. Warren Crichlow '92W (EdD) from 6pm to 7:30pm
Committee Members
Thank you to all the individuals who support the development and execution of the institutional-wide 2022 Juneteenth Celebration.
Sandra Burch-Worth | Executive Assistant, Institutional Office of Equity and Inclusion
Norman Burnett | Assistant Dean and Director, Office of Minority Student Affairs, Arts, Sciences, and Engineering
Ashley N. Campbell | Director of EDI Integration, Education, and Programming
Mauricio Coombs | Class of 2022 Majoring in African and African American Studies and Religion; President of The Rochester Business Association and President of The Black Students' Union
Sasha Eloi-Evans | Associate Vice President of Equity and Inclusion & Deputy Chief Diversity Officer
Kathleen Gallucci | Vice President and Chief Human Resources Officer
Janice Holland | Senior Director of Operations and Strategy and Affirmative Action Officer
Jeffrey McCune | Frederick Douglass Associate Professor of African American Literature and Culture, Director, Frederick Douglass Institute for African and African American Studies, School of Arts and Sciences
Douglas Phillips | Senior Vice President and Chief Investment Officer, Investment Office
Ghislaine Radegonde-Eison | Director of Affinity Networks & Equity, Diversity, and Inclusion Programs, Office of Alumni Relations & Constituent Engagement
Mercedes Ramírez Fernández | Vice President of Equity and Inclusion & Chief Diversity Officer
Dominica Ranieri | Executive Director of Human Resources Strategic Initiatives
Belinda Redden | Director of Fellowships, Student Fellowships Office, Arts, Sciences, and Engineering
Mario Roque | Director of Diversity and Inclusion, University Facilities
Liliana Ruiz | Director of Special Projects, City of Rochester
Joseph Testani | Deputy to the President, President's Office