Community Action Fair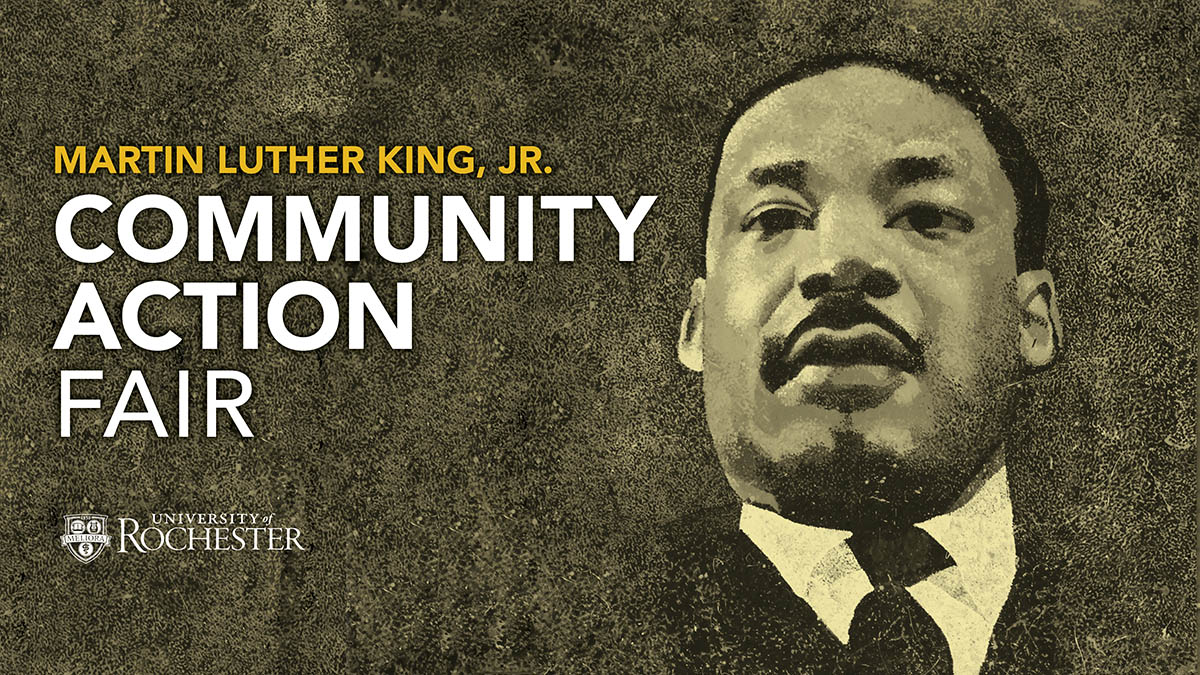 Thursday, January 25, 2018
4 to 8 p.m.
Frederick Douglass R-Center
999 South Avenue, Rochester, NY 14620
The Dr. Martin Luther King Jr. Community Action Fair is an opportunity to bring Rochester and the University Community together in an effort to focus our energies on community engagement, and making Rochester a better place to live, work, and play for all. This non-partisan event serves to highlight the ongoing work in our community, and to remind us of the richness and power of our community's diversity. We affirm that both the University of Rochester and the broader Rochester community is a welcoming place for all people regardless of race, religion, sexual orientation, gender identity or expression, political affiliation or any other aspect of a person's identities.
Shuttle Information
Please use the Highland Hospital (Main Loop) shuttle from UR Medical Center (East Drive and Goler Bus Shelter) to reach the Frederick Douglass R-Center. The R-Center is across the street from Highland Hospital. The shuttle leaves every 10 minutes. The last bus that leaves Highland Hospital with drop off at UR Medical Center is 8:00pm. Please see the pamphlet for more insight.
Fair Sponsorships
We are grateful for the Office of Minority Student Affairs, Office of Human Resources, and the Office of Faculty Development and Diversity's support for the this endeavor.
Our Exhibitors and Vendors
We are excited to share the exhibitors and vendors that will be in attendance.
540 WMain Community Learning Academy
Adirondack Mountain Club Genesee Valley Chapter
Anthony Jordan Health Center
Artists Coalition for Change Together
Ballet Afrikana: Dance Prep Academy
Cancer Services Program of Monroe County/UR Center for Community Health and Prevention
Catholic Charities Community Services
Christians Witnessing for Palestine
Citizens Bank
Colgate Rochester Crozier Divinity School
Compeer Rochester
Connie Hinton
CURE Childhood Cancer Association
Diana Morrow
East EPO Upper and Lower Schools
Eastman Institute for Oral Health Community Dentistry and Oral Disease Prevention
Episcopal SeniorLife Communities
Flower City Noire Collective
Foodlink
Girl Scouts of Western New York
Healthy Baby Network
Highland Family Planning
House Of Refuge USA
InStyle Fashions
JMarie Designs
Journey Financial Planning & Tax Services, LLC
Lifetime Assistance Inc.
Lifetime Financial Group, LLC
M.K. Gandhi Institute for Nonviolence
Marcus Boatwright
Melanated Being
Metro Justice/AQE
MLK Community Action Fair DJ
Moving Forward Training Source, Inc.
NAMI Rochester
National organization for Women
PathStone Corporation
Perfect Solutions, Educational &Inspirational Products
Roc City Sicklers Advocate Group – University of Rochester Pediatric Hem/Onc Division
Rochester A.B.O.V.E
Rochester AmeriCorps
Rochester Public Library
Rochester Regional Coalition Against Human Trafficking, RRCAHT c/o Worker Justice Center of NY
Rochester Victory Alliance
Showing Up for Racial Justice – Rochester
Smoking and Health Action Coalition (American Lung Association)
Southeast Neighborhood Service Center
Spiritus Christi Anti Racism Coalition
St. Joseph's Neighborhood Center
United Healthcare
Urban League of Rochester