LGBTQ+ Safe Space Program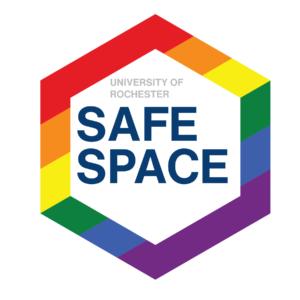 The University of Rochester Safe Space Program encourages all employees to become skilled at providing inclusive environments for all people regardless of their gender identity, gender expression, or sexual orientation. The University recognizes individuals, not departments, as Safe Space, for it is individuals who must use their voice and their actions to achieve welcoming environments. The Safe Space Program consists of two courses. At the core, they are designed to reduce the bias and ignorance that can lead to homophobia, transphobia, and sexist interactions.
Employees may complete Safe Space Part 1: Gaining Knowledge to expand their LGBTQ+ knowledge and awareness. If an employee wants to continue the journey, they can complete Safe Space Part 2: Creating Safety. Following the completion of both courses, participants can complete Safe Space: The Agreement in MyPath. Employees who acknowledge their acceptance of the University Safe Space agreement will then receive recognition as a University of Rochester Safe Space and receive an official sticker, pin, and buttons.
Safe Space Part 1
Gaining Knowledge: The Basics (90 min). The course is designed to provide participants with foundational information to enhance their understanding of the LGBTQ+ (lesbian, gay, bisexual, transgender, queer, "plus" others) identities and communities.
Safe Space Part 2
Creating Safety: Your 50 Feet (90 min). The course builds upon the basics learned in Part 1 to provide participants with practical suggestions on how to turn knowledge into action in life and work to encourage safe, inclusive, welcoming spaces for LGBTQ+ individuals. Completing Part 1 and virtual assignments (assigned via MyPath) are prerequisites for enrollment.
Courses are all open to all employees of the University of Rochester. Employees in any position and facility may attend the instructor-led virtual course. Employees should register to participate in a course on MyPath. Search for the Safe Space Playlist. The Playlist will allow you to register for the first course. A few days before the course occurs, employees will receive an email confirming the Zoom link and a Box link. The Box link provides a PDF of the training manual, including handouts and worksheets. Participants are strongly encouraged to print the manual to have with them while attending a virtual session.
---
Anyone interested in attending the series, becoming a facilitator, or if you have any questions or concerns about the program, contact Scott Fearing.