Annual Research Conference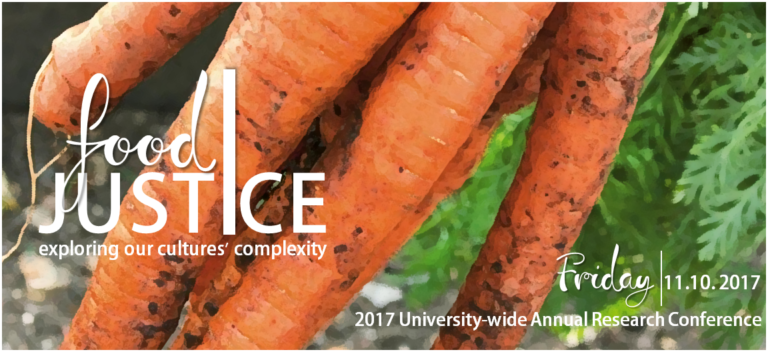 Friday, November 10, 2017
Location:
Simon School of Business
University of Rochester
305 Schlegel Hall, Rochester, NY 14627
The University-wide Annual Research Conference aims to promote diversity and inclusion through the advancement of scholarship and showcasing scholarly activity.  Potential faculty members are encouraged to attend the conference as we focus on food and culture in research and scholarship. Food Justice creates opportunities for multidisciplinary dialogue and innovative research to expand our lens on the complexity of food within various cultures.
The conference objectives: (1) spark and share meaningful dialogue within the UR academic community concerning issues on culture; (2) inform pedagogy for sustainable and meaningful learning environments; and (3) create a space for scholarly exchange at the University to ask questions, get assistance and seek collaborative opportunities around investigating our commonalities through culture.
Questions?
Contact Ashley N. Campbell at ashley.n.campbell@rochester.edu or (585) 273-4297.
Opening Plenary Description
Who Gets to Define Good Food
Keynote Speaker: Dr. Margot Finn
Alternative food initiatives arising out of the burgeoning critique of the industrial food system have been criticized for benefiting mostly white, economically secure people. Too often, food activists and reformers have focused on changing individual behaviors instead of transforming inequitable systems. They also tend to portray low-income communities of color as problems to be solved and have been overeager to teach poor people the "right way to eat." In response, community-based food justice efforts have positioned themselves in opposition to both the industrial food system and the alternative food movement. However, even community-based, people-of-color-led food justice efforts tend to be shaped by elite norms and beliefs about how people should eat. These myths of goodness reinforce the very social class divides that food justice aims to shrink or dismantle. If we want to build a food system that truly serves everyone, we need to think more critically and more expansively about how we define goodness in food and who gets to say what people should eat.
Breakout Sessions Descriptions
The Cultures and Complexities of Food
Generally, when we consider what we want to eat, or where our foods come from, we don't consider the cultural complexities behind our choices. Let us explore the cultures that drive trends in the food and restaurant industry and what it would mean if we truly became the manifestation of the statement, "you are what you eat!"
Link: View Session
Food Justice and Contradictions in Activist-Scholarship
Simply stated, food justice emerges from an inherent critique of both the conventional food system and alternative food efforts as privileged and white. Food justice activist-scholars engage this critique through collaborative teaching and research that promotes social change. In this talk I discuss key contradictions that arise in food justice scholarship and activism drawing on examples from my recent work: a participatory research project with youth, a university-community collaborative conference/symposium, and problematic findings from community-based research.
Link: View Session
Dietary Guidelines: How Do They Tell Us What to Eat?
Every five years, the US Department of Health and Human Services and the Department of Agriculture release the Dietary Guidelines for Americans, a set of recommendations of the foods and diets for health promotion and disease prevention. We will describe the processes and methods followed to develop the guidelines from assembling a group of experts to the public announcements and the political and economic pressures that have sometimes shaped the guidelines. Since the accurate assessment of our diet is a fundamental step in understanding if and how food influences our health, we will discuss the challenges involved in finding out what we eat.
Link: View Session
A Growing Flower City: Regenerating Food, Land, and Communities in Rochester, NY
In cities like Rochester, urban agriculture has been embraced as a key part of equitable economic and community development. Barriers for communities to grow their own food, access vacant land, and generate wealth are greater in Rochester than in cities like Buffalo, Detroit, Cleveland, and Milwaukee due to shortsighted development policies and lack of institutional leadership. Vibrant urban food systems, especially those with educational and employment opportunities for youth, are vehicles for stronger schools, stabilized housing, social entrepreneurship, and cultural preservation. In this workshop, community partners, youth leaders, and researchers will explore key ideas and questions central to regenerating neighborhoods and food systems. Presenters will share research, models, and questions related to urban agriculture, positive youth development, social justice, and university-community partnerships. Through interactive discussions, participants will discover multidisciplinary opportunities for collaboration in urban agriculture and food justice communities.
Link: View Session
Gluten Free Living & The Local Food Movement in Rochester
In recent years Rochester has embraced the farm to table trend with a focus on connecting local food producers, local farmers, and consumers at every step in the process. There is also a recent trend on whole foods, plant based eating, and organics, which lends itself to the gluten free food lifestyle which is growing at a local and national level.
In this workshop, community partners, wellness professionals and researchers will analyze if these trends have increased food accessibility and improved the health and nutrition of residents across zip codes and urban neighborhoods. Participants will learn about gluten free living, plant based eating, and how these lifestyles can contribute to healthier communities and residents. Additionally, participants will explore the ideas of healthier neighborhoods, food prevalence, access and barriers that prevent all residents for taking part in the local food movement. The presenter will share first hand evidence based practice, research, models, and questions related to gluten free living, veganism, farm to table and urban agriculture models happening around Rochester. Through interactive discussions and hands on exercises participants will unlock potential opportunities to collaborate and engage in increasing access to this movement.
Link: View Session
Community Conversation: Beechwood Community



Engage in a community conversation about the Beechwood Greenhouse Collaborative. It is a community-based grassroots initiative that began three years ago to bring healthy food options, collaborative meeting spaces, employment and training opportunities, and, most importantly, sustainability to families in our neighborhood.
Link: View Session
---