Institutional Office of Equity and Inclusion
Recognition and Celebrations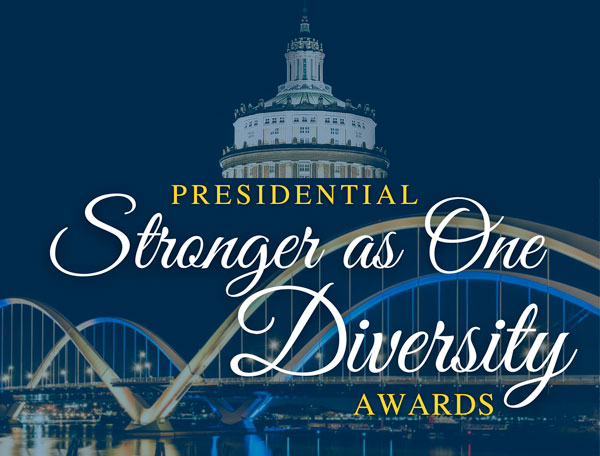 Presidential Stronger As One Diversity Awards
We are proud to announce the winners of the 2023 Presidential Stronger as One Diversity Awards. The event highlighted the impact and achievements of the award winners and celebrated diversity and inclusion on our campus. Over one hundred people gathered in the Feldman Ballroom on March 2nd to honor the nominees and the recipients and to reinforce our commitment to making UR an ever more inclusive place.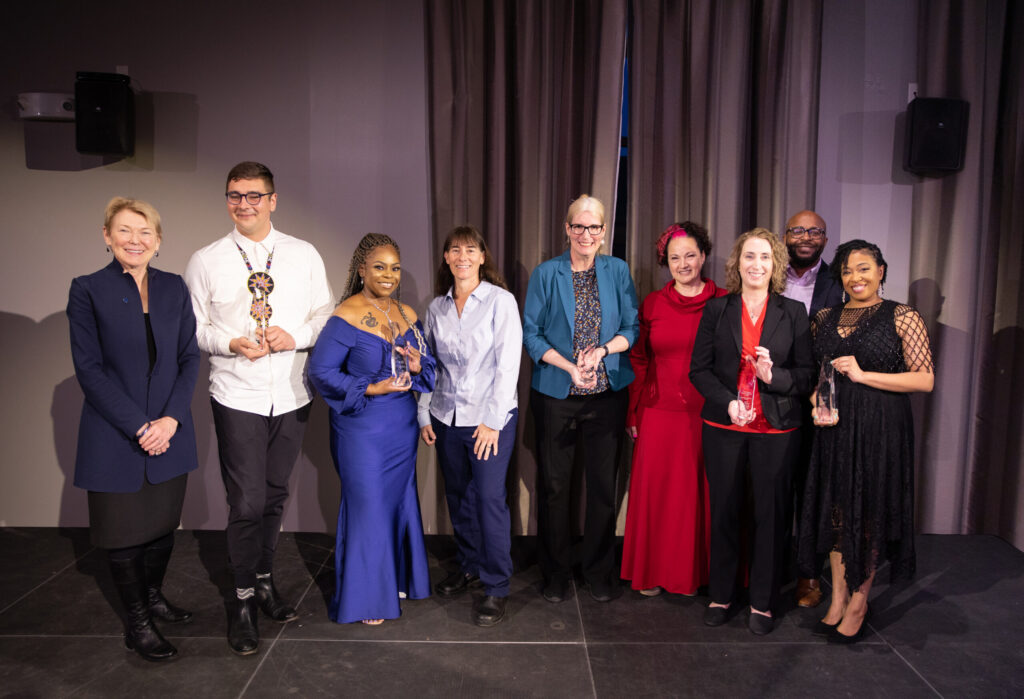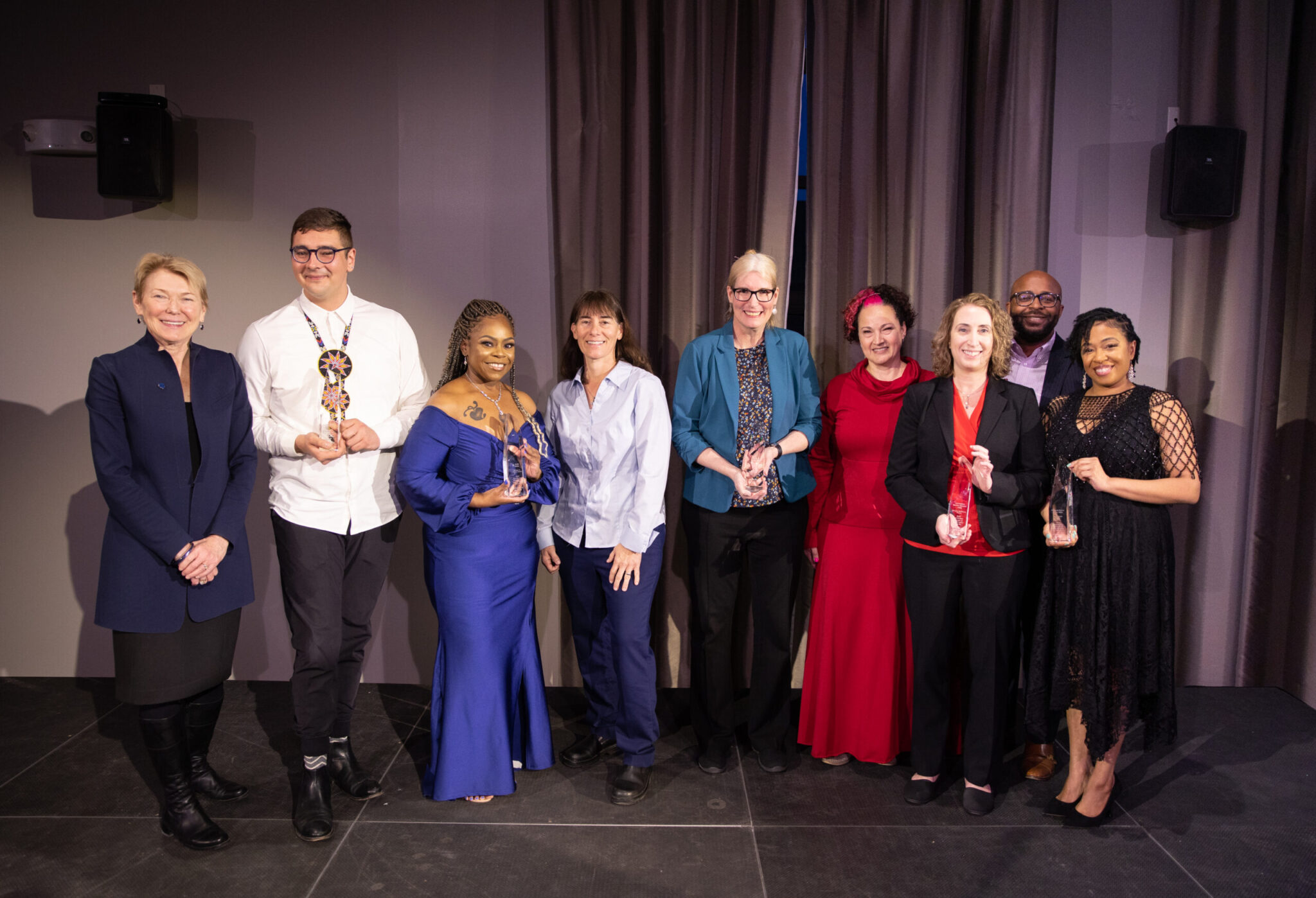 Advocacy and Action Award: Astrid Müller
This award recognizes staff, postdoctoral fellows, or faculty who exemplify excellence in developing and sustaining an infrastructure to support equity, diversity, and inclusion.
Dr. Astrid Müller joined the Chemical Engineering Department of the Hajim School of Engineering and Applied Sciences four years ago, and has taken decisive steps to support and expand diversity, equity, and inclusion (DEI) in her department and across the institution.
In addition to her research in laser-derived nanomaterials, Dr. Müller founded and chairs the Chemical Engineering DEI Committee, which works to diversify the department faculty, to develop a pipeline to diversify student bodies at both the undergraduate and graduate levels, and to diversify the Chemical Engineering advisory board.
Dr. Müller created highly visible DEI content to promote diversity across all aspects of the department website and initiated an annual DEI Panel of Equity and Inclusion in Chemical Engineering. Dr. Müller is a strong supporter of both women and underrepresented students at all levels of the career pipeline, from leading STEM workshops for minority high school students to mentoring department graduates in their careers.
Change Maker Award: Rohsennase Dalton LaBarge and Martez D.R. Smith
This award recognizes a student or students (undergraduate, graduate, or postdoctoral) and/or a student organization that aims to cultivate a fair and just climate, culture, and community with an equitable, diverse, and inclusive lens at the UR and/or its surrounding communities.
This year the award went to two equally deserving candidates.
Rohsennase Dalton LaBarge (Akwesasne Mohawk Nation) is a first-generation, fourth-year medical student at the UR School of Medicine and Dentistry. A specialist in Emergency Medicine, his professional objectives are geared toward making positive change in Haudenosaunee communities and in the field of medicine.
A tireless advocate of cultural understanding, inclusivity, and social justice at URMC, across campus, and within and beyond the Rochester community, Dalton is both academically at the top of his class as well as a class leader. As one of many examples of his cultural contributions, Dalton performed a Haudenosaunee traditional welcoming ceremony for the incoming medical class, an event that included multiple cultural and inspirational moments for those attending.
In addition to speaking at a wide variety of events, Dalton has been a leader in the IOEI Native American Indigenous Affairs Working Group, using his knowledge and insights to elevate Indigenous issues, to enhance the UR curriculum in Indigenous Studies, and in particular to improve the recruitment and retention of Native students, staff, and faculty.
Martez D.R. Smith is a PhD candidate in Nursing and Health Science at the UR School of Nursing. Martez has dedicated his life to educating and caring for individuals affected by AIDS and other health disparities. His research is focused on infectious diseases that affect MSM (men who have sex with men), particularly Black men living with HIV/AIDS. Martez is co-chair of the Black MSM advisory group for the New York State Department of Health AIDS Institute. In addition, he acts as a consultant for numerous research projects related to the physical and mental health of LGBTQ+ people of color.
Driven by empathy and compassion, Martez is an activist and leader advocating for social justice across diverse populations. He received an NIH National Institute of Mental Health NRSA (F31) Fellowship Award and the 2022 Infiniti Award, given by a global LGTQ organization for facilitating growth and camaraderie in the U.S. house and ball community.
Finally, Martez has been offered a post-doc fellowship with the HIV Center for Clinical and Behavioral Studies at the NYS Psychiatric Institute and Columbia University, focusing on Behavioral Sciences Training in HIV Infection.
Empowering Equitable Change Award: Lizette M. Pérez-Deisboeck 
This award recognizes a Board of Trustees member who aims to advance the University of Rochester's mission with an equitable, diverse, and inclusive lens through their involvement at the university.
Lizette M. Pérez-Deisboeck, '87, has been a member of the Board of Trustees since 2016. In this role she has been a champion for diversity, equity, and inclusion at the University of Rochester. She is the General Counsel and Chief Compliance Officer at Battery Ventures, a Boston-based venture capital and private equity firm, and is passionate about creating equity through entrepreneurship.
 As one of the inaugural co-chairs of the Diversity Advisory Council, Lizette has helped develop and implement strategies to create and maintain a truly inclusive institution for both students and alumni. Selected projects of the council include launching the Rochester Equity and Access Leadership (REAL) Conversations series and expanding the Alumni Census project to include information on alumni identities.
As a chair of the Alumni Board, Lizette has again made equity, diversity, and inclusion a priority. Among many other efforts to promote the University, Lizette worked on strategic planning with Advancement leadership to help launch of the Women's Network, UR's first affinity network, and spearheaded the development of the University's Latin Alumni Network. Lizette is a strong supporter of students, both as a mentor and through current-use and endowed scholarships.
Inclusive Workforce Award: Information Systems Division (ISD)
This award recognizes a department, school, or program that aims to enhance recruitment and retention of diverse faculty, staff, and/or students.
The Information Systems Division (ISD) is the healthcare technology team for all URMC sites. A large team with 512 employees, ISD has embraced diversity and inclusion as foundational to the success of the department since the inception of the URMC Anti-Racism and Equity Plan in 2020.
Shortly afterward, the ISD leadership cabinet committed to intentionally seeking to build a diverse and inclusive environment. This commitment led the entire leadership cabinet to participate in URMC's Enlightened Leadership program, followed by four hours of formal D&I training for over 120 ISD managers at the start of 2022.
As a result, D&I topics are included in staff meetings and trainings and are embedded in all annual performance expectation. The department is also working on an internship program in collaboration with the Mayor's "Youth voice, One Vision" program at East High and an employee-led D&I Committee meets monthly and publishes a newsletter.
The results are measurable. According to a 2022 Press Ganey survey, diversity performance within the ISD is higher than both national averages and URMC as a whole. An internal survey shows that 93.9% of survey respondents feel welcomed and valued as an ISD employee, while staff retention is well above the industry average.
Social Impact Award
This award recognizes a Greater Rochester community organization and/or member of the Rochester community who aims to address racial and social justice issues facing the greater community.
Shaquana Patrice Divers
Shaquana has been an activist for community health equity as both a professional and a volunteer for almost two decades. While working at URMC, she pioneered the University's well-being program and led efforts to obtain a 2011 Community Transformation Grant for Rochester from the Centers for Disease Control and Prevention. The five-year, $3.6 million grant was used to develop HEART (Health Engagement and Action for Rochester's Transformation). Rochester was one of only 15 communities nationwide to receive funding. The HEART program led to greater food access in Rochester neighborhoods, reduced tobacco exposure in public housing, and increased access for chronic disease prevention programs for BIPOC communities.
Shaquana's passion for equity in community health continued in her work at managed care organizations. She launched the Henrietta Lacks Education Campaign at Excellus BCBS to raise awareness of the contributions of outstanding Black figures in health care. While at MVP Healthcare, Shaquana developed programs to provide greater access to health programming to New York members covered by Medicaid, a population traditionally left out of wellness opportunities. Through involvement in Common Ground Health's Metric Advisory Committee, Shaquana assisted local health care organizations in improving racial and ethnic data collection and interventions.
As a volunteer, Shaquana has worked extensively on initiatives related to DEI in the community. She was active for 15 years in the Rochester branch of Jack and Jill of America, supporting Black children facing racial isolation in their schools and neighborhoods. As a Parent Council member, she contributed to the incredible transformation of East High.
Bridge to Equity Award: Kellie Miller
This award recognizes a member from a bargaining group who aims to initiate and lead action for eliminating equity gaps for disproportionately impacted people and communities at the University.
Kellie Miller is a Transport Assistant at URMC and Chairperson for 1199 Service Employees International Union (SEIU) at Strong Memorial Hospital. Kellie is an extremely hard working, dedicated, and compassionate individual, who not only holds two jobs but whose work as Chairperson for the 1199 SEIU demonstrates her commitment to justice, equity, and inclusion. In her role as Union Chairperson she is noted for her strategic thinking, decisive rhetoric, and keen ability to see multiple sides of complex situations.

Insight Into Diversity: Higher Education Excellence in Diversity Award
The University of Rochester has received the 2021 Higher Education Excellence in Diversity (HEED) Award from INSIGHT Into Diversity magazine, the oldest and largest diversity-focused publication in higher education.
As a recipient of the annual HEED Award—a national honor recognizing US colleges and universities that demonstrate an outstanding commitment to diversity and inclusion—Rochester will be featured, along with the other recipients, in the INSIGHT Into Diversity magazine.
2020 Presidential Diversity Award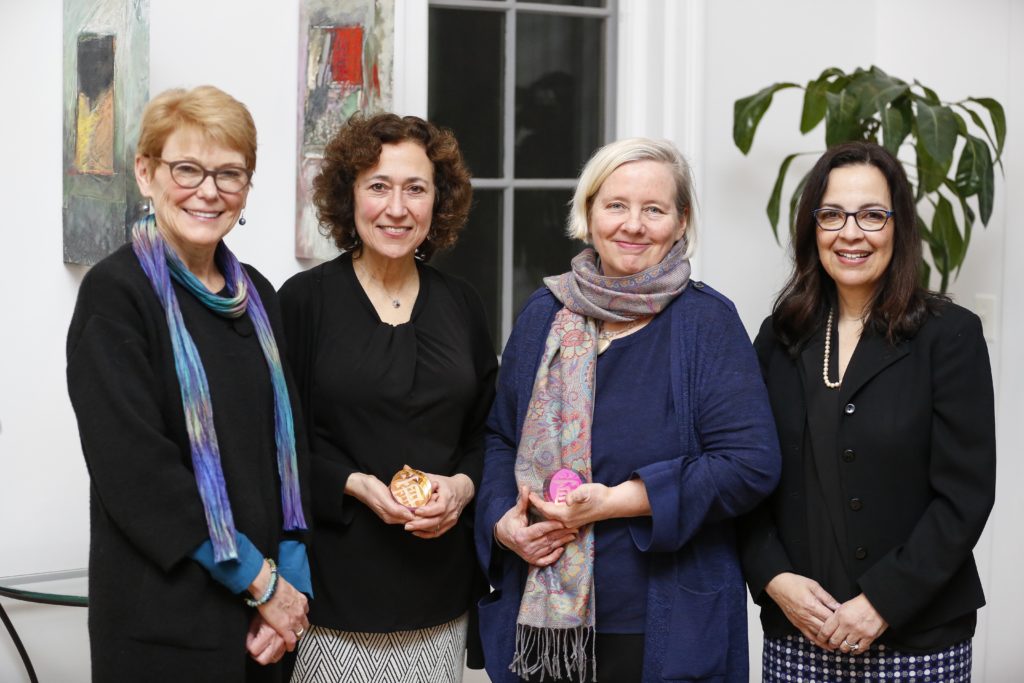 From left: President Sarah Mangelsdorf; Caroline Nestro '18W (PhD), a senior associate in the Department of Psychiatry; Kit Miller, director of the M. K. Gandhi Institute for Nonviolence; and Vice President for Equity and Inclusion Mercedes Ramírez Fernández. Nestro and Miller are the recipients of the 2020 Presidential Diversity Award.
Other Diversity Awards
This award seeks to attract visiting scholars who will contribute to the University's Inclusive Community goals to provide excellence in research, teaching, and service.
Established in 2013, the University of Rochester School of Medicine and Dentistry Faculty Diversity Award recognizes the exceptional contributions and accomplishments of medical school faculty to foster a diverse and inclusive medical school community.