Presidential Diversity Award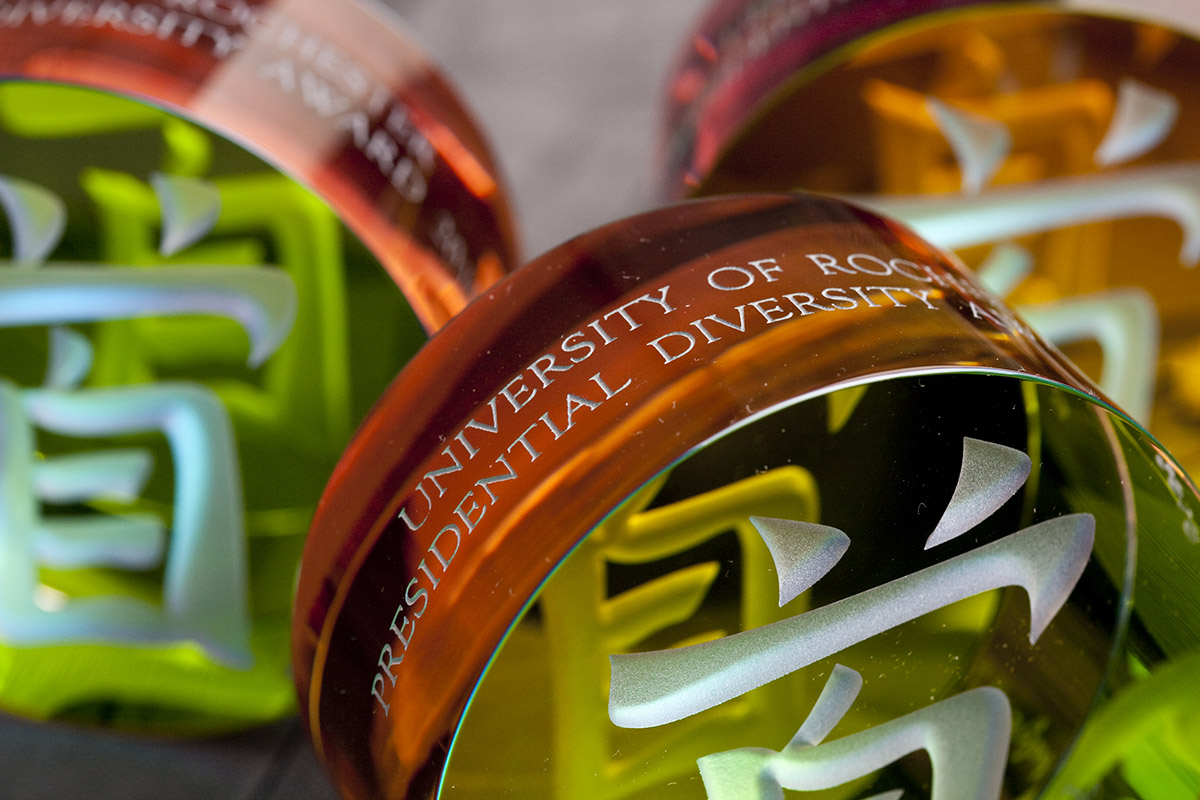 The University of Rochester Diversity Awards recognize the accomplishments of faculty, staff, students, units, departments, or other functional teams of the University or graduates of the University that contribute to diversity and inclusion through exemplary leadership. Recipients should demonstrate a commitment to diversity and inclusion through recruitment and retention efforts, teaching, research, multicultural programming, cultural competency, community outreach activities, or other initiatives.
Nomination Period
Next nomination Period: January 2021–March 2021
Recipients will be announced, and all nominees celebrated each January
Criteria for Selection:
Nominees should be current faculty, staff, students, units, departments, or other functional teams of the University. Nominations can be submitted by individual employees (including supervisors, direct reports and peers of the nominees), students, University organizations, employee networks and diversity councils. Applications will be judged on the following criteria:
Demonstration of emerging or sustained commitment to the values of diversity, inclusion, and multiculturalism by documented efforts that are above and beyond the routine expectations of the job or project.
Evidence of exceptional efforts to promote a University environment that is free from bias and discrimination.
Substantiation of the contribution that the individual, team, or unit has made towards advancing diversity and inclusion.
Areas of Achievement
Success in leading and enhancing diversity and inclusion efforts can be demonstrated in many ways. Nominations should be based on demonstrated leadership in one or more of the following areas:
Activities to recruit, retain, and professionally develop individuals who increase the diversity of our faculty or staff
Activities to attract or recruit students who increase the diversity of our schools, or to help ensure the success of those students
Activities to create leadership teams and organizations that promote a diverse and inclusive culture
Sponsorship or active promotion of programs, initiatives, or projects in the area of diversity and inclusion
Collaboration with campus or community groups in the creation, sponsorship, and implementation of programs, initiatives, or projects in the area of diversity and inclusion
Recognition and celebration of exemplary individual and team behaviors that promote diversity and inclusion
Award
The Diversity Awards Selection Committee will choose a maximum of two award recipients per year. Award recipients will be honored during the University's Martin Luther King, Jr. Commemorative Address or other appropriate occasion. Their names will be added to an awards plaque, which will be posted alongside the plaque recognizing the winners of the Witmer and Meliora Awards. Each Presidential Diversity Award includes a $2,500 prize. Individual award winners will receive half and will designate half to support the budget of a program or department of the winner's choice. Team award winners will designate the entire $2,500 prize to the program or department of the team's choice. In designating the prize money to a program or department, the individual or team should choose from those programs and departments that are doing work in the area of diversity or inclusion. Award winners may choose their own program or department. Award recipients will be recognized in a University publication such as @Rochester.
Instructions for Submitting Nominations
The next nomination period is from January 2021–March 2021
Use a separate Nomination Form for each nominee. Make sure that the contact information is accurate and complete.
The form requests a nomination statement to be attached and should not exceed two pages. The nomination statement should specifically identify the individual or team's contributions and accomplishments.
The form requests two letters of support for the nomination. One of the letters of support should be from the supervisor, department chair, center director, or dean (in the case of an individual nominee) or from a supervisory individual representing the lead office or lead sponsor (in the case of a unit/organization/team nominee).
During the application cycle, the application form is linked here.

Any questions or concerns about the nomination process should be directed to the Office Equity and Inclusion at equityandinclusion@rochester.edu.
2020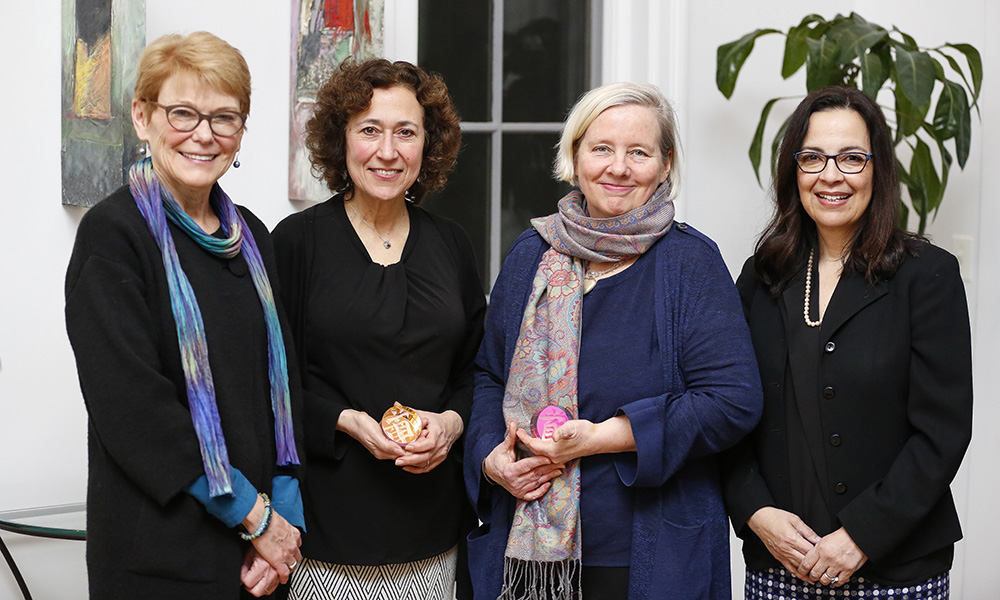 Caroline Nestro, Director of Diversity, Inclusion, and Cultural Engagement in the Department of Psychiatry as well as the director of the department's Office of Mental Health Promotion

Kit Miller, Director of the MK Gandhi Institute for Nonviolence

2019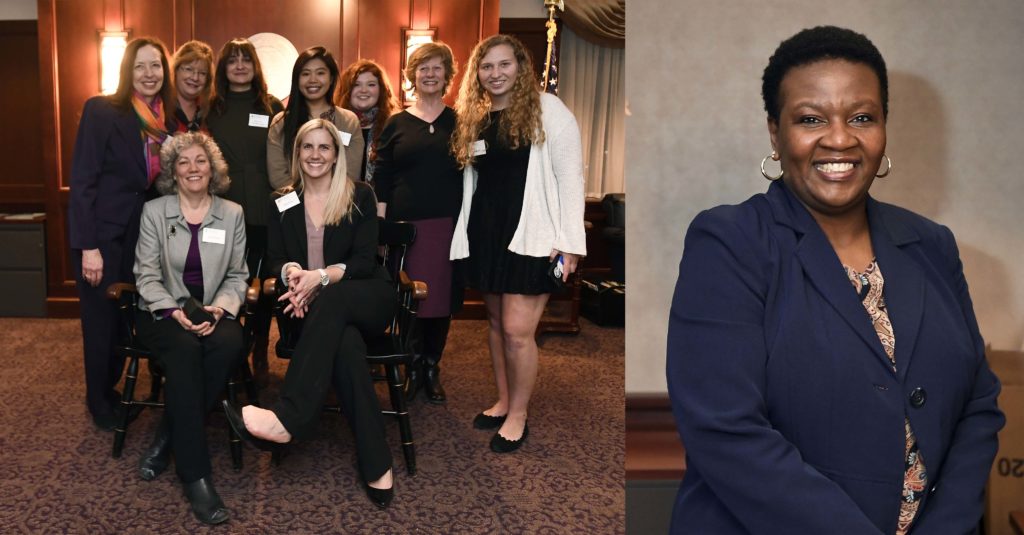 Myra Henry, River Campus Libraries
Commission on Women and Gender Equity in Academia
2018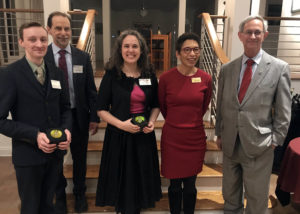 Jonathan Wetherbee, School of Nursing Center for Employee Wellness
Molly Murdock, Doctoral student at the Eastman School of Music
2017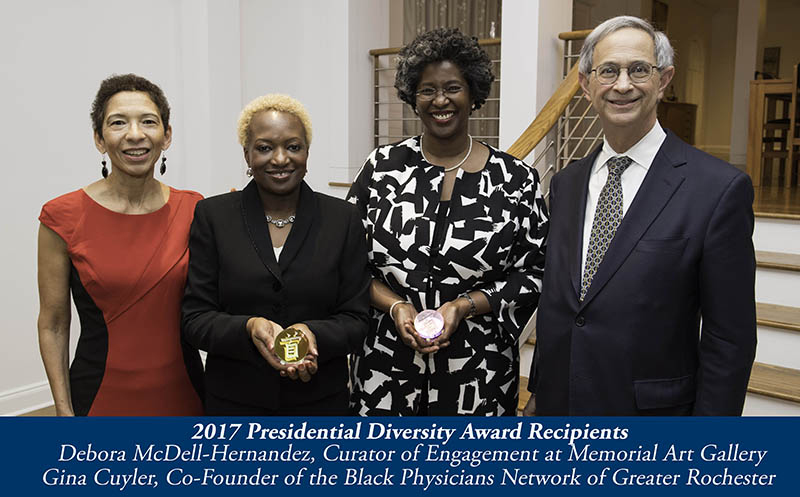 Gina Cuyler, Co-Founder of the Black Physicians Network of Greater Rochester
Debora McDell-Hernandez, Curator of Engagement at the Memorial Art Gallery
2016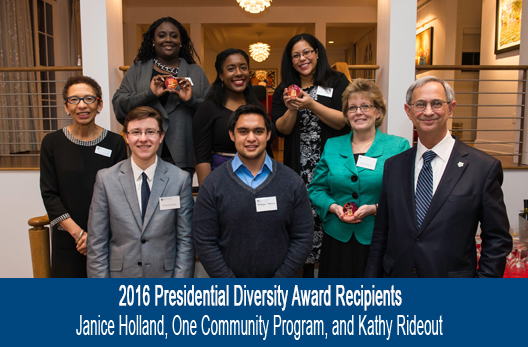 Janice Holland, Senior HR Representative and Diversity Specialist/Facilitator and Community Liaison
One Community Program, Arts, Sciences, & Engineering
Kathy Rideout, Dean and Professor of Clinical Nursing
2015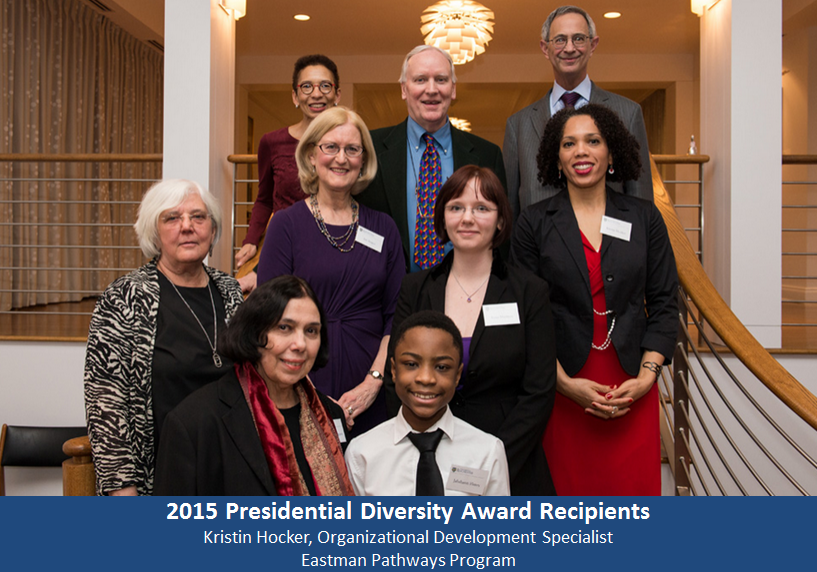 Kristin Hocker, Organizational Development Specialist
Eastman Pathways Program
2014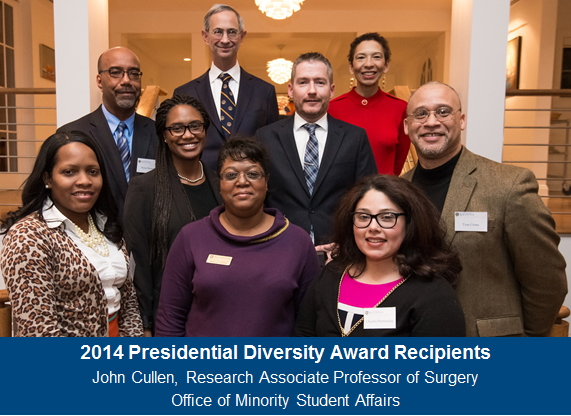 John Cullen, Research Associate Professor of Surgery
Office of Minority Student Affairs
2013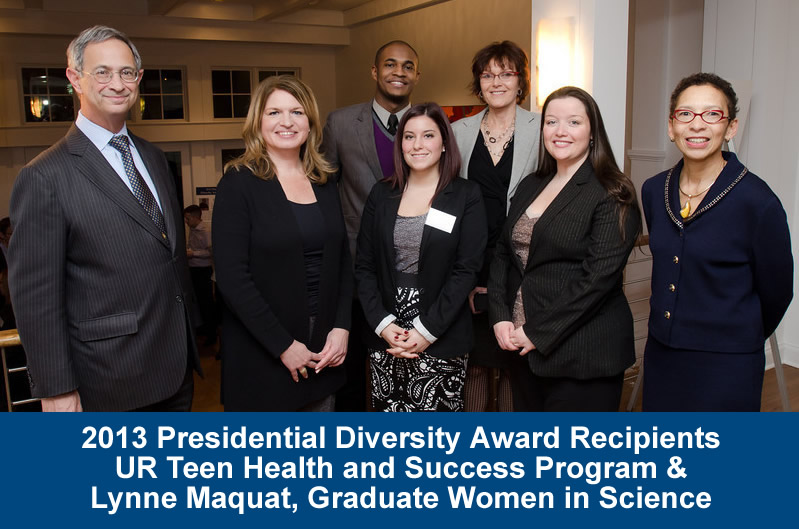 Lynne Maquat, Director of the Center for RNA Biology, School of Medicine & Dentistry
UR Teen Health & Success Program, Center for Community Health
2012
John Fetter, Assistant Professor of Music Education, Eastman School of Music
Center for Advocacy, Community Health, Education and Diversity (CACHED), School of Medicine & Dentistry
2011
The Department of Microbiology and Immunology, School of Medicine & Dentistry
UR Genocide Intervention, Undergraduate Student Organization
2010
David T. Kearns Center, Arts, Sciences & Engineering
Latino Professional Alliance, University-wide Affinity Group
Dr. John Hansen, Professor of Neurobiology and Anatomy, School of Medicine & Dentistry