Finding a Faculty Host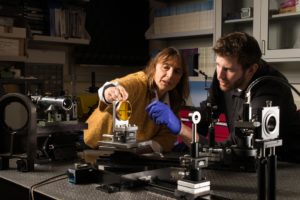 RocDocs: How to Find and Approach Potential Faculty Hosts
Making connections and finding the right host can seem daunting. Here are some suggestions to help facilitate that process.
Start with your research interests and career aspirations
What are your research interests?
Your career aspirations?
What excites you in your research field?
Can you identify a productive research area that fits your values and your career plans?
Who is engaged in research that is complementary to your interests?
Do you have geographical limitations?
What kind of host best fits your needs?
Famous mentors have connections and resources but may travel a lot and have big labs.
Up-and-coming mentors may be in the lab every day but may still be developing resources.
Do you prefer hands-on guidance or a more removed mentoring approach?
Are they nurturing?
Is that important to you?
Are they collaborative? Competitive?
What kind of connections do they have in academia? In industry?
Where have former postdocs from that lab ended up?
Read their work and work from their lab widely and critically.
Approaching potential hosts:
Introduce yourself – generally  in a succinct cover letter or email.
Include:
The story of your current research (question, approach, results, and significance
Your career goals, your plan to achieve them, and how a postdoc position in that lab plays into that plan
Your postdoc project interests (be creative!) and proposed approach
A description of how this connection is a great match
Adapted from John Boothroyd's "Finding the Right Postdoc for YOU," Preparing for Faculty Careers, and "Questions to Ask When Choosing a Postdoc Advisor," Pathways to Science.
Potential Faculty Hosts
All RocDocs applicants must submit the names of 3-6 faculty members they are interested in being matched with as a host. We recommend you reach out to them yourself to help ensure they are a good fit. You may reach out to any faculty member at the University of Rochester and request to have them be matched with you for the RocDocs program. Below is a list of faculty members who are particularly interested in hosting our RocDocs to visit their research environment.
| Name | Department | Email |
| --- | --- | --- |
| Ashton, John | Biomedical Genetics | john_ashton@urmc.rochester.edu |
| Beck, Lisa | Dermatology | lisa_beck@urmc.rochester.edu |
| Bennett, Nancy M. | Center for Community Health | nancy_bennett@urmc.rochester.edu |
| Berk, Bradford | Neuroscience | bradford_berk@urmc.rochester.edu |
| Cerulli, Catherine | Psychiatry | catherine_cerulli@urmc.rochester.edu |
| Chhabra, Kavaljit | Endocrinology and Metabolism | kavaljit_chhabra@urmc.rochester.edu |
| Conwell, Yeates | Psychiatry | yeates_conwell@urmc.rochester.edu |
| Dirksen, Robert | Pharmacology and Physiology | robert_dirksen@urmc.rochester.edu |
| Dozier, Ann | Public Health Sciences | ann_dozier@urmc.rochester.edu |
| Dumyati, Ghinwa | Infectious Disease | ghinwa_dumyati@urmc.rochester.edu |
| Dunman, Paul | Microbiology & Immunology | paul_dunman@urmc.rochester.edu |
| Dye, Tim | OBGYN | tim_dye@urmc.rochester.edu |
| Elder, Alison | Environmental Medicine | Alison_Elder@URMC.rochester.edu |
| Ermolenko, Dmitri | Biochemistry and Biophysics | dmitri_ermolenko@urmc.rochester.edu |
| Fowell, Deborah | Microbiology & Immunology | Deborah_Fowell@URMC.Rochester.edu |
| Geha, Paul | Psychiatry | paul_geha@urmc.rochester.edu |
| Georas, Steve | Pulmonary/Critical Care Unit | steve_georas@urmc.rochester.edu |
| Hill, Elaine | Public Health Sciences | elaine_hill@urmc.rochester.edu |
| Jin, Zheng-Gen | Cardiovascular Research Institute | zheng-gen_jin@urmc.rochester.edu |
| Kelly, Douglas H. | Mechanical Engineering | d.h.kelley@rochester.edu |
| Kiernan, Amy | Ophthalmology | amy_kiernan@urmc.rochester.edu |
| Korman, Benjamin | Immunology/Rheumatology | benjamin_korman@urmc.rochester.edu |
| Kuo, Catherine | Biomedical Engineering | kyleen@rochester.edu |
| Li, Yan Michael | Neurosurgery | YanM_Li@URMC.Rochester.edu |
| Libby, Richard | Ophthalmology | richard_libby@urmc.rochester.edu |
| Lueck, John | Pharmacology & Physiology | john_lueck@urmc.rochester.edu |
| Majewska, Ania | Neuroscience | ania_majewska@urmc.rochester.edu |
| Martinez, Luis | Microbiology & Immunology | luis_martinez@urmc.rochester.edu |
| Mathews, David | Biochemistry and Biophysics | david_mathews@urmc.rochester.edu |
| McCall, Matthew | Biostats Computational Biology | matthew_mccall@urmc.rochester.edu |
| McIntosh, Scott | Public Health Sciences | scott_mcintosh@urmc.rochester.edu |
| Mesfin, Addisu | Orthopaedics | Addisu_Mesfin@URMC.Rochester.edu |
| Miller, Jim | Center for Vaccine Biology and Immunology | jim_miller@urmc.rochester.edu |
| O'Reilly, Michael | Pediatrics Neonatology | michael_oreilly@urmc.rochester.edu |
| Ossip, Deborah | Public Health Sciences | deborah_ossip@urmc.rochester.edu |
| Ovitt, Catherine | Center for Oral Biology | catherine_ovitt@urmc.rochester.edu |
| Rahman, Irfan | Environmental Medicine | Irfan_Rahman@URMC.Rochester.edu |
| Robert, Jacques | Microbiology & Immunology | jacques_robert@urmc.rochester.edu |
| Romanski, Liz | Neuroscience | lizabeth.romanski@rochester.edu |
| Samuelson, Andrew | Biomedical Genetics | Andrew_Samuelson@URMC.Rochester.edu |
| Sant, Andrea | Center for Vaccine Biology and Immunology | Andrea_Sant@URMC.Rochester.edu |
| Schwarz, Edward | Center for Musculoskeletal Research | edward_schwarz@urmc.rochester.edu |
| Singh, Ruchira | Ophthalmology | Ruchira_Singh@URMC.Rochester.edu |
| Sundar, Isaac K | Environmental Medicine | Isaac_Sundar@URMC.Rochester.edu |
| Thakar, Juilee | Microbiology & Immunology | juilee_thakar@urmc.rochester.edu |
| Thirukumaran, Caroline P | Orthopaedics | caroline_thirukumaran@urmc.rochester.edu |
| Van Orden, Kimberly | Psychiatry | kimberly_vanorden@urmc.rochester.edu |
| Wang, Kuan Hong | Neuroscience | kuanhong_wang@urmc.rochester.edu |
| White, Jim MD | Pulmonary/Critical Care Unit | jim_white@urmc.rochester.edu |
| Yao, Peng | Cardiovascular Research Institute | peng_yao@urmc.rochester.edu |
| Yarovinsky, Felix | Center for Vaccine Biology and Immunology | felix_yarovinsky@urmc.rochester.edu |
| Yu, Yi-Tao | Biochemistry and Biophysics | YiTao_Yu@URMC.Rochester.edu |
| Yule, David | Pharmacology & Physiology | david_yule@urmc.rochester.edu |