Institutional Office of Equity and Inclusion
Sasha Eloi-Evans Named Deputy Chief Diversity Officer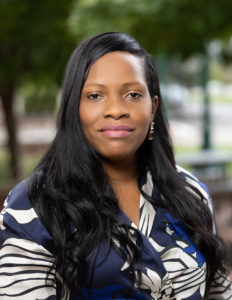 Sasha Eloi-Evans ΄05, ΄17W (EdD) has been named deputy chief diversity officer for the University of Rochester. Reporting directly to Mercedes Ramírez Fernández, the Richard Feldman Vice President for Equity and Inclusion and chief diversity officer, Eloi-Evans will work closely with senior leadership, administration, academic deans, faculty, students, and staff to ensure that equity and inclusion are embraced across the university, enterprise wide. She begins her role on October 1.
In her role, Eloi-Evans will oversee activities and provide consultation for equity, diversity, and inclusion (EDI) efforts within academic departments and educational programs while upholding the university's commitment to a more equitable, diverse, and inclusive community.
Eloi-Evans joined the University in 2010 and has served in myriad of capacities that has branded her as an impactful and powerful treasure in academic and professional spaces.
"Our students enjoy Dr. Eloi-Evans' courageous leadership and authenticity," says Ramírez Fernández. "She has a stellar reputation throughout the University. I appreciate her ability to show up truthfully, speak honestly, and understand the power of collaboration with a variety of stakeholders."
Eloi-Evans returns to the university from State University of New York College at Geneseo, where she served as the director of multicultural affairs and advisor to all divisions on best practices for diversity, equity, and inclusion. Previously, at Rochester, Eloi-Evans served as the academic programming coordinator for the Office of Minority Student Affairs and lecturer in the Department of Linguistics. In addition, she served as an advisor for students for the Douglass Leadership House, Minority Students Advisory Board, and Women's Leadership Alliance, and a coordinator of the Women of Color Circle.
"I am excited to return home to the University of Rochester as the deputy chief diversity officer," says Eloi-Evans. "Rochester is my alma mater. It is where, over two decades ago, I first discovered how I wanted to contribute to the world. I look forward to working with my colleagues old and new by serving in a leadership role dedicated to building upon the best version of ourselves."
The Office of Equity and Inclusion (OEI) is dedicated to cultivating an equitable and affirming culture at the University of Rochester that is racially and socially just. OEI is guided by the idea of moving away from diversity or equity and inclusion as an isolated initiative to equity and inclusion as a catalyst for organizational and institutional excellence.
Photo: Keith Walters