Emerging Leaders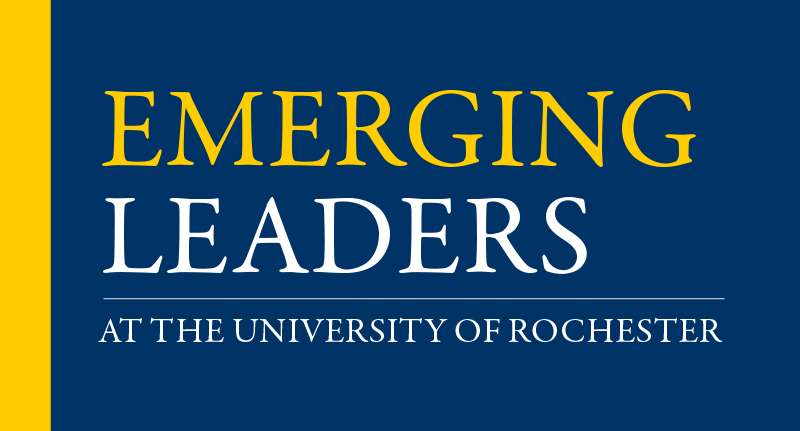 For University staff and faculty who are interested in professional development and leadership to be valued and integrated into all aspects and levels of the University of Rochester.
*Note: In an effort to be more inclusive, in 2018 we rebranded the Young Leaders @UR group as Emerging Leaders.
COVID-19 Update
Emerging Leaders Suggested Resources for Your Time at Home
Mission Statement
To support the growth and development of University staff and faculty
To increase the capacity of mid-level professionals of all ages within the University community to strengthen workplace effectiveness, enhance leadership abilities, and achieve career growth and success within the University through professional development initiatives
To strengthen the relationship between and collaborate with other professional development organizations in the Rochester community
CONTACT EMERGING LEADERS AT UR
General Membership
Membership in the Emerging Leaders @ UR is open to all staff and faculty of the University of Rochester. Events and programming generally target the mid-level and early career professional population, but are open to the entire University community. Members of the University community can register themselves as affiliates of the Emerging Leaders @ UR by submitting a form online. No prospective affiliate shall be refused membership based on their sex, gender, religion, age, race, or creed. All affiliates will have the opportunity to hold office and serve on committees, receive resource materials, and attend Emerging Leaders @ UR special events.
Emerging Leaders at UR Membership Form
Strategic Intent
Connect staff and faculty across the entire University footprint to build professional connections and share knowledge
Increase the visibility and accessibility of professional development and leadership initiatives provided by the University community
Support the mission, vision, and values of the University through innovative relationships with organizations and groups throughout our institution
Objectives
Assist in developing, creating, and implementing quality professional development events for the University of Rochester community
Increase group membership and active participation (i.e. volunteers for committees, events, and meetings)
Network and collaborate with local professional development groups
Create opportunities for Emerging Leaders to share their voice in regard to decisions made at the University
Board Members and Executive Champion
Co-Chairs
Libby Reitz
Josh Jacobs
Executive Board
Michelle Bopp-Smith
Lindsey Chamberlain
Allyson Fess
Michael Fisher
Sarah Mossey
Margaret Parisi
Chelsea Rybak
Phil Sennett
Sasha Tulgan
Marisa Wilson
Community Liaison
Joseph Sayre
Executive Champion
Elizabeth Stauderman
Roles
Executive Champion Role
Be a pillar of support for the Emerging Leaders @ UR
Provide Executive review for problem resolution (as appropriate)
Serve as an advocate for Emerging Leaders @ UR
Interface with employees and University resource group leadership
Chairpersons
Responsible for overall operations and strategic development of the organization
Facilitation of Executive Board and general membership meetings, ultimate collation of meeting agenda and reporting mechanisms
Act as liaison to the Office of Staff Diversity, Equity & Inclusion, the Office for Faculty Development and Diversity, and with the University community as a whole
Board Members
To support and create professional development and networking opportunities for Emerging Leaders @ UR within the University community
To increase awareness of professional development-based programs or professional development opportunities
To support and create opportunities for Emerging Leaders @ UR in the community
To communicate about Emerging Leaders @ UR by the use of public contacts, potential newsletter activity, and diversity awareness activities
To maintain member relations, help grow the membership, and maintain accurate membership, activity and policy records
To help coordinate at least one event per year
Duties not limited to above
Meetings
General membership meetings will be held at least once a year. The location and time may differ, depending on availability of conference space and general consensus on meeting times. Any general member can submit agenda items to be included in the next meeting.
The Executive Board may call executive meetings as needed and limit attendance to itself and to those individuals it chooses to invite. Communication on the meeting venue and agenda items shall originate with the co-chairs and be sent electronically to the appropriate e-mail distribution list. Meetings shall be facilitated by the Chair and or Vice-Chair, Guest Speakers, or other Committee members. Minutes will be taken by the co-chairs or a designee. Executive Board will hold at minimum one meeting every other month.
Amendments to the Bylaws
Revisions and amendments to these bylaws may be made by a two-thirds vote of the Executive Board. Copies of the proposed amendment shall be sent to each board member along with the notice of the meeting at least fifteen (15) days prior to the meeting date. If an action under a proposed amendment would be greater in scope than the proposed amendment of which the Board received notice, it may not be acted upon at such a meeting, and a new meeting must be called for this purpose. An affirmative vote of two-thirds of the board members present and voting shall be necessary to adopt any amendment or modification to these bylaws. Once changes have been adopted they can be found on the Emerging Leaders @ UR website.
Dissolution
The Emerging Leaders @ UR may be dissolved by an affirmative vote of seventy-five percent (75%) of the Executive Board membership, with the option to be reestablished under the same guidelines or modified if necessary at any given time.