UR Stars Program
The Office of Faculty Development & Diversity says thank you to the inaugural cohort of the UR Stars program!
The 2018 UR Stars
.
top: Anthony Jones; middle l-r: Monica Javidnia, Megan Culbreth, Crista Wadsworth, Carleara Weiss, Mohammad Andres Mostajo Radji; bottom l-r: Twylla Dillion, Jessica Shoaff, Katharine Burke. // UR Stars Doctoral Career Advancement Program Initial Cohort photographed in Rush Rhees Library November 12, 2018. // photo by J. Adam Fenster / University of Rochester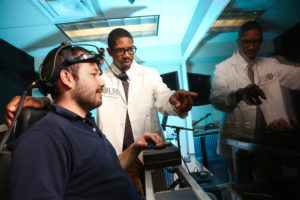 The UR Stars Doctoral Career Advancement Program is an opportunity to enhance the faculty recruitment pipeline and establish meaningful connections with early career scholars. This two-day program serves as a career advancement opportunity for graduate students nearing the completion of their studies, post-doctoral fellows, and junior faculty. Early career scholars of diverse backgrounds nationwide (with particular attention to historically underrepresented groups in the academy) will gain great insight about research and teaching opportunities at the University of Rochester Medical Center, while exploring career and academic advancement. Scholars who participate in the program are strongly encouraged to apply for post-doctoral fellowships at the university.
Program Overview
Scholars from across the nation will have a dynamic experience of engaging with faculty at the University of Rochester Medical Center. This two-day endeavor will create spaces for Scholar Research Talks; Faculty Speed Research Talks; explore the University and Greater Rochester communities; and a few social programs, too.  The inaugural class of scholars will spark incredible excitement and anticipation for the university's ever-growing inclusive community. There is no cost to participants; travel and accommodation stipends are available.
Program Location and Date
Start of Program: Sunday, November 11, 2018 | End of Program: Tuesday, November 13, 2018
We are excited to have scholars from across the continental US visit Rochester–the birthplace of Kodak, Western Union, Bausch & Lomb, Gleason and Xerox. Scholars will enjoy lodging at the University of Rochester's Staybridge Suites.
Overview of Program Agenda
Sunday, November 11
3:00pm to 6:00pm | Arrival of UR Stars
6:30pm to 8:00pm | Official Welcome
Monday, November 12
7:30am to 8:15am | Community Networking Breakfast
8:15am to 9:15am | Faculty Speed Research Talks
9:30am to 12:00pm | UR Stars Speech Research Talks
12:00pm to 1:00pm | Networking Lunch
1:05pm to 1:45pm | Workshop: Understanding the Research Environment at UR
2:00pm to 2:15pm | Workshop: Understanding the Faculty Role at UR
2:20pm to 3:00pm | Workshop: Career Development Awards & Professional Development Opportunities
3:00pm to 3:15pm | Inaugural Cohort Photo
3:15pm to 5:00pm | Departmental/Lab/School Visits
6:30pm to 8:00pm | You Are a Star Dinner and Networking
8:00pm to 9:30pm | Social Networking: Dancing and Games
Tuesday, November 13
7:45am to 9:00am | Family Style Breakfast
9:00am to 10:30am | Tour of City Hall
11:00am to 12:30pm | Special Tour of Rochester
1:00pm to 2:30pm | Cultural Lunch Excursion
3:00pm | UR Stars Depart
Program Objectives
The UR Stars Doctoral Career Advancement Program endeavors to: (1) foster connections between current and prospective faculty members within basic sciences, biomedical-related research fields including nursing, population and public health sciences; (2) strategically prepare for potential faculty to explore future curriculum development and course offerings; (3) serve as a bridge to assist participants transitioning from graduate student to post-doctoral fellowship or a faculty position; and (4) prepare future faculty for a career in the academy.
Program Benefits
The benefits of this program are: (1) creating opportunities for exploratory conversations with faculty from various disciplines, departments and divisions and (2) building comradery amongst scholars from different institutions and exposure to the Greater Rochester Community.
Program Candidate Eligibility
Fostering diversity by addressing underrepresentation in research areas at the University is important. Given the scope of this recruitment strategy, the type of scholars we are seeking for the UR Stars Doctoral Career Advancement Program are:
Individuals who help support the University's Inclusive Community goals
Individuals from racial and ethnic groups who are underrepresented in research: African American or Black, Hispanic or Latin American, American Indian, Alaskan Native, and Native Hawaiian or other Pacific Islander
Women researchers
Men in nursing
Deaf and/or hard of hearing individuals and/or persons with (dis)abilities
Individuals who are one to two years of completing requirements for a doctoral degree or currently working as a post-doctoral fellow
Individuals who demonstrate a potential to fill current or anticipated faculty or post-doctoral fellow vacancies. For more insight, visit the following webpages:
Individuals available to travel to Rochester, NY for the entire two-day program
To seek additional insight about the diversity of scholars we are seeking, please explore Enhancing Diversity, National Institutes of Health webpage.
Statement on Diversity
The University of Rochester is committed to fostering, cultivating and preserving a culture of diversity and inclusion. The University believes that a diverse workforce and inclusive workplace culture enhances the performance of our organization and our ability to fulfill our important missions.  The University is committed to fostering and supporting a workplace culture inclusive of people regardless of their race, ethnicity, national origin, gender, sexual orientation, socio-economic status, marital status, age, physical abilities, political affiliation, religious beliefs or any other non-merit fact, so that all employees feel included, equal valued and supported.
Application Process
Applicants can self-nominate or if they are from the University of Rochester they can also be nominated by a UR Medical Center faculty member. All applicants should submit a completed application with attachments. The submission deadline is Tuesday, July 31, 2018 by 5:00pm EST. Please send materials to URStars@rochester.edu. The subject line should follow the following format—First Name Last Name: 2018 UR Stars Application. Only completed applications will be reviewed.
Accommodations are available upon request and acceptance to the program. Applicants are asked to include the following materials for a complete application:
curriculum vitae;
statement of interest (no more than two-pages) combining your career goals, research interests, teaching philosophy and statement of diversity;
one to two letters of recommendation from a mentor or PI during your graduate studies or junior faculty appointment;
and a completed and signed application.
This program is supported by the Office of Faculty Development and Diversity, Clinical and Translational Science Institute at URMC, and Graduate Education and Postdoctoral Affairs at URMC.
For additional information, contact: Ashley N. Campbell, Director of Diversity Programming. Email: ashley.n.campbell@rochester.edu. Phone: 585-273-4297. Mail: University of Rochester, P.O. Box 270016, Rochester, NY 14627.