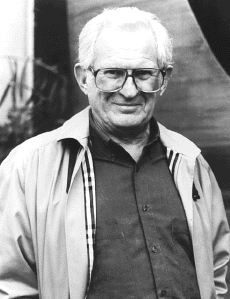 "To Boldly Go..."
Eastman School of Music Alumnus Alexander Courage
May 15, 2013
With the opening of the latest Star Trek incarnation Into Darkness in theaters this week, we take a moment to remember the four musical notes that started it all, and the man who composed them.
Trekkies know it by heart—the theme that begins with four otherworldly notes as a voice declares, "Space: the final frontier...."
When Eastman School of Music alumnus Alexander Courage '41E wrote it for the original TV series in 1966, he had no idea that he had composed what would become one of the best-known anthems of the 20th century. To him, it was just another job.
"I did it in a week, with an orchestra of 17 people and one female singer," he recalled in a 1996 interview. He even left the show, not long after being hired by Gene Roddenberry, to return to his work on the film Doctor Dolittle. "The show just wasn't going anywhere," he explained—and, at the time, it wasn't.
As fans of the Star Trek universe know, that original series went on to spawn five additional television series and a film franchise that is still going strong more than 45 years later with its 12th film, Into Darkness.
Courage died in 2008. His career as a television and film composer and arranger spanned five decades, and included work on the television series Peyton Place, Falcon Crest, and The Waltons and the films Funny Face, Seven Brides for Seven Brothers, Guys and Dolls, Showboat, and My Fair Lady. He was nominated for an Academy Award twice in his career for his film scores for The Pleasure Seekers (1964), starring Ann-Margret, and Doctor Dolittle (1967), starring Rex Harrison.
Tribute to Alexander Courage '41E: Composer of Star Trek Theme—and Much More
by Eastman School of Music alumnus Jeff Beal '85E, Emmy-winning composer whose works includes themes for the television shows Monk and Ugly Betty. (Rochester Review, September-October 2008)