Finalists Selected for Campus Sculpture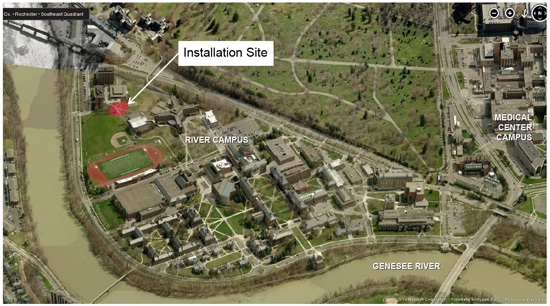 Community Encouraged to 'Like' Their Favorite Choice
The University of Rochester has selected six finalists from more than 120 international proposals for a sculpture near the Sage Arts Center on River Campus.
Ranging from graceful wooden treelike structures to a neon rendition of Susan B. Anthony's iconic "Failure is impossible" quote, the artists' creations all seek to create an engaging focal point at the intersection of three popular campus walkways.
"Locating permanent outdoor artwork at the northern entrance to River Campus will be an ongoing reminder of the importance of the arts at the University and in the city of Rochester overall," says Rochelle Steiner, a professor at the University of Southern California's Roski School of Fine Arts and guest juror for the competition.
"All of the finalists carefully considered the site–these are not works that could be located just anywhere," adds Allen Topolski, an associate professor of art who organized the competition and serves on the selection committee. "At the same time, the proposals also capture the unique signature of each artist."
Images of all six proposals and more about each artist's vision are here. Viewers are encouraged to 'like' one or more of their top choices. Renderings of the art installations also will be on display at the River Campus Art and Music Library Gallery in mid-October and viewers will be able to 'like' their favorites through a mobile app.
Steiner, Topolski, and the other faculty, administrators, and students on the selection committee will incorporate the public's response into their final evaluation and expect to announce a winner early in the new year. The chosen artist will receive up to $60,000 for fabrication and delivery of the final piece.
As guest juror of the committee, Steiner brings to the process extensive experience in the selection of public art, along with a deep connection to the University. She earned her master's degree in comparative arts in 1990 and a doctorate in visual and cultural studies in 1996, both from the University of Rochester. In addition to serving as chief curator for the Serpentine Gallery in London and a curator at the Saint Louis Art Museum, Steiner was the director of the Public Art Fund in New York City from 2006 to 2009, where she commissioned 35 public art projects. An accomplished writer, Steiner has authored more than 50 essays and interviews in art catalogues and publications including Parkett, Modern Painters, and Art Review.
"It is an honor to participate in the selection of a new sculpture for campus, particularly given the role the University played in developing my interests in the visual arts," says Steiner.