Tag: community
Last year, the University provided some of the initial money to create Innovocracy, a crowdfunding platform with a twist: Innovocracy deals exclusively with academic researchers who develop products that can benefit society.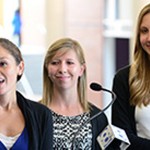 First-year medical students Bridget Hughes, Lindsay Wahl, and Sarah Nevarez were praised Thursday by Rochester City rescue personnel and School of Medicine and Dentistry officials for helping rescue two children and their father from the Erie Canal.
"Our partnership with IBM and New York State has already helped us attract $84 million in new research funding and will give our faculty and students access to state-of-the-art research opportunities and provide new opportunities to address the great challenges in health research," says President Joel Seligman.