---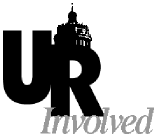 VOLUNTEER PROGRAM BEGINS: UR INVOLVED
Alumni of the College (Arts, Sciences, and Engineering) have a new outlet for sharing their expertise and interest in the University with future generations of students.
Alumni Relations and Development has created an outreach program, called UR Involved, that aims to connect alumni with students beyond the traditional volunteer role of meeting with prospective undergraduates.
UR Involved replaces and expands on the former Volunteer Admissions Network, which was administered by the Admissions Office.
Amy Lynch '95W (MS), volunteer coordinator for UR Involved, says the program will broaden the focus when it comes to contact between alumni and the College.
UR Involved will continue to work with the admissions office to staff college fairs, talk with students, and host receptions, but Lynch says the new program also will act as a clearinghouse to organize volunteers who want to help in other ways.
Lynch will work closely with the Career Center, Admissions, and the Community Service Network to expand ways alumni can help current students, and stay involved with other alumni and the College.
Volunteers will be surveyed to make sure their interests match what they are asked to do, Lynch says.
"We want to provide quality involvement for alumni," Lynch says.
UR Involved currently has more than 700 volunteers throughout the country who are available to meet with prospective students.
To get involved with UR Involved, contact Amy L. Lynch, UR Involved Volunteer Coordinator, Fairbank Alumni House, 685 Mt. Hope Ave., Rochester, NY 14620; phone: (716) 273-5951/(800) 333-0175; fax: (716) 473-5739; e-mail: lynch@alumni.rochester.edu
---
HUTCHISON MEDAL GOES TO LAST '51
Jay Last '51, one of the founders of the modern silicon transistor industry, received the Charles Force Hutchison and Marjorie Smith Hutchison Medal at the University's 149th Commencement.

The award is given annually to a graduate for achievements in business and community service, along with distinguished service to the University.

After earning his degree in optics from the College and a doctorate from the Massachusetts Institute of Technology, Last co-founded Fairchild Semiconductor Corporation in 1957. The company ushered in the silicon semiconductor, helping launch the computer revolution.

Last, retired vice president of Teledyne Inc., is a founder and the director of the Archeological Conservancy, an organization dedicated to preserving archaeological sites throughout the United States. The organization has established more than 160 archeological preserves in 28 states in the last 20 years. He also is the president of Hillcrest Press, a publisher of fine-art books on the history of American color painting.
---
MANIAN HONORED BY SEAS
Bala Manian '69 (MS), whose technological breakthroughs in motion picture special effects earned him the equivalent of an Oscar, received a Distinguished Alumnus Award from the School of Engineering and Applied Sciences during Commencement weekend.

Manian, CEO of Biometric Imaging, pioneered the technology that helped make the movies Return of the Jedi and the Indiana Jones series such hits.

He received an Academy Certificate from the Academy of Motion Picture Arts and Sciences in February for his work.

The technology that Manian developed allowed filmmakers to insert special effects into movies using computerized digital imaging.
---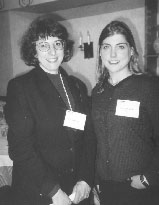 IT'S THE LAW: Laura Drager '70 and Laura Mankin '96 found plenty to talk about at "Italy in a Glass," a New York City wine tasting in February. Drager, a criminal court judge, is a graduate of Columbia Law School, where Drager was finishing her third year.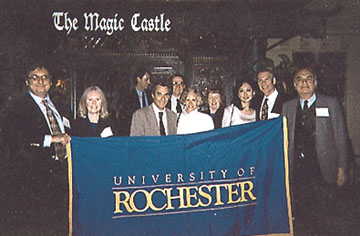 NO DISAPPEARING ACT: More than 50 California alumni and their guests attended dinner and a show at L.A.'s Magic Castle, the breeding ground for aspiring magicians. Trick photography was not used in this shot. The alumni in front were indeed sawed in half (wink)!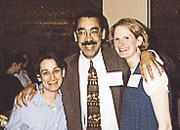 BACK TOGETHER IN BEANTOWN: Dean Paul Burgett is flanked by two old friends, Elizabeth Cogliano Young '92 and Eileen LeBlanc '92. The occasion was another one of the Rochester Yellowjackets' fabulous concerts, heartily enjoyed by Burgett, more than 150 enthusiastic Boston alumni, and special guest George VanderZwaag, the University's newly appointed director of athletics and recreation. Cogliano Young and LeBlanc are members of the Boston Regional Alumni Council.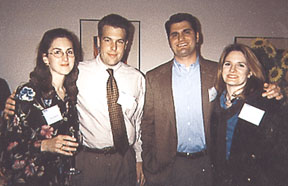 IMPRESSED BY IMPRESSIONISM: Lisa and Tom '90 Gebhardt and Mike '90 and Kim Pascale are here enjoying a special reception and tour of the High Museum's recent impressionism show. Roger '62 and Susan Rochat hosted the event at the Atlanta museum for more than 100 alumni art-lovers. Special guest was Grace Seiberling, associate professor of art and art history at Rochester.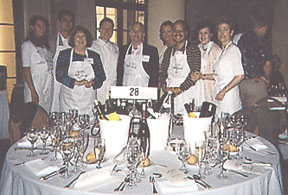 NOW THEY'RE COOKING: This culinary event at Miami's Biltmore Hotel attracted alumni with a sophisticated palate and a hands-on approach. Guided by some of the finest French chefs around, participating alumni donned aprons, rolled up their sleeves, and prepared a tableful of gourmet delights.
---
Save the Date!
REUNION 2000
Timed to coincide with the Sesquicentennial celebration, next year's reunion will be held on campus October 13-15, 2000.

Classes holding reunions include: '50, '51, '52, '53, '54, '55, '60, '65, '70, '73, '74, '75, '80, '85, '90, and '95, plus Slater Society (pre-1950).

(All alumni are invited back for Sesquicentennial!)

For more information, contact Fairbank Alumni House, 685 Mt. Hope Avenue, Rochester NY, 14620; (800) 333-0175; (716) 273-5888; e-mail: reunion@alumni.rochester.edu.
---
FOR MORE INFORMATION . . .

With organizations in major American cities and around the world, the Regional Alumni Councils offer a range of opportunities for alumni to become involved with the College, including community service activities, student recruitment, social events, fundraising efforts, career networking, and reunion planning. For details in your area, call Terry Gurnett '77, at the Alumni Association, (800) 281-2055. The Rochester-area number is (716) 273-5888. The e-mail address is info@alumni.rochester.edu, and the URL for the Alumni Association Web site is listener.uis.rochester.edu/alumni.
---