The Return of Freshman Week
Reinvigorating a Rochester tradition, the College welcomes the Class of '05 with a weeklong orientation program.
By Jeffrey Marsh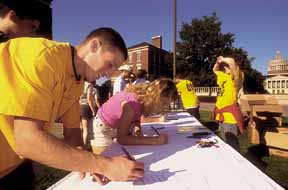 Members of the Class of '05 sign the class roster, a tradition for incoming freshmen.
About 1,000 members of the College Class of '05 arrived Sunday, August 26, as the new kids on the River Campus, but by the time classes started September 4, they were already old pros at college life.
In between, the new students had a chance to get used to the campus, plan their academic year, learn tips about college life, and, most important, establish a community of classmates.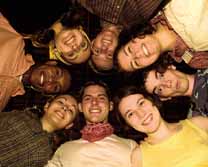 Eastman students hosted their annual square dance for new students.
It was all part of a revised Orientation Week, which celebrated its second session last fall. In an important new addition to building class community, the entire Class of '05 is housed on the Residential Quad, a change that will continue with future classes.
"The goal is to have the opportunity to develop a sense of class unity, the opportunity to connect their residential experience with the beginning of their academic experience," said Marcy Kraus, director of orientation and assistant dean of freshmen. "At the end of the nine-day orientation, they've tasted all these different things, and now they're ready to go out and begin the academic year. During the first few months, they'll meet more upperclassmen and participate more fully in campus life."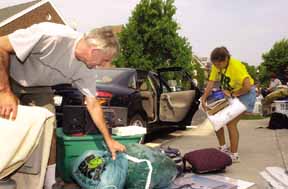 As part of an effort to build class community, all College freshmen are housed on the Residential Quad. Most enlisted their parents to move everything in.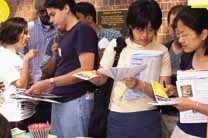 New international students receive tips on life in Rochester.
The revised orientation replaces the program's approach of the past few decades, in which incoming students and their parents visited campus for two-day sessions in small groups at different times during the summer. Under the former program, each year's new class did not have the chance to meet as a group until just before classes began.
The week's schedule was filled with a range of activities from formal introductions from administrators, one-on-one sessions with faculty advisors, entertainment events like movies and rollerskating, instructional programs on how to succeed in college, and the opportunity to help others.
Most new students appreciated the packed schedule.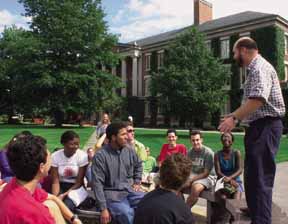 New students interested in joining the debate team gather on the Eastman Quadrangle for an introduction from Sam Nelson, assistant professor of English and debate team coach.
"It's hectic," said Josephine Loo, who noted with a laugh that classes might actually be a relief. "We're always running around from one thing to another, very nonstop."
A few were hungry for more.
"If I sat around for another minute, I'd go crazy," said Micha Elsner as he joined other students in making peanut butter and jelly sandwiches for the homeless. "I'm ready for classes already."
Regardless of the schedule, most welcomed the weeklong transition to college life.
"Most schools only have a day or two, but here they're really trying hard," said Amy Wakin. "I'm glad I chose to come here."
Kraus said planners aimed for a mix of activities for the week with three goals in mind.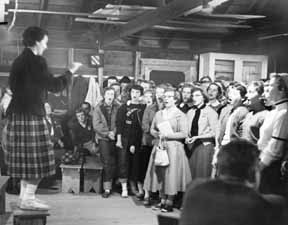 'Frosh camp'
Acclimating freshmen to life at college has been a long tradition at Rochester. As the expectations of incoming generations have changed, so has the format of orientation.
As early as 1918, freshmen arrived on campus a week ahead of upperclassmen and before classes began. The new students met with faculty members for academic advice, learned school songs and yells, and were initiated by the previous year's freshmen.
"It has been the custom for the second-year men to initiate into college life, by every imaginable kind of physical torture and discomfort, those who were so unfortunate as to have been born a year later," wrote Charles Douds, secretary of the University Y.M.C.A., in a 1926 Rochester Alumni Review.
By the '20s, freshman week had grown to include one of its major components- "freshman camp." Something of a retreat for first-year students, the camp took place on Keuka Lake and was attended by some upperclassmen as well as faculty. Freshmen who chose to attend camp spent the days swimming and playing football, baseball, and horseshoes.
"There is something about the informal atmosphere of camp life which helps all of us to throw off our cloak of unreality and reveal our real selves as we seldom do in the somewhat artificial surroundings of a university," Douds wrote. "The new man, who may have spent his entire life on a farm or in a small town and is somewhat awed by the prospect of entering college, comes to know the professor or student leader not as a professor or the college hero but as a human being and, perchance, a friend."
Female students were invited to participate in their own camp beginning in 1928. And while female students were spared much of the "torture" that male freshmen endured, they, too, met with faculty members and bonded with classmates.
By the '70s, the notion of freshman camp had lost much of its appeal for new students, and orientation evolved into a set of sessions staggered throughout the summer.
In fall 2000, the College returned to a weeklong orientation program with sessions for all first-year students and their parents.
Students need to take care of their academic business, they need to establish a community, which will give them the opportunity to get to know each other," Kraus said. "Then there's the social piece. Orientation is not all about work. It needs to be fun as well, and we've tried to balance all these things."
William Scott Green, dean of the College, welcomed the freshmen, pointing out that while they are at Rochester to receive an education, they should take advantage of their freedom as thinkers to explore topics that they are most interested in.
"Your education and your activities at this College belong to you," Green said to the students. "You will do your best work if you love what you do. Interest drives learning here, so you have an opportunity to become invested in what interests you."
The notion was echoed throughout the week as faculty and administrators reminded students that Rochester's academic program and social activities are designed to emphasize the freedom that students have to choose the best path for them.
"We provide a formal structure, but ultimately what you get out of college depends on what you put in," said President Jackson. "I hope you don't put in four years just to get a job. Because after this, life is increasingly about specialization. Our curriculum is designed to maximize your freedom, and the best way to take advantage is to focus on what interests you."
A top interest for most freshmen was meeting their classmates.
"The College staff has done a really good job of getting us to know each other," said Ben Lewis. "They're really organized. There's always something to do."
Those bonding activities included a trip downtown to see a Rochester Red Wings game, a video dance, late-night rollerskating, a "drive-in" movie on the Wilson Quadrangle, a beach party, and many others.
New students at the Eastman School of Music kicked up their heels at an annual square dance for incoming students.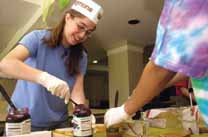 New residents of Burton and Lovejoy Halls challenged each other to see which dormitory could make the most peanut butter and jelly sandwiches for a local charity. The contest resulted in more than 1,000 sandwiches.

"It's nice that the freshmen are here first and get to know everyone without all the upperclassmen around," said Lyndsay Field. "Everyone's so friendly and nice. It's a good time."

"It's fun to go to college without having to go to class, even for awhile," said Joe Bressler.
As with past introductions to campus, the week's activities included a focus on community service.
New and returning students chipped in to make more than 1,000 peanut butter and jelly sandwiches for Foodlink in the basement of Tiernan Hall, an activity that turned into a battle between Burton and Lovejoy Halls to see who could make more.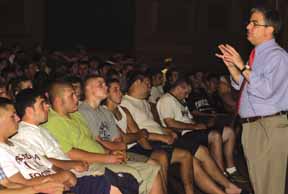 William Scott Green, dean of the College, challenges freshmen to use their intellectual freedom to explore new interests.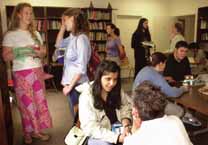 Freshmen had a chance to explore a variety of opportunities at Rochester during a series of open houses like this one for the Department of Modern Languages and Cultures.
"I like to volunteer. It gives us something different to do to help out," said Azure Allen. "Rochester has given us so much to do already."
About 1,030 students, faculty, and staff volunteered to participate in the 13th annual Wilson Day (named in recognition of the civic spirit of University benefactor and Xerox founder Joseph C. Wilson '31), pitching in at a variety of sites in the community and region.
"I used to think Rochester was just one big suburb, so it was good to see a different part of Rochester," said Emily Locker, a volunteer who helped paint, re-carpet, and set up a computer training room at the Rosa Wims Family Wellness Center.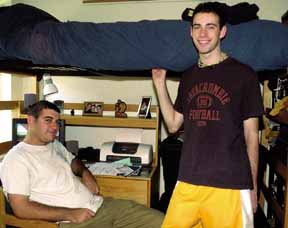 Reunion: When Keith Rosenberg '05 and Gary Feder '05 found out they were assigned as roommates, they had no idea that they also shared a family history. Rosenberg contacted Feder before orientation to introduce himself and discovered that the two New Jersey natives are cousins.
The random pairing led to the reunion of Rosenberg's grandmother, Loretta Feder Rosenberg Bagon, with her first cousin, Gary's grandfather, Arby Feder. The two had not seen each other in nearly 60 years.
"The University is trying to open our eyes to what's available," said Brandi Davis. "It's fun to get out and volunteer and help people."
The largest group of students set up a carnival-complete with food, games, and prizes-for the elderly residents of the Episcopal Church Home. While some students ran the games and handed out popcorn and caramel apples, others helped the residents get from their rooms to enjoy the activities.
"It gives students a chance to get more involved," said Rich Kanefsky. "It also gives us more things to do to meet new people."
Jeffrey Marsh is associate editor of Rochester Review.

Maintained by University Public Relations
Please send your comments and suggestions to:
Rochester Review.