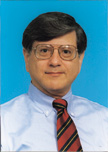 Jacobs
What do the deans of Harvard's and Stanford's medical schools and of Yale's and the University of California at Berkeley's graduate schools have in common? And the deans of the University of Michigan's business school and Johns Hopkins University's school of engineering? Or the chairs of Princeton's English department and the University of Chicago's music department?
They all have academic degrees from the University.
According to a new study, conducted by Bruce Jacobs, dean of graduate studies, more than 1,000 Rochester graduates are on the faculties of schools and programs ranked nationally in the top 25 by the National Research Council or by U.S. News & World Report.
"There is no better external validation of the quality of a university than to have prestigious schools hire its former students as faculty members," Jacobs says. "This group of academic leaders provides a collective portrait of individual excellence that reflects very well on what has been achieved at Rochester."
Using information from academic departments, University records, and Internet searches, Jacobs has pieced together a portrait of the University's widespread presence at all of the nation's top schools.
The largest contingent of Rochester alumni is teaching at Harvard (64), followed by the University of Michigan (44) and Johns Hopkins (38). Other universities with 20 or more Rochester alumni on their faculty are Yale, Stanford, Pennsylvania, Columbia, Cornell, UCLA, Duke, Wisconsin, and Washington University. Somewhat smaller numbers teach at Princeton, MIT, Brown, Cal Tech, and others, but all the top U.S. universities have faculty members with Rochester degrees.
The study, "A Thousand Faculty Members: University of Rochester Graduates at America's Best Schools," show all of the University's academic units - the College, the School of Medicine and Dentistry, the Eastman School of Music, the Simon School, the School of Nursing, and the Warner School - have helped educate these alumni.
"One extraordinary finding is the placement of Simon School Ph.D. recipients on the faculties of the best business schools in the country," says Jacobs. "They have a record of placement second to none at the University."
How do Rochester's results compare with other peer institutions? Jacobs says it is difficult to judge because the study would be very hard to replicate for other schools. However, the response from faculty and University officials leads him to believe the report demonstrates Rochester's impact in ways previously not well documented.
"Most people who have reviewed the results find them very eye opening," says Jacobs. "While many of us have assumed our graduates would become faculty at prestigious schools, no one had an appreciation of the magnitude of this success."