WARNER SCHOOL LEADS K-12 HISTORY 'APPRENTICES'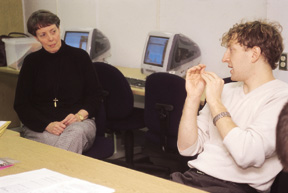 Historical perspective: The Warner School's Ellen Santora (left) leads a K-12 professional development team that includes the Department of History and area schools.
About 120 urban and suburban K-12 social studies and history teachers will become "apprentice" historians under a new professional development program that teams the Margaret Warner Graduate School of Education and Human Development, the Department of History, and Rochester area educational institutions.
Funded through a $921,000 grant from the U.S. Department of Education, the three-year "American History as Dialogue" project is designed to engage teachers as learners and researchers of history.
The goal is to prepare K-12 educators to teach their students to think more critically and to use a multidisciplinary approach while studying historical events.
Ellen Santora, assistant professor of social studies education at the Warner School, directs the program.
"Many of the elementary, middle school, and high school teachers who will participate in the program talk about and teach history but have never experienced 'doing history,' " Santora says. "This is an opportunity to enhance their knowledge of history by engaging them in the work of historians. As a result, we hope it will be easier for them to actively involve students in exploring the highly contentious and dynamic nature of historical interpretation."
Participating teachers will attend summer institutes to conduct research as "apprentices" to historians.
During the school year, teachers will have regular follow-up sessions, develop and test curricula, and visit area museums and historical sites to expand their knowledge of local historical resources.
The Warner School, through its Social Studies Program and its Center for Professional Development and Education Reform, will work with the Department of History to design and provide professional development for the program.

Maintained by University Public Relations
Please send your comments and suggestions to:
Rochester Review.